Early EMU Referendum Looks Unwinnable
Survey assessing support for Britain joining EMU
There is rising market speculation that if the government wins the election (as seems likely) it will call an early referendum on EMU. In our view, the chances of such an early referendum are very low. Our latest MORI poll shows a rise in the balance of opinion against EMU close to the previous peaks. Even if we allow for the effect of a strong pro-EMU stance from the government, public opinion is two to one against EMU entry.
The government has succeeded in downplaying its pro-EMU stance so much that even EMU-opponents are willing to back Labour. As a result, a Labour election victory is unlikely to be seen as a vote for EMU entry or to generate a pro-EMU swing in public opinion.
We suspect that, if they win the general election, Labour will accept fairly quickly that they could not win an early EMU referendum and as a result they will decide not to call a referendum. In our view, the UK probably will not join EMU in the next five years.
Figure 1. UK - Balance of Opinion Over EMU, 1991-Apr 2001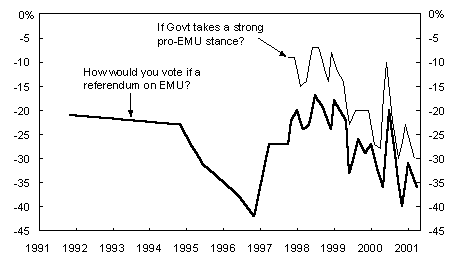 Note: The chart shows the gap between the share of the sample who say that they would vote to join EMU less the share opposed, using questions 1 and 2. Details in pdf file.Sources: MORI Financial Services and Schroder Salomon Smith Barney.

Economic & Market Analysis - Sterling WeeklySchroder Salomon Smith Barney[pdf format - 135K]
Technical details
Latest polling conducted between 19-23 April 2001.Sample size 2,017 people for latest survey.
Sources: MORI Financial Services and Schroder Salomon Smith Barney