The economy and inflation tied as the biggest issues for Britain, while concern about immigration also increases
The November 2022 Ipsos Issues Index shows Britons' concerns continue to be primarily economic, although the level of worry about immigration has doubled since October.
Just under half of the British public see either inflation or the economy as the biggest issues for the country
Concern about immigration rises to its highest level in three years – particularly important to Conservative voters
Forty-five per cent of the public say each of inflation and the economy are big issues for the country, suggesting there is joint concern for both people's personal and the national financial circumstances. Similarly, 27% see each as the single biggest issue facing the country. Fieldwork closed ahead of the 17 November Budget announcement.
While both are core concerns for most people, there are slight differences in emphasis.  Women (50%) and younger people (52% of 18-34 year olds) are more likely to mention inflation, while men (48%) and older people (47% of those aged 35+) are more likely to cite the economy.
One in five now see immigration as a big issue for the country (21%), an increase of ten percentage points since October. This is the highest score for the issue since March 2019 and alongside the NHS it is the next biggest issue facing the country, after the economy and inflation.
There has also been a further increase in the proportion saying that a lack of faith in politicians and politics is a big issue for the country since last month, with 20% mentioning this as a concern (up from 16% in October and 9% in September). This issue varies strongly by party affiliation, with 26% of Labour supporters mentioning it, compared with 11% of Conservatives.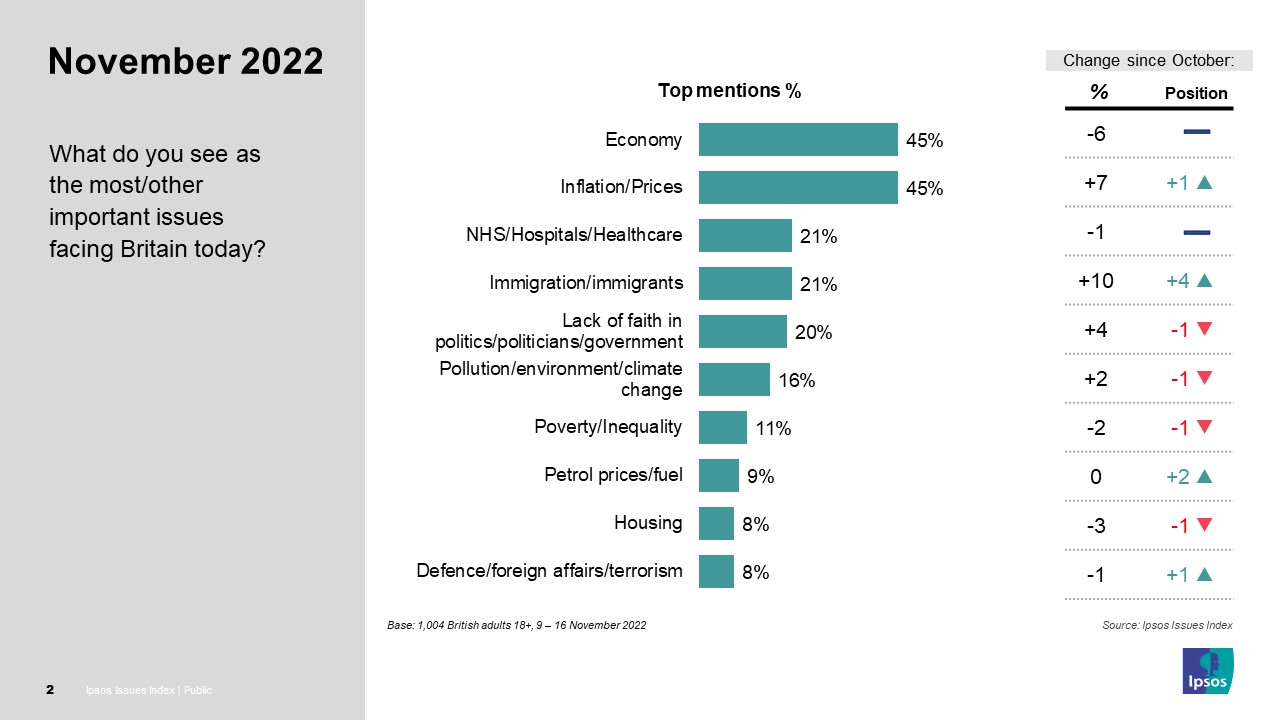 Although immigration is now among the biggest issues facing the country there are very significant gradients in concern between different groups.
Conservative party supporters are far more concerned: 42% see immigration as an issue, making it their second-biggest issue this month, behind only the economy. This is a rise of 20 points among Conservatives mentioning immigration since last month. By contrast just 13% of Labour party supporters mention immigration, up 7 points.
 Age is another stronger indicator of concern: among 18-24 year olds just four per cent mention immigration as an issue, while for the over 55s this figure is 34% (and it is 40% among 55-64 year olds)
By contrast there is less variation across gender, social grade and region (although it is lower in London, at 14%).
Mike Clemence, a researcher at Ipsos, said:
This month's data reconfirms that the British public are predominantly worried about finances – both their own and the country's. However we have also seen a significant jump in concern about immigration, likely tied to news coverage of the volume of illegal crossings in the English Channel, with this a particular priority for Conservative supporters.
Technical note
The Ipsos Issues Index is conducted monthly and provides an overview of the key issues concerning the country. Ipsos interviewed a representative sample of 1,004 adults aged 18+ across Great Britain. The answers are spontaneous responses, and participants are not prompted with any answers. The Ipsos telephone omnibus was used for this survey. Interviews were conducted between 9 and 16 November 2022 across Great Britain. Data are weighted to match the profile of the population.