Eight in ten say it is important to mark Remembrance Day but one in four Gen Z say it's not very important
Baby Boomers are much more likely to wear a poppy on Remembrance Day this Sunday than younger generations according to a new Ipsos poll.
New polling from Ipsos, conducted 3-6 November 2023, shows eight in ten (79%) say it is important to mark Remembrance Day, compared to 16% who say it is not.
Across generations a majority think it is important, although there are differences. Baby Boomers are near unanimous in saying it is important (90%), but this decreases amongst each younger generation to 81% of Gen X, 74% of Millennials and 65% of Gen Z.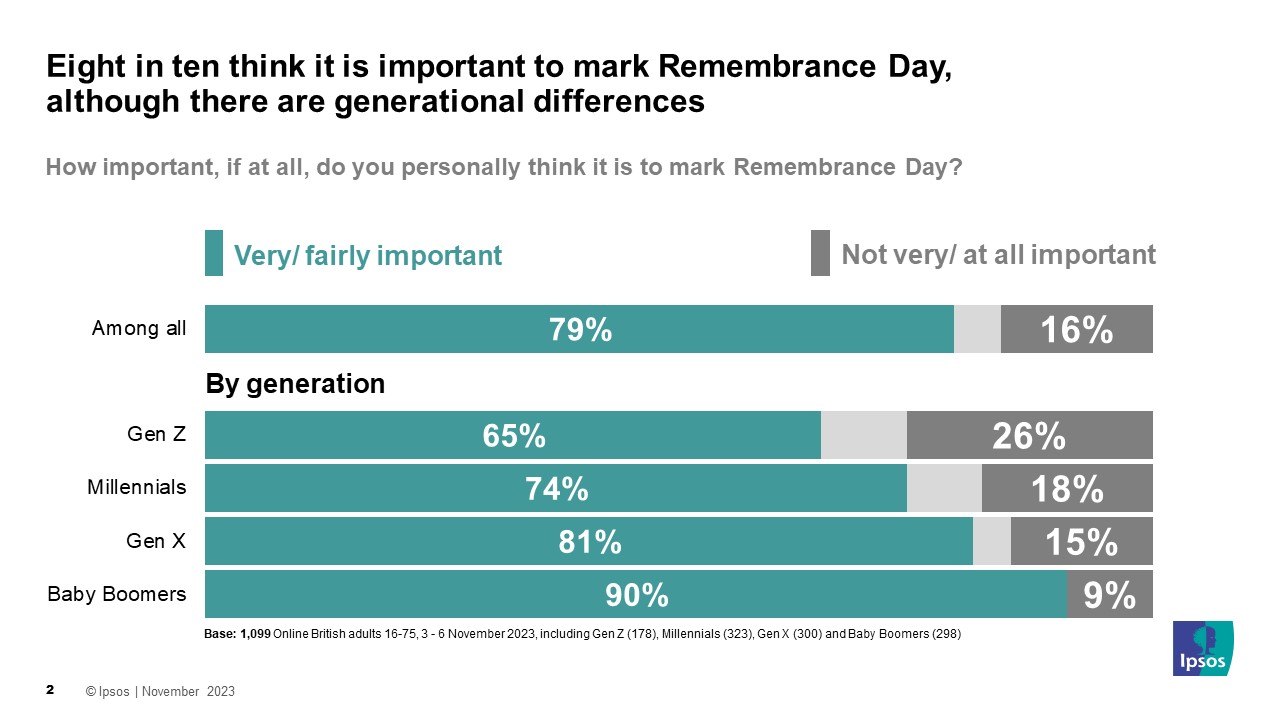 Meanwhile, half (50%) of Britons say they are very likely to wear a red poppy to commemorate Remembrance Day this year. Around two in five (43%) say they will observe a two-minute silence, while on one in five are very likely to donate to a veteran's organisation or charity (20%).
Other actions were selected by fewer than one in ten. Three in four (74%) say they will commemorate the day in some way. Only a fifth (21%) say they don't do anything with 4% saying they don't know.
However, again there are generational differences with Baby Boomers more than twice as likely to say they will wear a poppy compared to Millennials or Gen Z (72% vs. 34% respectively).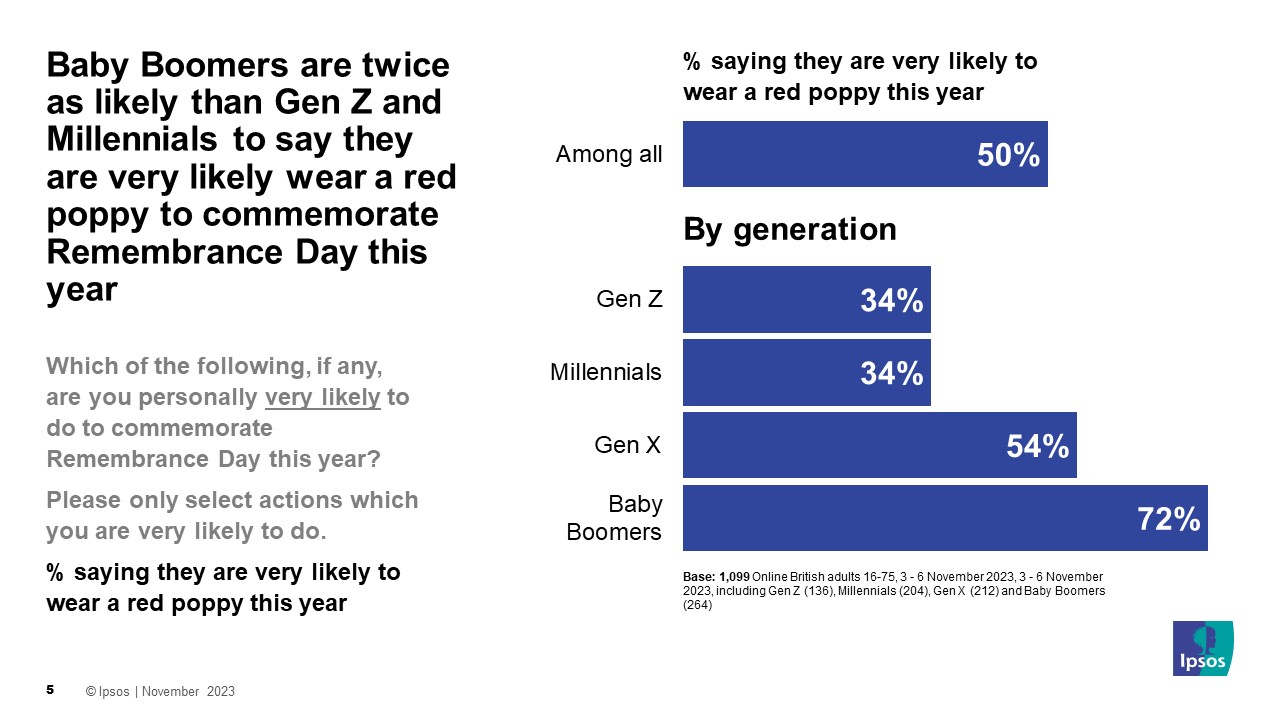 That said, Gen Z are more likely than average to say they with discuss with a friend or relative about their experience of war (12% vs. 6%), visit a museum or exhibition (10% vs. 4%) and conduct their own research (9% vs. 4%).
The poll also reveals that Britons are unsure of the symbolism behind Remembrance Day being held on the 11th November. Fewer than half (47%) correctly identified that this is to commemorate the end of World War One, but three in ten (29%) say World War Two. One in five (18%) said they were unsure with the remaining selecting an incorrect answer.
Older generations were far more likely to recognise the historical significance. The majority of Baby Boomers (62%) and Gen X (53%) correctly selected World War One, compared to a one in three among Millennials (33%) and Gen Z (33%).
Around nine in ten think it is important that schools in Britain teach young people what happened in World War One (86%) and World War Two (88%).
Ipsos Research Director Keiran Pedley said of the poll:
Remembrance Day is clearly important to the vast majority of Britons with three in four saying they will mark it in some way. However, its significance is most keenly felt amongst older generations. Most of Gen Z and Millennials will still mark the day, but only one in three say they will wear a red poppy.
Technical note
Ipsos interviewed a representative sample of 1,099 GB adults aged 16-75. Interviews were conducted online from 3-6 November 2023. Data are weighted to match the profile of the population. All polls are subject to a wide range of potential sources of error.