Government Spending and attitudes to EMU

The new spending plans confirm that fiscal policy will loosen by even more (from the 1999/2000 outturn) than implied by the Budget plans. The Treasury's figures show that real public spending will surge by 6.7% this year - the fastest pace for 25 years - and by 3%-3189% per year for the next three years. This huge fiscal boost, at a time when growth is above trend and capacity use is stretched, will intensify pressure for higher base rates. We expect rates to rise by 1% by mid-2001.
Our new MORI poll shows a very sharp drop in public hostility to EMU entry. This swing probably reflects warnings by government ministers and others that if keeping sterling means job cuts in manufacturing, then the UK should join EMU (presumably at a lower exchange rate) and scrap sterling.
The simultaneous drop in the government's popularity will mean that they probably will want to emphasise the rise in public spending rather than highlight possible gains from EMU entry. Nevertheless, markets put a low weight on the chance of an EMU referendum in late 2001 or in 2002, and the chances of a vote may be higher than markets allow.
Figure 1. UK - Treasury Plans for Real Public Spending (YoY Pct Change), Fiscal Years 1971/72-2003/04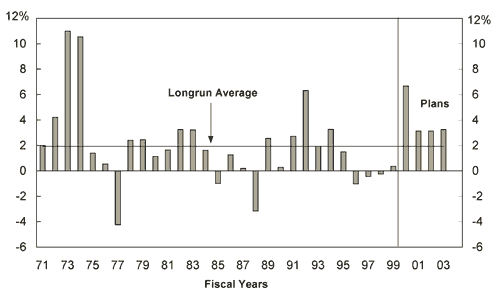 Note: Figures are deflated by the GDP deflator. Sources: HM Treasury and Schroder Salomon Smith Barney.
Technical details
Latest polling conducted between 13 and 18 July 2000. Sample size 2,055 people for latest survey, and similar for earlier results.

Economic & Market Analysis - Sterling Weekly Schroder Salomon Smith Barney [pdf format - 76K]
Sources: MORI Financial Services and Salomon Smith Barney