Half of Britons believe measures to control coronavirus over Christmas were about right
Many still self-policing over next few weeks to avoid catching Covid
New research by Ipsos shows half of Britons (49%) believe the government measures put in place to control the coronavirus period over Christmas were about right.  A third (35%) think they were not strict enough, but only 9% say they were too strict.  This is a change in mood from the weeks before Christmas, when 36% felt the measures were about right, and 44% that they were not strict enough.
Older people aged 55-75 are most likely to think the measures were not strict enough (43%), compared with 20% of 25-34 year olds, six in ten of whom (59%) say they were about right.  Around half of both Conservative and Labour voters felt the measures were about right (54% and 46% respectively), and just over a third felt they were not strict enough (34% and 38%).
Meanwhile, most Britons still say they are actively self-policing to limit the chances of catching the coronavirus over the next few weeks.
Almost 9 in 10 (87%) of Britons are already (75%) or plan to (12%) wear a face mask when in public places, while a similar proportion are or are planning to sanitise/wash their hands more regularly (85%). When out socialising 8 in 10 (80%) say they are (62%) or are planning to (18%) keep a distance from their friends and family while around two-thirds (64%) have already had their booster jab. A further 13% plan to do this.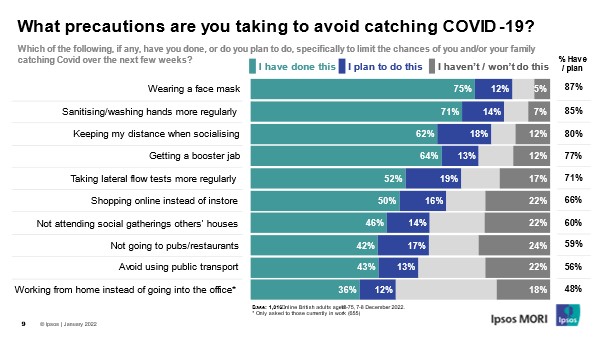 When is comes to going out, 6 in 10 (60%) say they are not/plan not to attend social gatherings at others' houses while 59% are avoiding or plan to avoid pubs and restaurants. Similarly, 56% will/already have avoided using public transport. Just under half (48%) of those currently in work will or are working from home rather than going into the office (48%).  Two-thirds are or plan to shop online instead of in store.
How strict were Britons over Christmas?
Despite many now feeling the measures in place were enough, our polling before Christmas showed many Britons were planning to follow additional measures such as socially distancing, taking lateral slows more regularly, not going to others' houses, and more. So how many stuck to their own rules over the festive period?
Britons were most likely to wear face masks and sanitising their hands more regularly, 80% and 76% respectively say they did this while only 4% and 6% say they planned to but did not. Two in three (67%) kept their distance while socialising and just over half say they lateral flow tests more regularly (56%) or took their Christmas shopping online (54%), although 8% in each case said they planned to but didn't.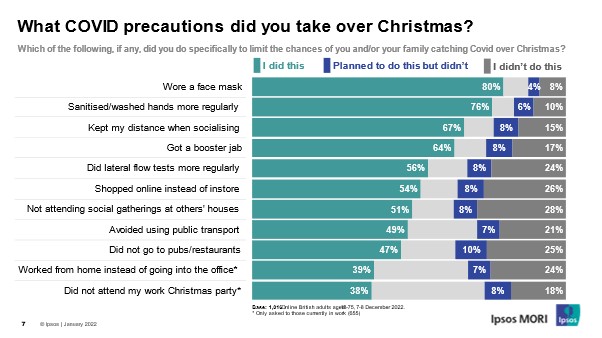 Just under half (47%) of Britons say they actively avoided pubs and restaurants, 10% planned to but did not. There was a similar picture for avoiding social gatherings at others' houses and avoiding public transport. 
Gideon Skinner, Research Director at Ipsos, said:
With the benefit of hindsight, Britons are more positive towards the balance of restrictions over Christmas than they were in the run-up to the holiday.  Around half believe they were about right and one in three not strict enough, a reversal of the position in mid-December (both times, few thought they were too strict, and even fewer looking back).  Nevertheless, concern about the risks of the pandemic hasn't dropped since before Christmas, and (although there will always be a minority who don't keep to their plans) many are still self-policing to reduce their chances of catching the virus.
Technical note:
Ipsos interviewed a representative sample of 1,016 British adults aged 18-75. Interviews were conducted online between 7-8 January 2022. Data are weighted to match the profile of the population. All polls are subject to a wide range of potential sources of error.