Half say they would be very likely to follow instructions to self-isolate if pinged
Six in ten say Government communications are clear, up from 4 in 10 in November. But 6 in 10 also concerned the Government is lifting coronavirus restrictions too quickly
New polling by Ipsos shows almost three-quarters of Britons say they are likely to comply with instructions to self-isolate for seven days  when 'pinged' by the NHS contact tracing app. Seventy-two per cent say they are likely to comply with instructions given by the app, including half (50%) who are very likely. Only 1 in 5 (19%) are unlikely to follow instructions.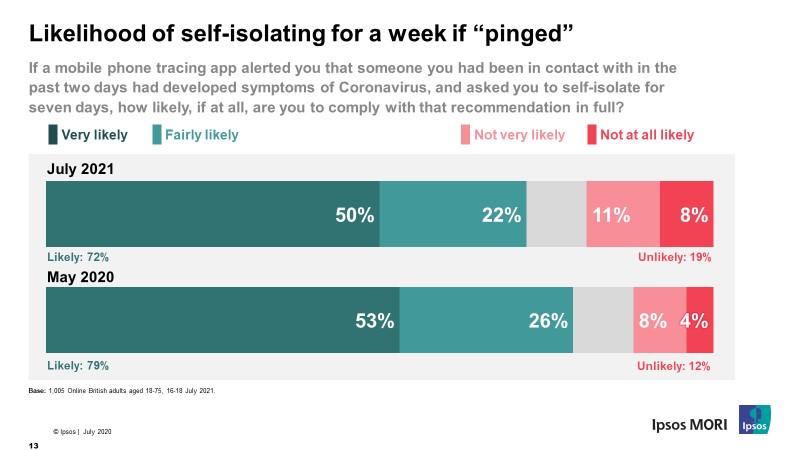 However, as people start to criticise the "pingdemic", the number of those who say they are likely to comply has slightly fallen since May last year when 8 in 10 (79%) said they would follow instructions. 
Government communications
As the Government give people more freedom to choose how to protect themselves from the virus and as the vaccine programme continues, there has been a significant increase in the proportion of Britons who find Government communications clear, compared with last Autumn's lockdown. Now, six in ten (63%) say messaging is straightforward, up from 44% in November 2020. Under 4 in 10 (37%) now say messaging is not clear, however this rises to half of Labour voters (48%).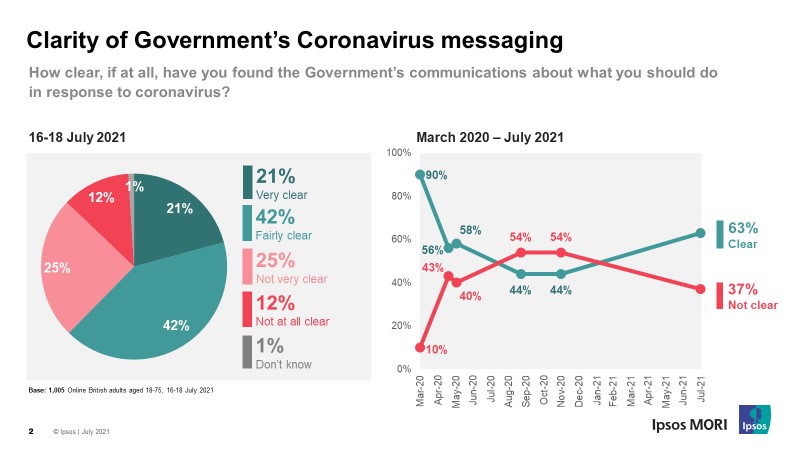 Timing
Asked during the weekend leading up to "Freedom Day" on 19th July, 6 in 10 (58%) Britons believe the Government is lifting measures to limit the spread of COVID-19 too quickly, up from only a third (34%) who said the same regarding the supposed lifting on 21st June. Now, 3 in 10 (29%) say restrictions are being lifted at the right time although still only 9% say things are going too slowly.  This puts public opinion in a similar place to a year ago, when 6 in 10 felt that relaxing restrictions on 4th July 2020 was being done too quickly.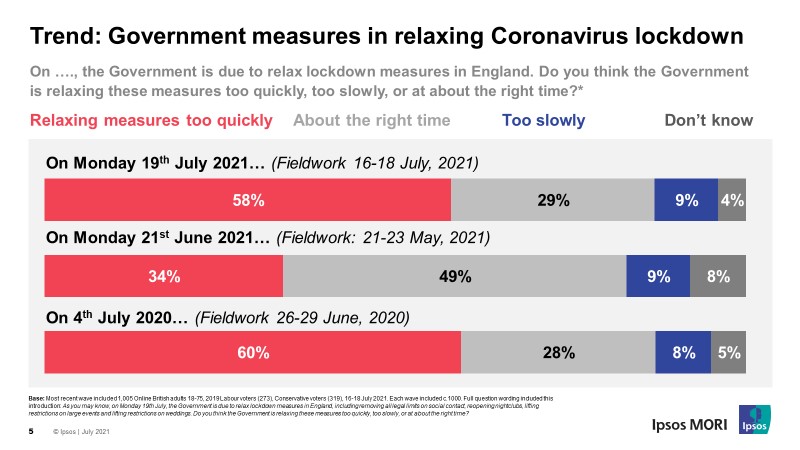 Attitudes towards keeping or relaxing restrictions
Britons continue to feel that we should take whatever measure necessary to reduce the spread of COVID-19 and the number of deaths it caused. On a scale of 1-7 where 1 represents taking whatever measures are necessary and 7 means measures are doing more harm than good and should therefore be relaxed, 55% put themselves between 1-3 (including 30% who say 1), while 28% choose 5-7.  This is little changed from April, although is slightly less in favour of doing whatever is necessary than last year.  
There is a clear age difference.  Among those aged 45 to 75, the balance of opinion is strongly in favour of taking whatever measures are necessary, by 62% to 21% wanting to relax measures.  However, among those aged 18-34 the gap is narrower, by 46% to 36%.
The gap in favour of doing whatever is necessary is also larger among Labour voters (58% to 24%) than Conservatives (46% to 38%).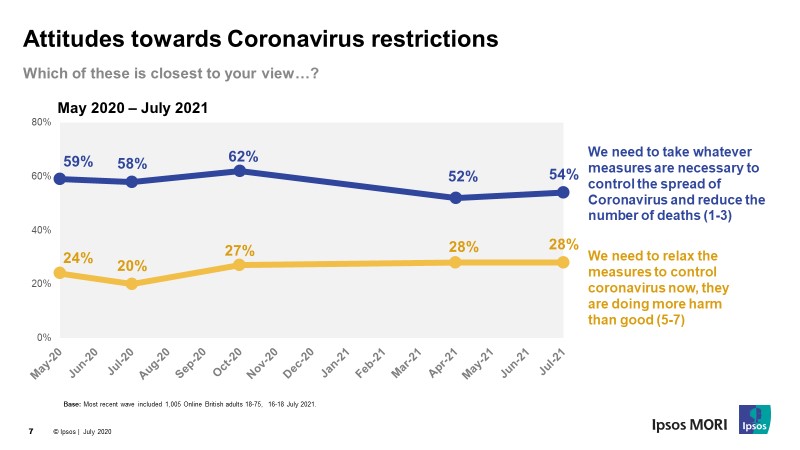 Gideon Skinner, Head of Political Research at Ipsos, said:
There is still a lot of unease amongst the public, with concern about Covid and the lifting of restrictions rising since May as the Delta variant has had its impact on numbers. And broadly, the public still back taking whatever measures are necessary to stop it spreading further, although around one in four are in favour of relaxation (more among young people and Conservative supporters).  
There is also less confusion over what people should be doing than during the lockdown last Autumn, as more people are finding the Government's communications clear, which may also reflect the strength of the messages about vaccination.  However, there is still room for improvement when it comes to persuading the public to self-isolate if pinged.
Technical note
Ipsos interviewed a representative online sample of 1,005 British adults aged 18-75 between 16th-18th July 2021. Data are weighted to match the profile of the population. All polls are subject to a wide range of potential sources of error.
 
Download