Half support Liz Truss resigning as Prime Minister, as few think she will win the next election
3 in 4 say they are not confident Conservatives had a good economic plan but remain split on Labour according to the latest Ipsos political poll.
Only 13% say Liz Truss is likely to win the next General Election
Three in four lack confidence the Conservatives have a good long-term economic plan
Britons reserving judgement on the impact Jeremy Hunt will have on the economy
New polling by Ipsos in the UK, taken 14-17 October, shows half (53%) the public would support Liz Truss resigning as Prime Minister, while only one in five (20%) would oppose it. These figures are similar to those received by Boris Johnson in the months before he was forced to resign as Prime Minister earlier this year.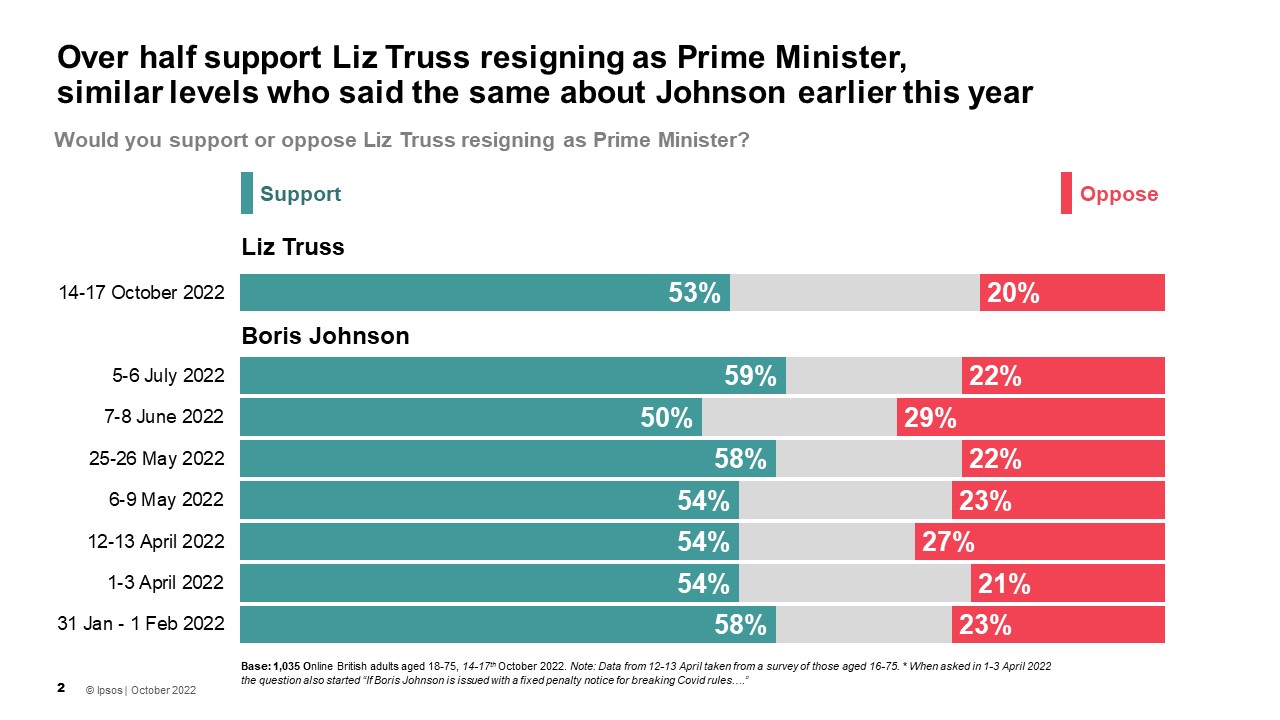 While the Prime Minister maintains she will lead the Conservatives into the next General Election, only 13% believe she is likely to win it, against four in five (78%) saying it is unlikely. This lack of confidence is similar among 2019 Conservatives (18% likely, 80% unlikely), and worse than that experienced by Johnson in early June (30% likely, 59% unlikely).
Similarly, just 14% predict Liz Truss will unite the Conservative party under her leadership, while four in five (78%) say the opposite. Again, these figures are similar among 2019 Conservatives (18% likely, 79% unlikely), and worse than Johnson's numbers this summer (28% likely, 64% unlikely).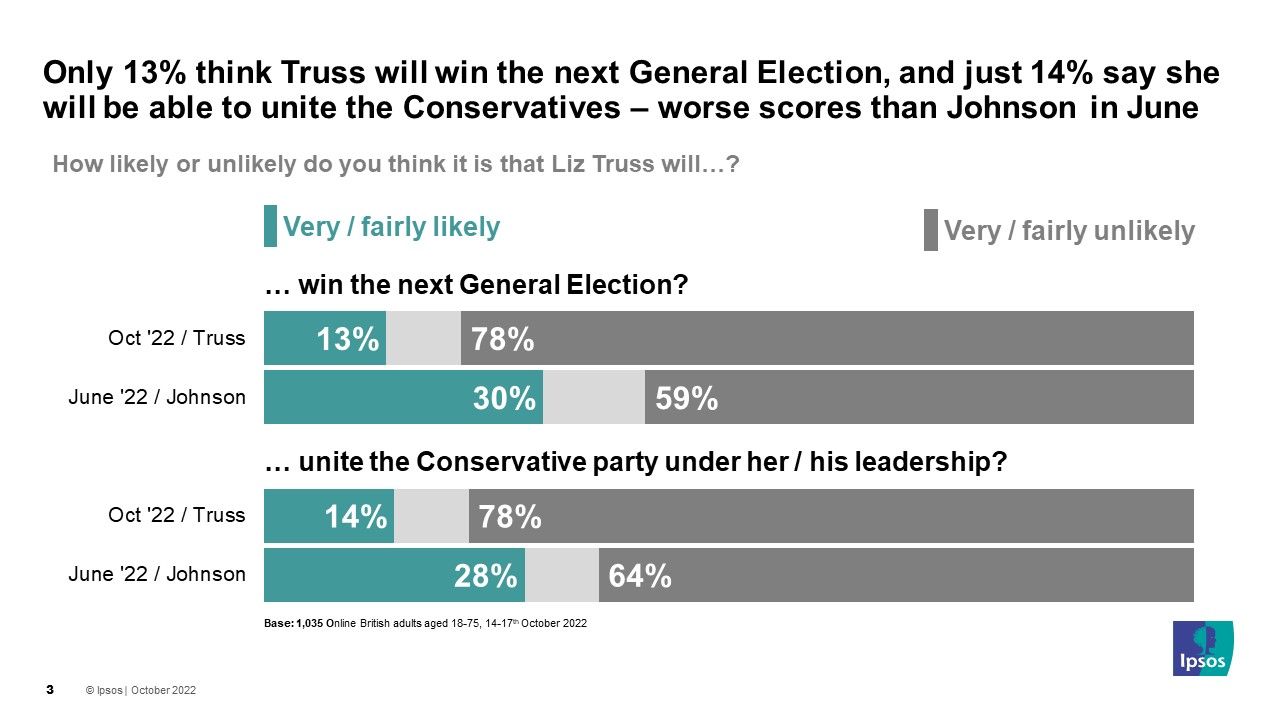 The economy
Three in four (74%) say they lack confidence the Conservatives have a good long-term economic plan (+6 pts since 28-29 Sept), against 17% who do have confidence (-8). However, opinion remains divided on whether the Labour party does, with 40% confident (+2) and 47% not (-5).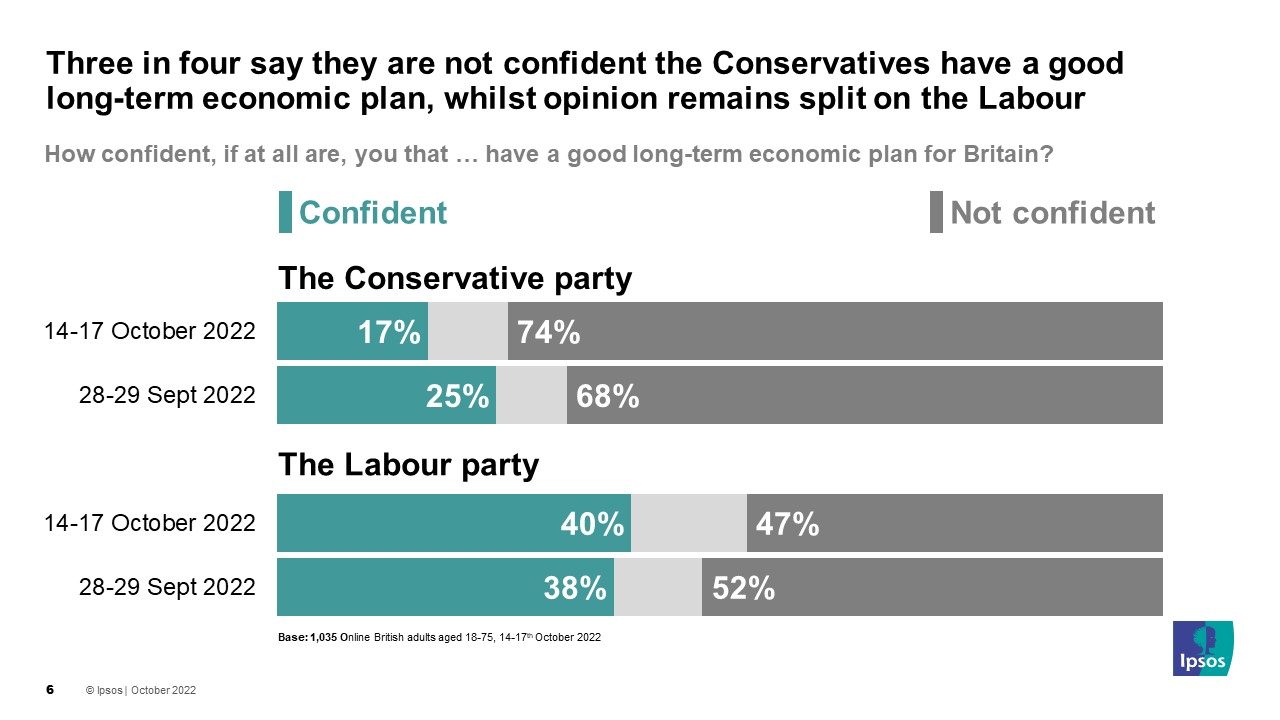 These findings come despite Jeremy Hunt taking over as Chancellor of the Exchequer. One in three (35%) say Hunt will make no difference to the British economy and another quarter don't know, whilst 27% say he will make it worse, and just 14% better. However, this in an improvement on his predecessor, Kwasi Kwarteng, who two in three (64%) think made the British economy worse, one in five (19%) that he made no difference, and just 6% saying better.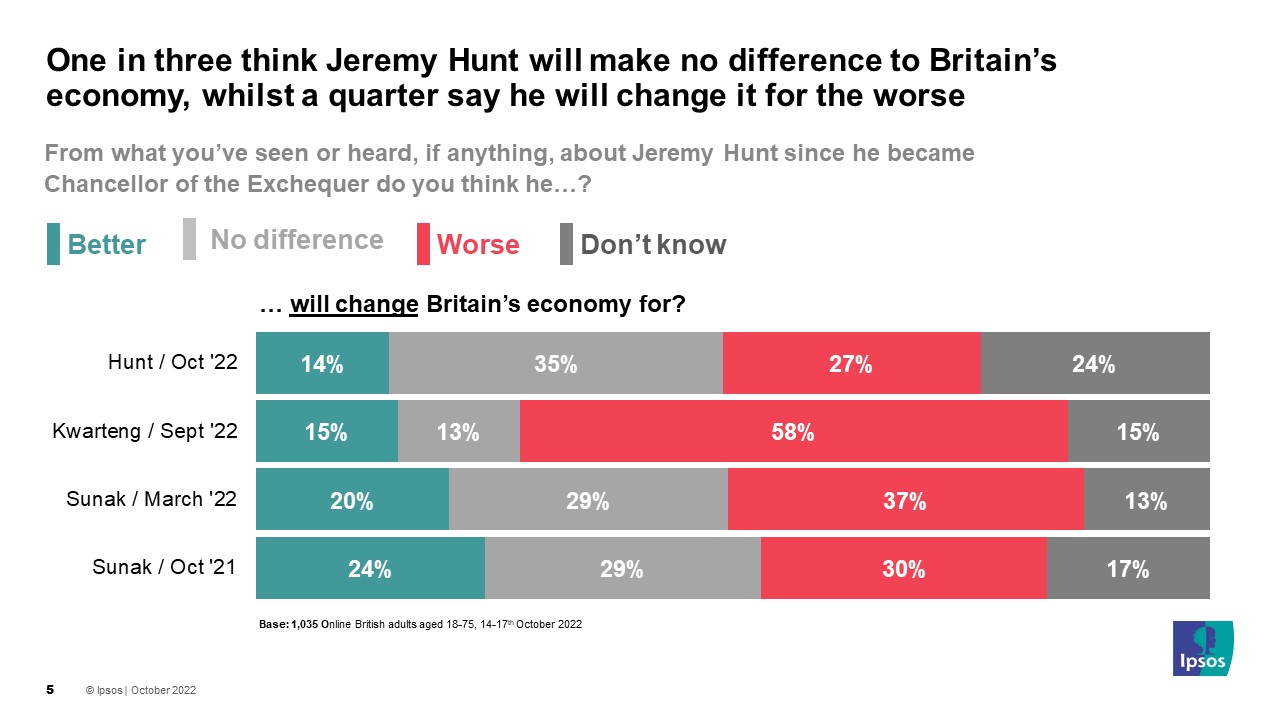 Amid the political turmoil, only 12% say the British economy is in good state (-6 since 28-29 Sept), compared to 86% describing it as poor (+6) – continuing the steady decline in economic optimism we have seen over the last year (in November 2021, 59% thought the economy was in a poor state).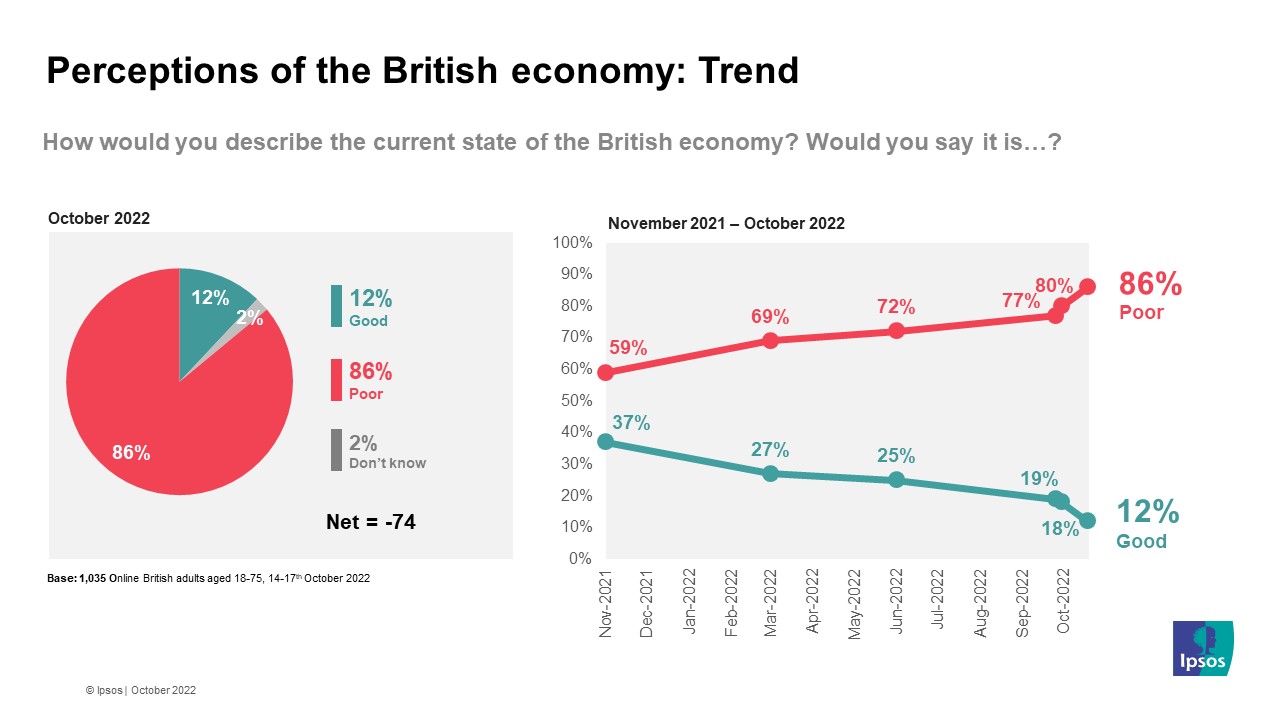 When asked what they blame for the rising cost of living, four in five for each say that the Russian invasion of Ukraine (80%, +3 since 28-29 Sept), the Conservatives' economic policies (80%, +7) and the state of the global economy (79%, +5) are contributing a great deal or fair amount. Nearing half (49%) blame the Conservatives' policies a great deal – more than any other factor.
Elsewhere, seven in ten blame the Covid-19 pandemic (72%, +6), two in three businesses making excessive profits (66%, unchanged) and Britain leaving the European Union (64%, +5). Nearing two in five (39%) say "net zero" policies to combat climate change are contributing (39%, +2).
Gideon Skinner, Head of Political Research at Ipsos, said: 
"The challenges continue for Liz Truss and the Conservative party, with falling public confidence in both her political leadership and in the government's economic plans (while as many think she should resign as thought Boris Johnson should go in his final months).  Although Britons are reserving judgement on Jeremy Hunt so far, given growing pessimism about the state of the economy they will be looking for signs he can make a positive impact soon."
Technical note
Ipsos interviewed a representative sample of 1,000 Britons aged 18-75 Interviews were conducted online from 14-17 October 2022 Data are weighted to match the profile of the population. All polls are subject to a wide range of potential sources of error.