Less than half expect restrictions to be eased on 19th July as planned, but confidence in the NHS remains high
Concern about COVID-19 stays high as the effects of the Delta variant become clear
New polling from Ipsos shows less than half of Britons are now hopeful for the lifting of the remaining coronavirus restrictions as scheduled on 19th July. In fact, as many think it is unlikely that restrictions will be lifted as planned as think it is likely (46% vs 44%).  When asked in May whether people thought the original lifting date was likely to go ahead, almost 6 in 10 (58%) were hopeful, but now the figures reflect the mood before the planned ending of the second lockdown in early December last year.  Fieldwork was conducted before Sajid Javid became Health Secretary and the latest updates from the Government on progress towards lifting restrictions this week.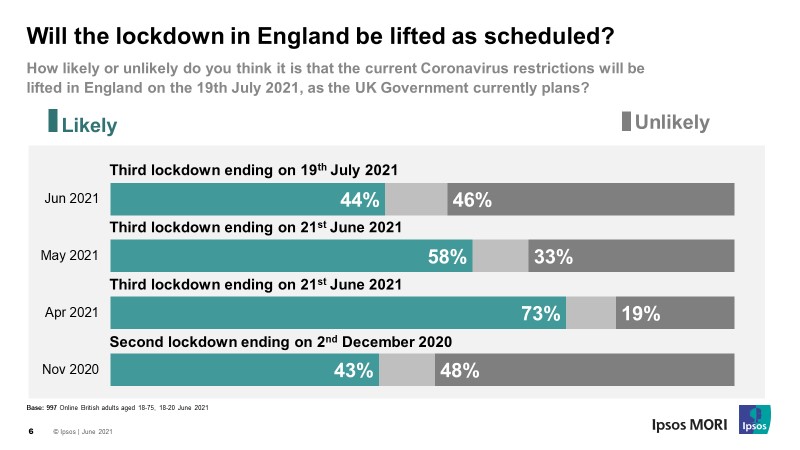 Only a quarter of Britons expect to see life return to "normal" within 2021 (24%) while half (49%) say it will be January 2022 or later. Fifteen per cent say that life will never return to "normal". Younger generations are twice as likely to expect normality to return this year than their elders. A third (36%) of 18-34-year olds say it will be in 2021 while only 16% of 55-75s think life will return to normal within 2021.
Levels of concern about the risk the virus poses to oneself and to the country as a whole remain relatively stable. Now, 6 in 10 (60%) of Britons say they are worried about the risk to themselves, as did 58% in May, while almost 8 in 10 (77%) are worried about the country as a whole, 78% said the same in May.
Despite levels of concern about the virus, public confidence in the NHS also remains high. Eight in 10 (82%) Britons say they are confident in the NHS's ability to deal with those who are getting ill as a result of the virus, up from 79% in February and 60% in January.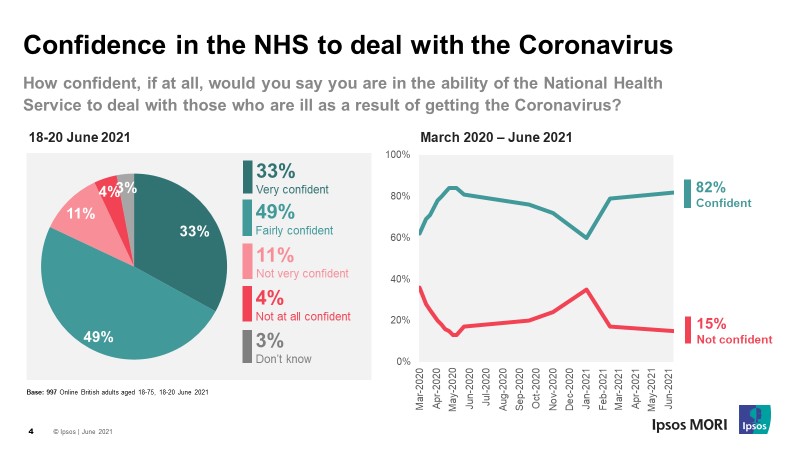 Gideon Skinner, Head of Political Research at Ipsos, said:
With tracking data showing the prevalence of Covid-19 is up with the new Delta variant, the fall in concern about the risks of coronavirus that we saw earlier in the year has now halted, and few Britons foresee an early return to normality.  But with the success of the vaccine programme confidence in the NHS to deal with those who get ill as a result of the virus is as high as it has ever been since the pandemic began over a year ago.
Technical note
Ipsos interviewed a representative sample of 997 British adults aged 18-75. Interviews were conducted online from 18-20 June 2021. Data are weighted to match the profile of the population. All polls are subject to a wide range of potential sources of error.
 
Download