Lower Pound And Higher Rates

19 May 2000
How can we have both a lower pound and higher base rates? The answer is that the risk premium on sterling is currently unusually low -- in that sterling has risen versus the euro this year despite a drop in its interest rate cushion. We doubt that the drop in sterling's risk premium is sustainable.
The current account deficit is worsening steadily and, with rising external interest rates plus signs that inward investment in the UK is at risk, it will become increasingly hard to finance that deficit. The resultant rise in the pound's risk premium probably will cause it to fall even while base rates rise. Short sterling futures do not allow enough for these currency risks.
Our latest MORI poll shows that the balance of public opinion against EMU is at its highest since late 1996. The signs of weakness in the government's own poll ratings, and in consumer confidence in the general economy, add to downside risks for sterling.
Figure 1. UK - DM/STG Exchange Rate and UK-Germany 2 Year Spread, 1997-2000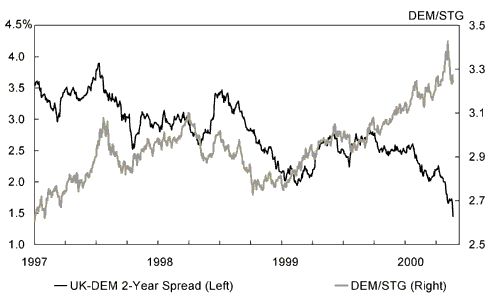 Economic & Market Analysis - Sterling Weekly Schroder Salomon Smith Barney [pdf format - 147K]
Technical details
Latest polling conducted between 11 and 16 May 2000. Sample size 1,920 people for latest survey.