Majority of Britons want to give vaccines to India, but not if it leads to delays in the UK vaccine rollout
Around two-thirds support the UK giving some of its vaccines to India when everyone here has been vaccinated.
A new survey by Ipsos shows wide support among Britons for the sharing of vaccines with India when everyone in the UK has been vaccinated, but not if it leads to delays to people in the UK getting their vaccine. Around two-thirds (63%) of Britons support the UK giving some of its vaccines to India when everyone here has been vaccinated. However, support is weaker under different circumstances.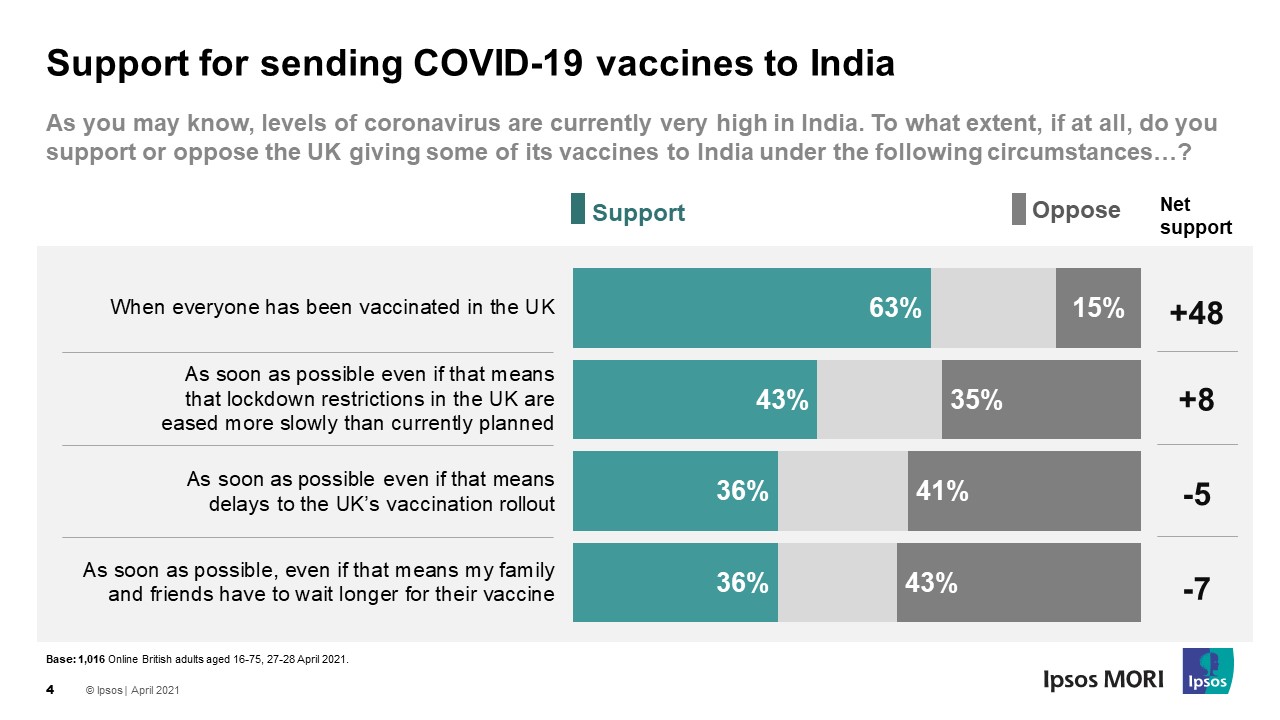 Just over a third (36%) support giving vaccines to India as soon as possible, even if it means their friends and family will have to wait longer for theirs while the same proportion would approve of sharing if it would cause a delay to the UK's vaccination rollout. If the sharing of vaccines meant a slowing of the easing of lockdown restrictions, 43% would support while 35% would oppose.
Britons have become more generous about sharing excess vaccines
In general, however, support for sharing vaccines has increased. Seven in ten (68%) Britons say the UK should pass on some of its extra doses of the COVID-19 vaccine to other countries once it has enough vaccines to meet its immediate needs to protect the UK population, up from 54% in February 2021.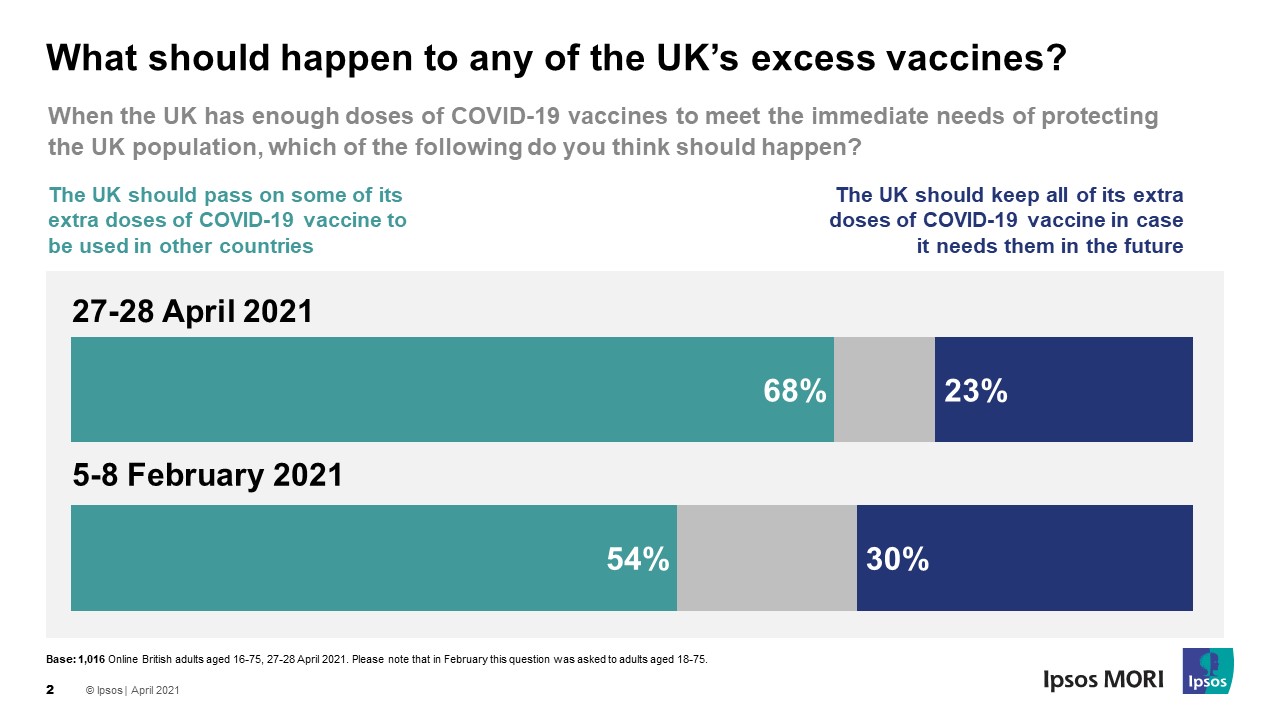 There has also been an increase in the number of people that support the UK giving some of its COVID-19 vaccines away to other countries for free – 58% support, up from 43% in February.
Majority of people support sending medical supplies to India
Britons are more likely to support the provision of medical equipment to India. Three-quarters (75%) support the supplies we have already sent while 7 in 10 (70%) believe we should send more over the coming weeks.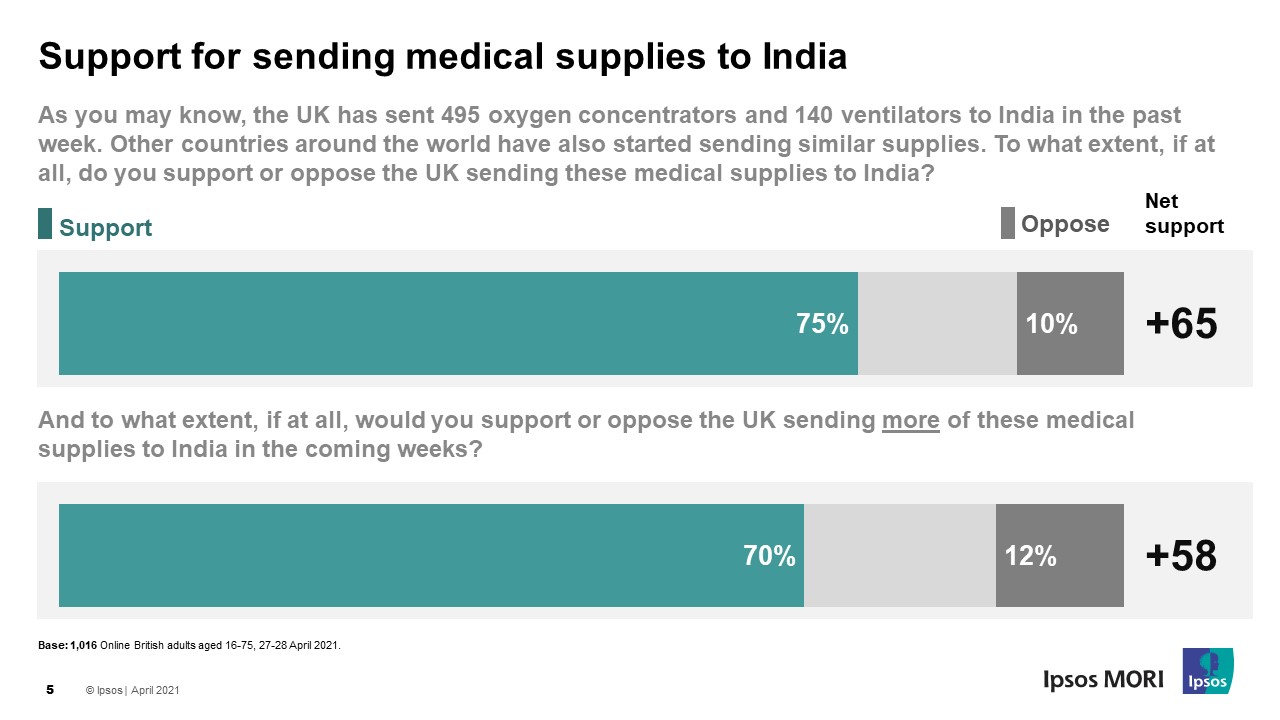 How much should Britain be doing?
Britons are most likely to believe the UK is currently doing more than other rich countries in the aid it is giving poorer countries to help them deal with the COVID-19 pandemic. Four in ten (38%) believe the UK is doing more than others, a third (32%) believe we are doing about the same while only 1 in 10 (11%) believe we're doing less.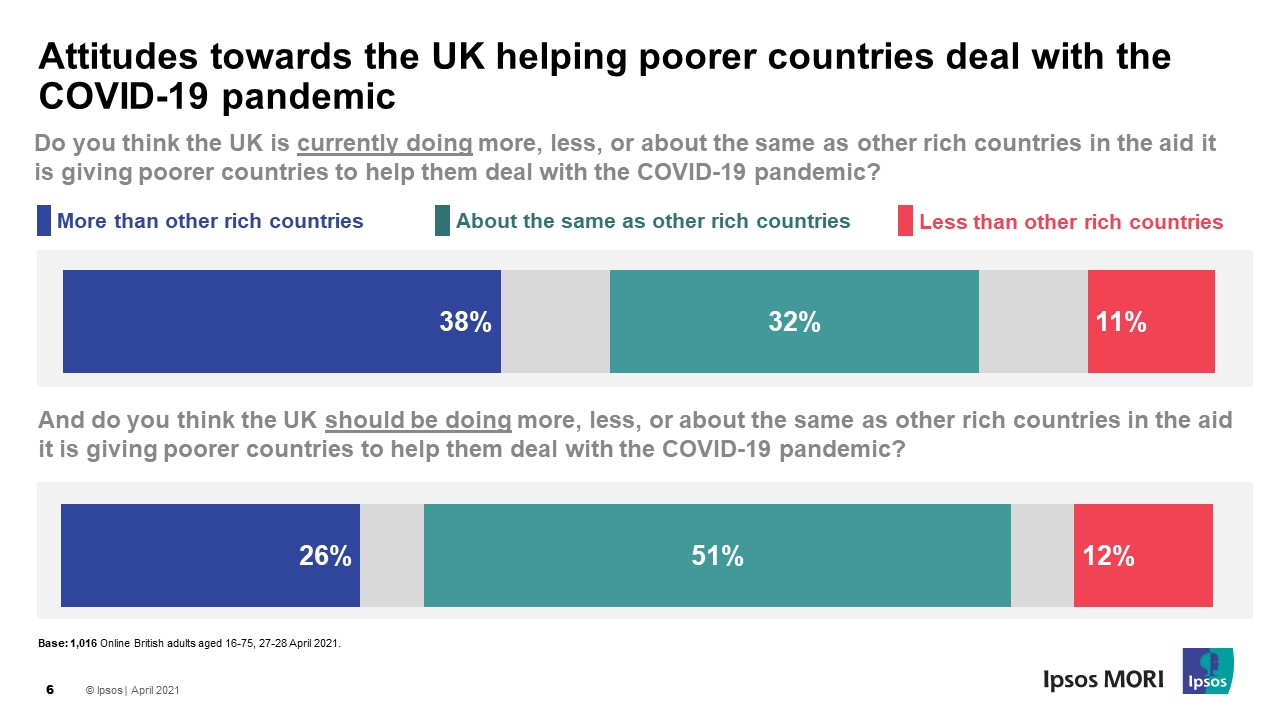 Half of people in the UK believe we should be doing about the same as other rich countries in helping poorer nations with their response to the pandemic. A quarter (26%) believe we should be doing more than other countries while 12% believe we should do less than others.
Technical note
Ipsos interviewed a sample of 1,016 adults aged 16-75 in Great Britain using its Ipsos digital omnibus on 27th April 2021. Data has been weighted to the known offline population proportions for age, working status and social grade within gender, government office region and education.  All polls are subject to a wide range of potential sources of error.
Download