Most Britons continue to say they are following coronavirus rules; almost half believe lockdown measures are not strict enough
The latest poll from Ipsos shows increasing compliance with restrictions to limit the spread of coronavirus with many wanting measures to go further.
How strict are the current Coronavirus measures?
In a new online survey by Ipsos, almost half say the current Coronavirus restrictions are not strict enough (48%), up from 39% at the start of November. Over a third (37%) say current measures are about right while only 9% believe they are too strict.  The survey was conducted among adults aged 18-75 between 12-13 January.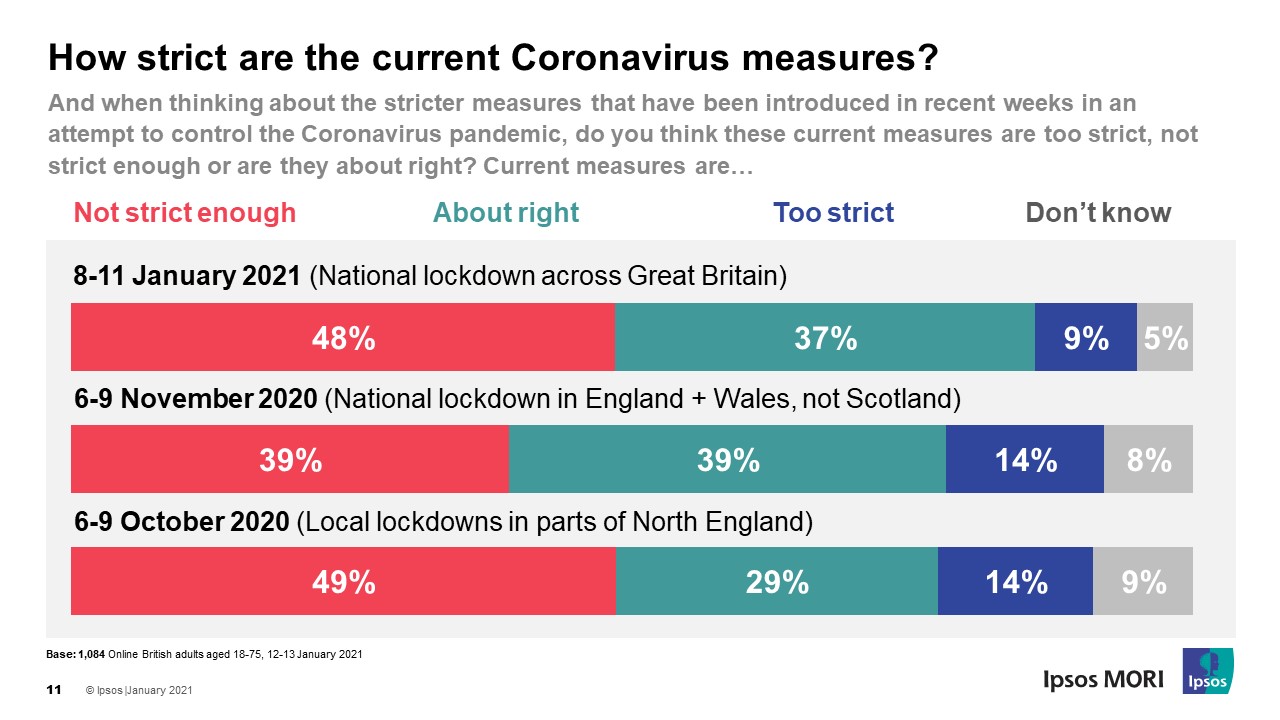 Many Britons support further measures to control the spread of the virus if the number of cases continues to rise. Three-quarters (76%) say if the pandemic worsens then mask-wearing should be made mandatory within all places of work while 61% feel it should be compulsory anywhere outside. Seven in ten (71%) support more fines for people caught breaking current measures. 
Over half (56%) say all nurseries should be closed if numbers continue to get worse, but some measures are not supported. Around 3 in 10 (29%) say we should change the rules to ban childcare bubbles but 38% are opposed. A quarter of Britons (26%) believe the rules should be changed to ban all support bubbles but half (50%) are opposed. 
Half (48%) want to limit daily exercise to just one hour but just a third (34%) say people should only be allowed outside their homes if they have an official pass justifying why (43% are opposed). Just over half (56%) believe rules should be changed to ban mixing outside with anyone from another household. 
Compliance with lockdown restrictions
Slightly more Britons say they are following Government coronavirus rules completely/ nearly all the time than in November. Two months ago, 73% said they followed the rules, now almost 8 in 10 say the same (78%). The number of people who say they follow the rules less than half/ hardly any of the time or not at all has remained the same (4%).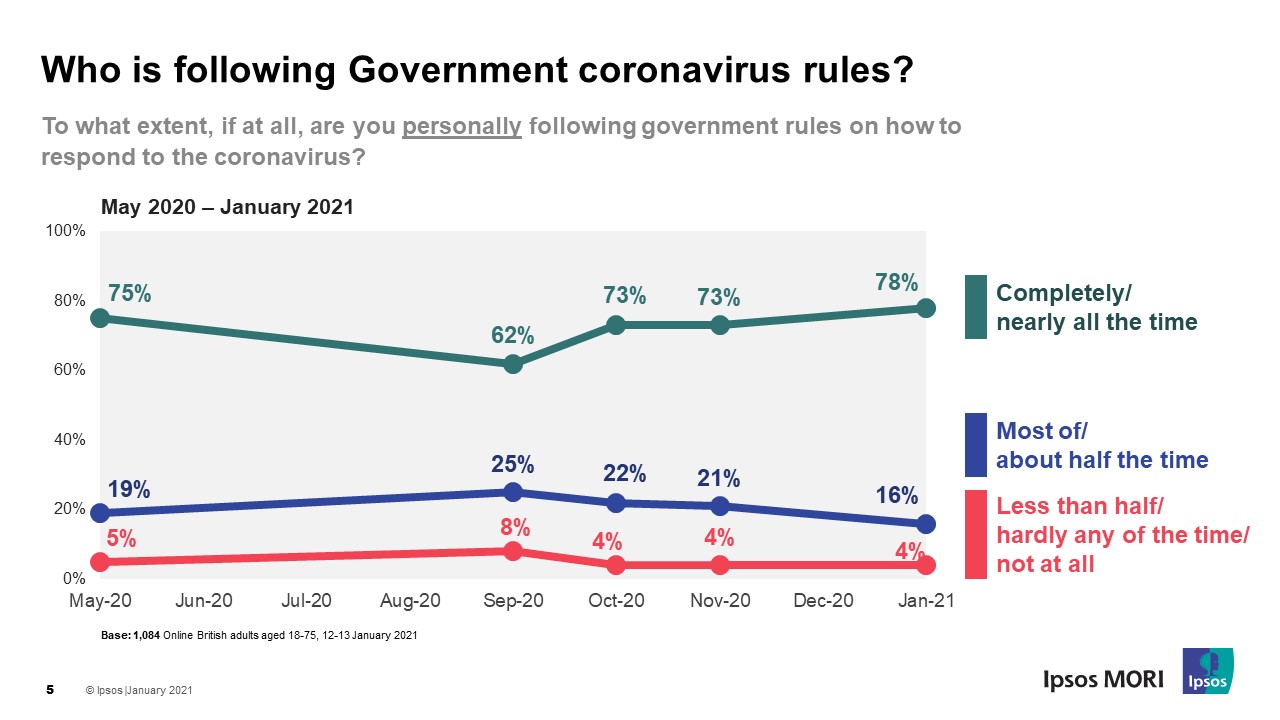 Older generations are most likely to say they are following the rules completely, with 58% of those aged between 55-75 say this while less than a third of 18-34s say the same (31%). 
When looking at the behaviour of others, people are more sceptical, but there has still been an increase in perceptions of compliance among others compared with November.  Around half (52%) believe at least most of the British public are properly following the rules, up from 42% in November.  Two in ten (19%) believe less than half of the rest of the nation are following the rules. 
A quarter of Britons say they are finding it easier to follow the restrictions now than in the first lockdown while the same proportion are finding it more difficult. Almost half (48%) say it is about the same. This is little changed from perceptions in November.
What is acceptable during lockdown? 
Over 8 in 10 (83%) believe it is acceptable for people to spend time outside of their home for exercise, however, over half (55%) say it is not acceptable to travel further from your immediate vicinity to do so. 
Around 6 in 10 think it is acceptable to meet up with one person from another household outside (61%), but 62% would disapprove meeting up with more than one. Meeting up someone should not take place in private gardens, as only 25% say it is right to meet with friends or family here. Romantic visits from partners from other households are also seen as unsuitable on balance, 42% say people should not have their partner to visit their home compared with 30% who say this should be allowed. Two-thirds (66%) say it is not acceptable to meet with a person inside a home.
Almost half (48%) say it is not acceptable to have a nanny come to their home from another household.  Three in five (62%) say people should not have a cleaner come to their house. Seven in ten believe it is ok to visit and care for an elderly relative (70%). 
In England, the public have become more disapproving of many of these since November, in line with the tightening of the rules.  For example, the proportion believing it is acceptable to meet up with just one other person outside has fallen from 73% to 60%, to buy a take-away drink from a pub or bar has fallen from 62% to 43%, and those who think it is acceptable to be visited by a partner who does not live with them has fallen from 42% to 29%.  Having said that, the public does not appear to be as strict as they were during the first lockdown in May, although there are fewer long-term trends since then.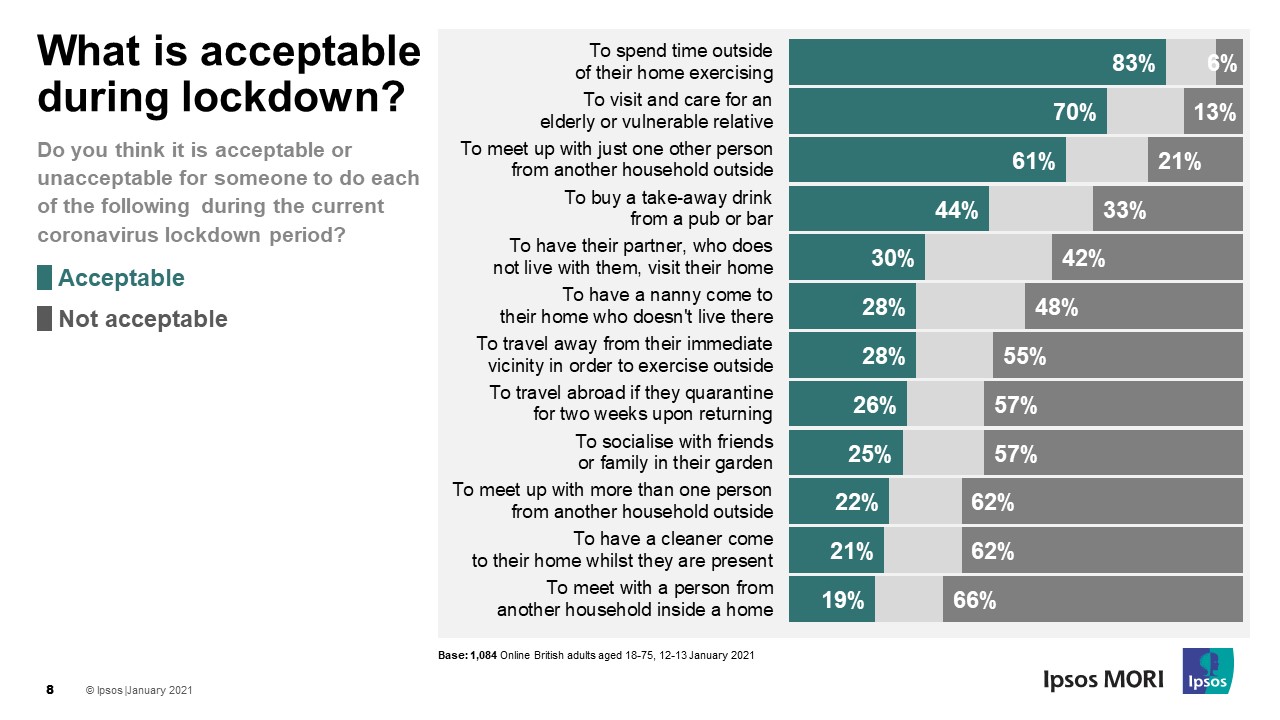 Gideon Skinner, Head of Political Research at Ipsos, said:
Although our research has shown that people are finding it harder to stay positive during this latest lockdown, that doesn't mean they are any the less likely to support the necessity for strict restrictions.  Should cases numbers continue to get worse, they would also be prepared for further steps, such as mandatory mask-wearing and more fines for rule-breakers (although there are limits – for example there is little desire to ban support bubbles for those on their own who may be more vulnerable).  Furthermore, while there are still age differences we have also seen an increase in those saying they personally are obeying the rules (allowing this is self-assessed), and although overall people are less convinced that all their fellow citizens are properly following the guidance, even here there has been an increase in the proportion who think that most other Britons are complying.
Technical note: 
Ipsos interviewed a representative sample of 1,065 British adults aged 18-75. Interviews were conducted online from 8th-11th January 2021. Data are weighted to match the profile of the population. All polls are subject to a wide range of potential sources of error.