Number of people completely following COVID-19 restrictions falls, especially among 55-75-year olds
But most still say they are following the rules nearly all of the time as Britons become more comfortable with the prospect of meeting friends and family and getting back to normal
A new survey by Ipsos shows the number of Britons who say they are following the Government's COVID lockdown rules completely has fallen from almost half (47%) in January 2021 to just over a third (35%) now. A further 36% are following the restrictions nearly all of the time (up from 31%) while 21% are following most/ half of the time (was 16%) and 6% less than half/ hardly at all (little change from 4%).  Claimed adherence to the rules reached a peak in January but has now dropped back to the levels seen last autumn. 
Among those aged 55-75, the number of people following the rules completely has fallen from 58% in January to 4 in 10 now (40%), perhaps related to the success of the vaccine programme among older people. However, overall this this age group is still more likely than younger Britons to say they are following the rules.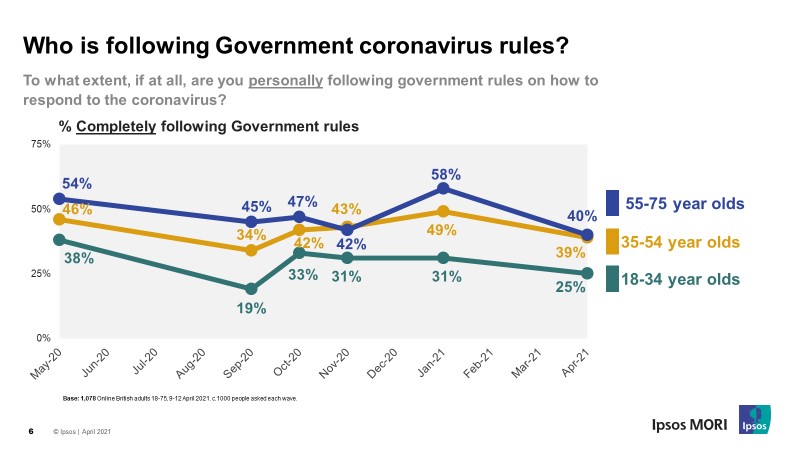 What are people comfortable doing after lockdown?
Once restrictions have been lifted, Britons are most comfortable meeting friends and family outside of their household (77%), with another 5% who say this is already back to normal. Overall this is an increase of eight points since February.  Seven in ten (71%) would feel comfortable visiting their GP for non-COVID related issues. Two-thirds (66%) feel comfortable shopping in both supermarkets and other shops.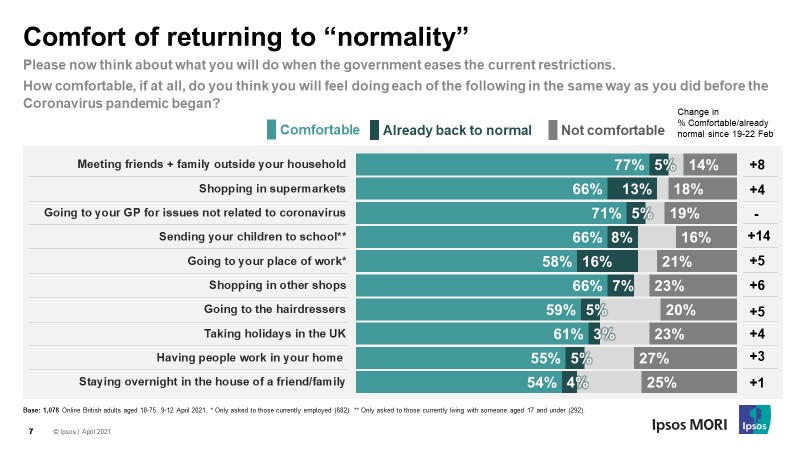 Six in ten (58%) workers say they will feel comfortable returning to work once restrictions are lifted, 16% say this had already returned to normal. Parents are also more likely to say they will feel comfortable sending their children to school (66%, up from 55% in February), 8% believe this is already as it was before the pandemic hit. 
A majority of Britons say they will be comfortable going to the hairdressers (59%), taking holidays in the UK (61%), having people working in your home (55%) and staying overnight at a friend or family member's house (54%). Around half would be happy visiting an indoor museum or exhibition (51%) and going to bars and restaurants (50%).
Using public toilets and transport continue to divide opinion. Almost 4 in 10 would feel comfortable using these public facilities (39% and 37% respectively), while 45% and 42% would be uncomfortable doing so. 
Indoor cinemas, theatres, gyms, swimming pools and leisure centres also split opinions. Just under 4 in 10 (38%) would feel comfortable going to cinemas and theatres as they did before the pandemic hit, 42% would not. Three in ten (31%) would be happy to visit an indoor gym, pool or leisure centre while 36% feel the opposite way.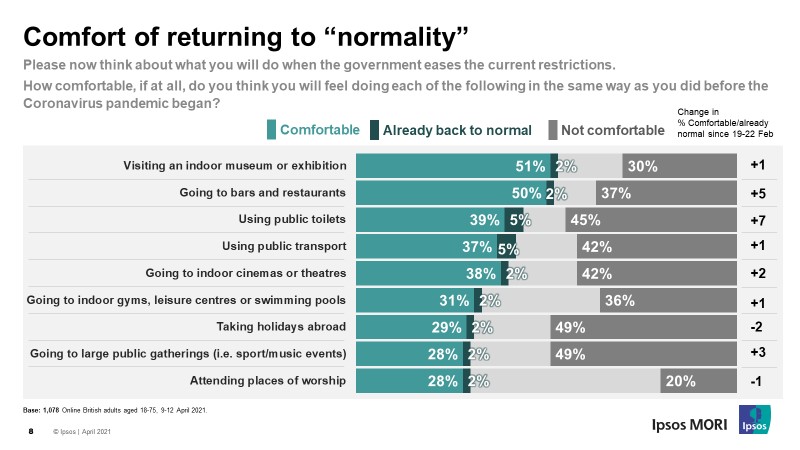 Large public gatherings and holidays abroad are most likely to cause discomfort, causing half of Britons to feel uneasy (49% for each) while just under 3 in 10 (28% and 29% respectively) would be happy. 
Gideon Skinner, Head of Political Research at Ipsos, said:
The success of the programme to bring down COVID infections, and the accompanying easing of restrictions, is clearly having an impact on the public mood.  People are feeling more comfortable with the prospect of meeting their friends and family, sending their children back to school, going back to work and other aspects of normal life – including going out for a drink and getting their hair cut.  But this comes with a risk – the proportion of people who say they are completely following the government's rules has fallen since its peak in January, especially among older age groups.  The vast majority still say they are mostly following the rules, but the Government will want to watch this closely to ensure that this emerging optimism can be sustained.
Technical note
Ipsos interviewed a sample of 1,078 adults aged 18-75 in Great Britain using its online i:omnibus between 9th and 12th April 2021. Data has been weighted to the known offline population proportions for age, working status and social grade within gender, government office region and education.  All polls are subject to a wide range of potential sources of error.