Only half of Britons would be comfortable greeting people with handshakes and hugs in the same way they did before the pandemic
Ahead of the next step of the lifting of lockdown, we take a look at how comfortable Britons are returning to "normal" and what they're looking forward to
New polling by Ipsos, ahead of the next stage of lockdown easing on 17th May, shows only half of Britons would be comfortable greeting people with hugs or handshakes when the current restrictions are lifted; 50% say they would be happy doing this in the same way as before the start of the pandemic, while 40% are uncomfortable with the notion.
Britons are though becoming more comfortable returning to "normality" than last month, with the biggest increases in the prospects of visiting indoor museums (+12ppt), indoor cinemas and theatres (+11) and going to bars and restaurants and using public transport (both +10).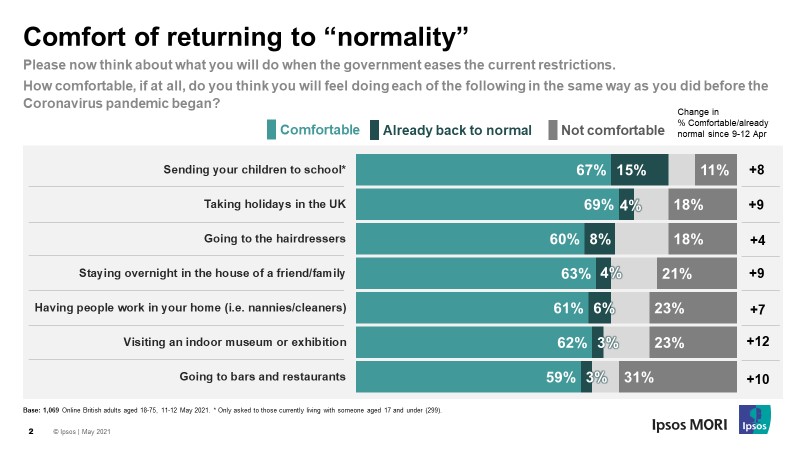 Britons are particularly likely to feel comfortable taking holidays in the UK as they did before the pandemic, 7 in 10 (69%) would be happy doing this when current restrictions lift, increasing from 59% in April. In comparison, few would be comfortable taking holidays abroad; less than a third (31%, little change since April) would be happy travelling to another country while half (50%) would feel uncomfortable. 
As we approach the next stage of the lockdown-easing roadmap on 17th May, many Britons are comfortable with the idea of going inside places which have been unavailable for the last few months. Six in ten (63%) would be comfortable staying overnight in the house of a friend or family member, increasing from 54% last month, while 62% would be happy visiting an indoor museum or exhibition. 
Six in ten (59%) would be comfortable going to bars and restaurants while 3 in 10 (31%) would be nervous doing so.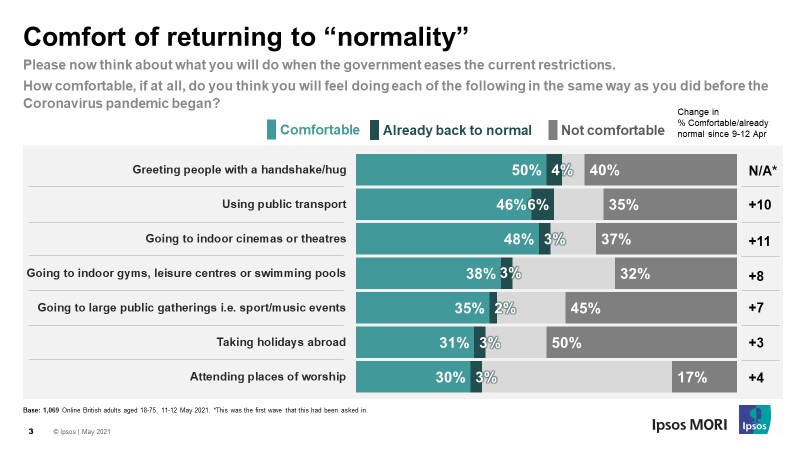 Britons are less comfortable going inside cinemas and theatres, around half (48%) say they would feel comfortable doing so, however this has increased from 37% when asked in April. Similarly, indoor leisure centres, gyms and swimming pools cause higher levels of discomfort but still less than a month ago, as 38% would be happy visiting these places, while a similar proportion would not (32%). 
Two-thirds of parents are comfortable sending their children to school, 15% say this is already back to normal.
Attending large gatherings, such as sports or music events, continues to be a worry to many. Almost half (45%) would be uncomfortable attending such events while only 35% would be happy to, albeit an increase from 28% last month. 
What are people looking forward to?
Many Britons are looking forward to coronavirus restrictions ending. People are most looking forward to not having to think about coronavirus or social distancing (77%), while 68% are excited to not have to wear face coverings in public places. 
When considering socialising with others, Britons are looking forward to having dinner in restaurants with friends (72%) and going on a spontaneous day trip (72%), six in ten (62%) are looking forward to having people to their homes for dinner or are excited to go to parties, such as weddings and birthdays (58%). Fifty-five per cent are looking forward to going to the pub. Two-thirds (67%) of parents are looking forward to taking their children to visit their grandparents again. 
While others feel uncomfortable doing so in the short term, more than 4 in 10 (44%) Britons are looking forward to attending large gatherings such as sports and music events again when life returns to "normal". 
Over half of Britons are looking forward to meeting new people when life returns to "normal" (54%), while a quarter (27%) are excited to go on dates again. This increases to half of those aged 18-34 (48%) and 4 in 10 (40%) single people. 
Four in 10 (40%) workers are looking forward to seeing their work colleagues again in person. While 51% said they were excited for this 3 months ago, this fall can be explained by an equivalent increase in the proportion of people who are already doing this (up from 20% to 29%). Around 3 in 10 (31%) are looking forward to dressing smartly for work while 29% are looking forward to their commute to a from their place of work. A third (32%) say this has already gone back to normal. 
Gideon Skinner, Head of Political Research at Ipsos, said:
In recent weeks we've seen Britons become more optimistic about the prospects of emerging from the pandemic, as the vaccine programme continues, and this latest data continues this trend as people look forward to taking part in more social activities as restrictions ease.  But this optimism is tempered with caution – for example not everyone is comfortable greeting friends with hugs and handshakes yet – as people appreciate that we aren't completely out of the woods yet.
Technical note:
Ipsos interviewed a sample of 1,069 adults aged 18-75 in Great Britain using its online i:omnibus between 11th and 12th May 2021. Data has been weighted to the known offline population proportions for age, working status and social grade within gender, government office region and education.  All polls are subject to a wide range of potential sources of error.