24 November 2000
Our latest MORI poll shows a further sharp rise in opposition to EMU entry. The balance of opinion against joining EMU is close to the record highs seen in late 1996, around the time of the outbreak of the "beef war", when the UK was at odds with all the other EU countries.
But our poll also shows a sharp rise in Labour's support, while consumer confidence also is high and rising. The government's attempts to downplay its pro-EMU stance, plus the fiscal easing in the Pre Budget Report, seem to have revived their core support. But this comes at the expense of a further erosion of support for European integration.
We doubt that the UK will join EMU during the next five years, in contrast to EU Commissioner Neil Kinnock's view that the UK will join in that period or soon after. Some might argue that this makes sterling a good diversification bet - in Europe but not in EMU. But, the UK's backdrop of a rapidly rising trade-unions gap, rising pay and reduced inward investment means that we still expect sterling to fall on a trade-unions weighted basis in coming quarters.
Figure 1. UK - Balance of Opinion Over EMU, 1991-Nov 2000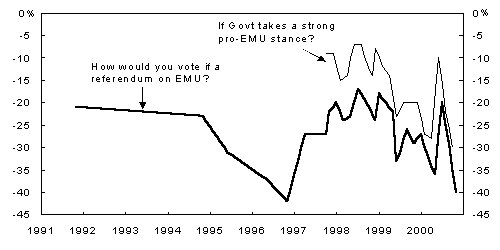 Economic & Market Analysis - Sterling Weekly Schroder Salomon Smith Barney [pdf format - 117K]
Technical details
Latest polling conducted between 16-21 November 2000. Sample size 1,905 people for latest survey.
Sources: MORI Financial Services and Salomon Smith Barney