Polls Turn Against EMU - and Labour

22 September 2000
Our latest MORI poll suggests that public opinion has swung sharply against EMU entry. In July, we reported that public hostility had fallen sharply. Now the balance of opinion against EMU has risen markedly, although it is still slightly below the extreme levels seen in May 2000.
Our poll supports other signs that the government's popularity with voters has fallen sharply. The anti-government swing is greatest among middle and low-income groups, and among those who oppose EMU entry. EMU is becoming a dangerous political issue for the government, and seems to have a closer link to voting intentions than it did a few months ago.
The government probably will respond to the slide in its popularity and the swing against EMU by easing fiscal policy further and becoming even more cautious about advocating EMU entry. The likelihood of the UK joining EMU in the next five years remains below 50%.
Figure 1. UK - Balance of Opinion Over EMU, 1991-Sep 2000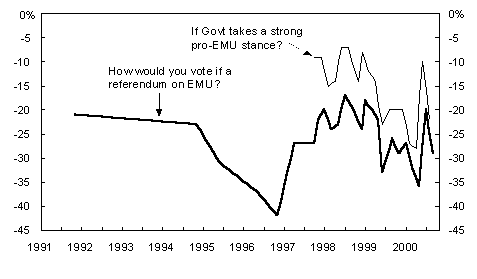 Economic & Market Analysis - Sterling Weekly Schroder Salomon Smith Barney [pdf format - 116K]
Technical details
Latest polling conducted between 14-19 September 2000. Sample size 1,918 people for latest survey.
Sources: MORI Financial Services and Salomon Smith Barney