Public continues to support Britain's role in Ukraine conflict
There is some evidence Britons' support of economic sanctions against Russia could wane if there are further energy price rises according to an Ipsos poll for Sky News.
6 in 10 support Britain's response to the conflict – just 12% oppose
7 in 10 continue to support economic sanctions against Russia – but some evidence support could wane if there are further energy price rises
Seven months on from the Russian invasion of Ukraine, the fighting continues while the world looks on. While not directly involved in the conflict, a significant proportion of Britons believe see the Russian invasion of Ukraine is contributing to the rising cost of living in Britain (79%), including 41% who say it is contributing a great deal.
A similar proportion say the state of the global economy is a key contributor (80%) while around 3 in 4 place the blame with interest rates in Britain (77%) or the Conservative Party's economic policies in government (75%). Seven in 10 (70%) say businesses making excessive products is contributing to the rising cost of living while the same proportion say the same for the COVID-19 pandemic. Just over 6 in 10 say Brexit is contributing to the rising cost of living (63%) while half see workers demanding pay rises as a factor (50%). Less than half of Britons say 'net zero' policies or immigration into their country are impacting the cost of living (both 46%).
Support for Britain's role in the Ukraine conflict
Despite a large proportion of Britons saying the situation in Ukraine is impacting their cost of living, few oppose supporting Ukraine through the conflict. Six in 10 (60%) support Britain's current role in the conflict, including providing a range of economic, humanitarian and defensive military assistance to Ukraine, as well as imposing additional sanctions on Russia and Belarus.
Just over 1 in 10 (12%) oppose. Numbers are similar to those seen last month where 62% supported Britain's role in the conflict and 14% opposed. Meanwhile, around half say the UK has provided about the right amount of support to Ukraine (51%) while 17% say we have given too much and 19% say too little support.
Support for different courses of action
Looking specifically at the different ways in which Britain is supporting Ukraine, people are most likely to say they support sending humanitarian aid such as food and medicine (74%) while 7 in 10 support the government implementing economic sanctions against Russia (70%). This has fallen slightly since April (74%) and March (78%) but remains higher than February (61%). Around 6 in 10 support sending money to help Ukraine in their fight (59%), sending weapons (58%) and allowing more Ukrainian refugees to come to Britain (58%).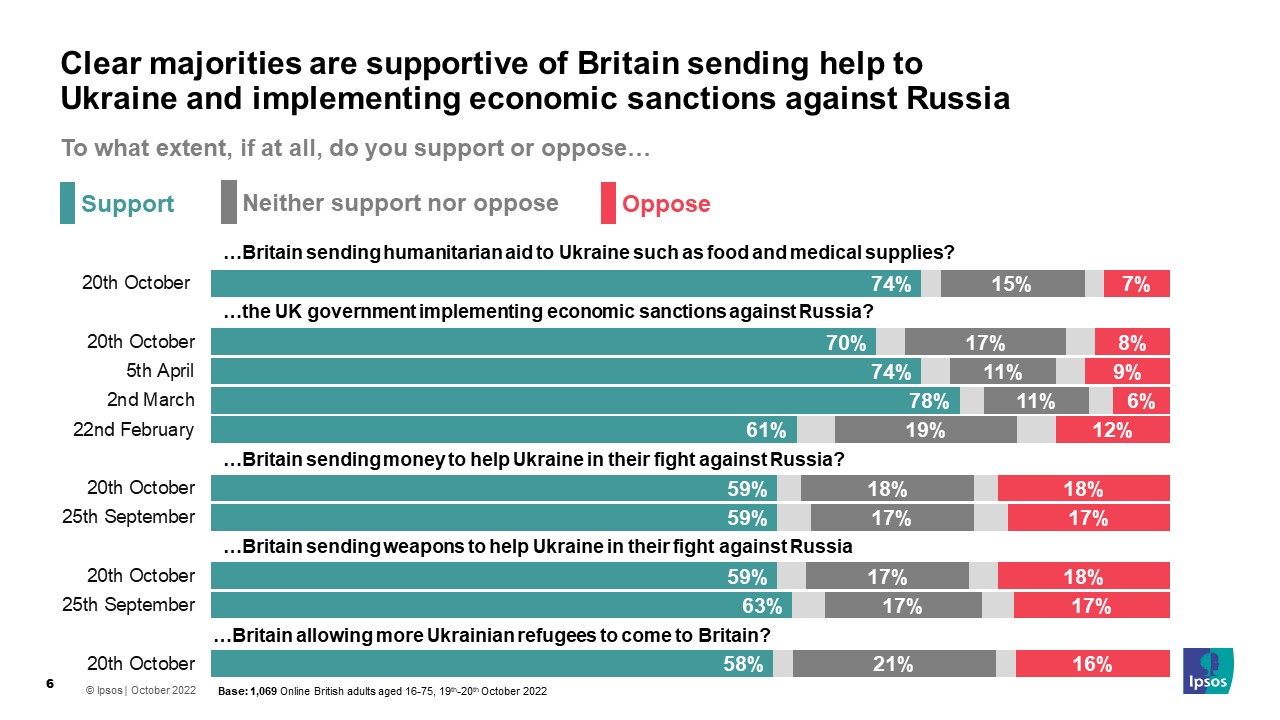 When reminded of the impact economic sanctions can have at home in the UK, Britons are less likely to support them. Compared to 7 in 10 who support sanctions generally, only around 4 in 10 would support the sanctions if they led to increased energy prices (41%) from where we are today. Therefore, whilst more Britons continue to support sanctions in the face of further increases in energy prices rather than oppose, there are signs this support is finite.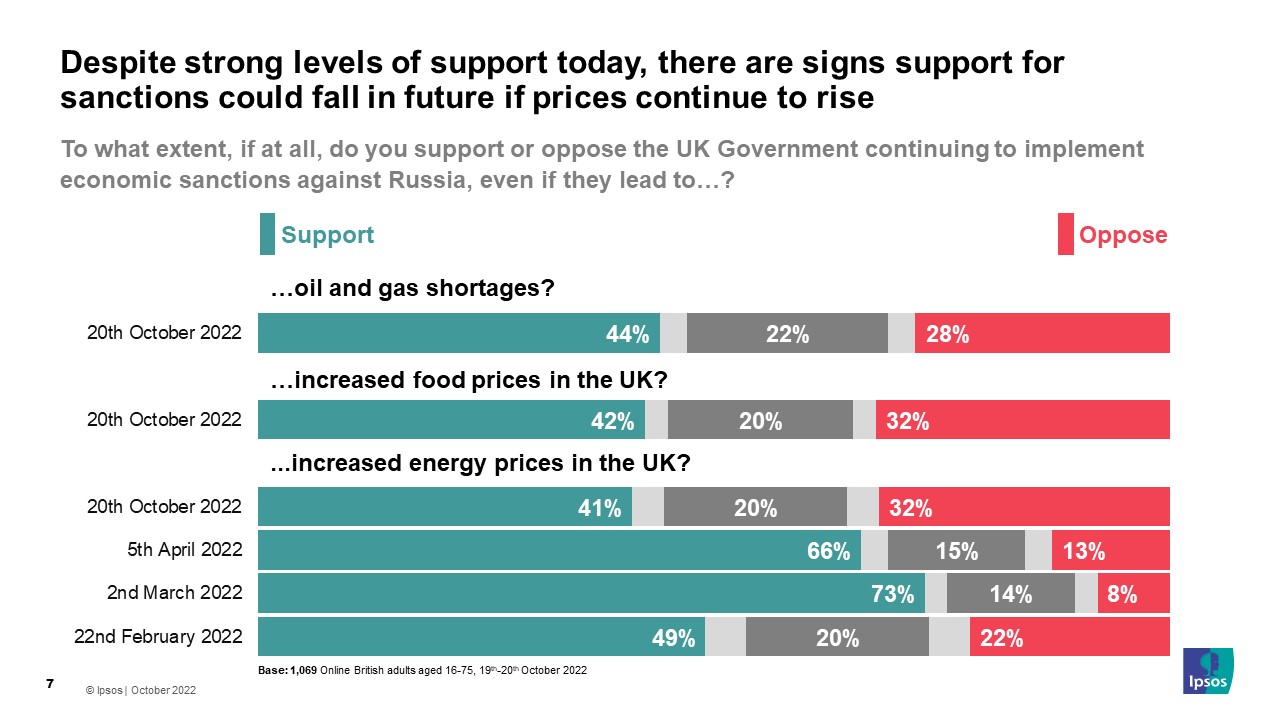 However, when asked to choose between two statements, most Britons (52%) agree that "economic sanctions on Russia are necessary to support Ukraine and encourage Russia to end the war, even if it means energy and food prices will remain higher for a while". Less than a quarter (23%) instead agree "the sanctions on Russia aren't worth the economic impact they are having in the UK on energy and food prices".  Numbers are largely unchanged from a similar poll taken in the summer.
Levels of concern about the war in Ukraine
The public continue to show high levels of concern about the impact of the conflict on Ukrainian civilians (82%), the economy (82%), UK national security (74%) and themselves personally (63%).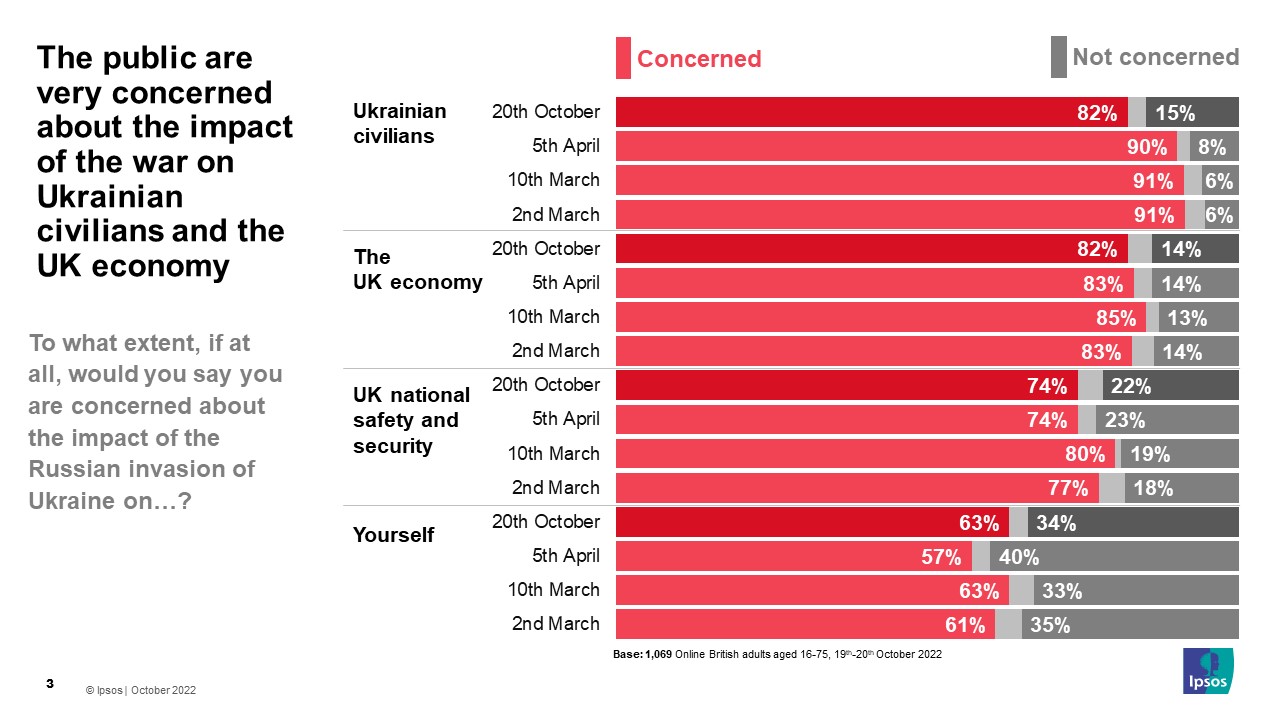 Keiran Pedley, Director of Political Research at Ipsos, said:
These findings show sustained support for Ukraine from the British public over time, as a clear majority continue to support Britain's role supporting Ukraine amidst widespread sympathy for Ukraine's people.  Although there is concern about the impact of the war on Britain's economy, most continue to support sanctions, and think they are necessary even with higher energy and food prices.  However, there is some evidence that support for sanctions in the face of rising energy and food prices may not be limitless if they continue to rise even further over time.
Technical note
Ipsos interviewed a representative quota sample of 1,069 adults aged 16-75 in Great Britain. Interviews took place on the online Omnibus 19th-20th October 2022. Data has been weighted to the known offline population proportions. All polls are subject to a wide range of potential sources of error.