Public more confident Keir Starmer has followed Covid rules than Boris Johnson – but cost of living more important in how both are judged
Now that Durham police have announced their investigation into whether Keir Starmer broke Covid regulations during the pandemic, what effect does it have on him and how does it compare to Boris Johnson?
Public more likely to want Boris Johnson to resign than Keir Starmer
But public also more likely to support Starmer resigning than oppose if he is fined for breaking Covid rules  
Yet, policies to address cost of living much more important in how public judge both leaders
With Durham police investigating reports of Keir Starmer breaking lockdown rules, and the opposition leader announcing he will resign if he is fined, new research by Ipsos shows the British public have more confidence in Keir Starmer following the rules than the Prime Minister, Boris Johnson.  But policies for addressing cost of living more important in how both leaders are perceived.
The latest Ipsos Political Pulse, taken 6-10th May, so fieldwork mainly completed before Starmer's recent announcement, explored public attitudes to recent lockdown investigations, the futures of Boris Johnson and Keir Starmer and how important stories around the following of Covid regulations are, relative to other matters, in how the two leaders are judged by the public.
Who followed Covid regulations?
Our poll shows that 4 in 10 (39%) Britons are confident that Keir Starmer followed Covid rules and regulations appropriately during the pandemic while around half (48%) are not. This comes after pictures emerged of the Labour Party leader holding a bottle of beer with other Labour workers in a party office in April 2021; with Durham's policing investigating whether he did or did not break the Covid rules at the time.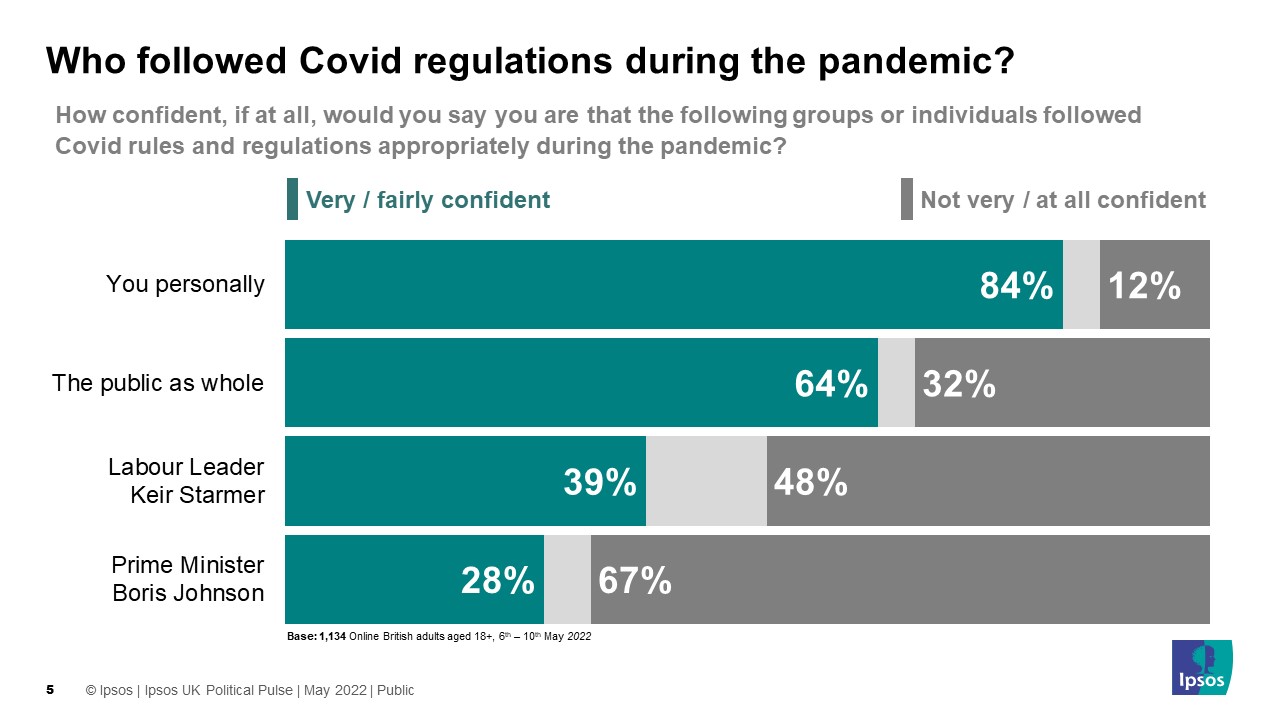 Just over a third (36%) believe Keir Starmer should resign as Labour leader generally without 'beergate' being mentioned (22% oppose, with the rest neutral or saying don't know). This rises slightly to 40% specifically if he is found to have broken Covid rules and issued a Fixed Penalty Notice. In those circumstances 21% oppose with the rest neutral or saying don't know.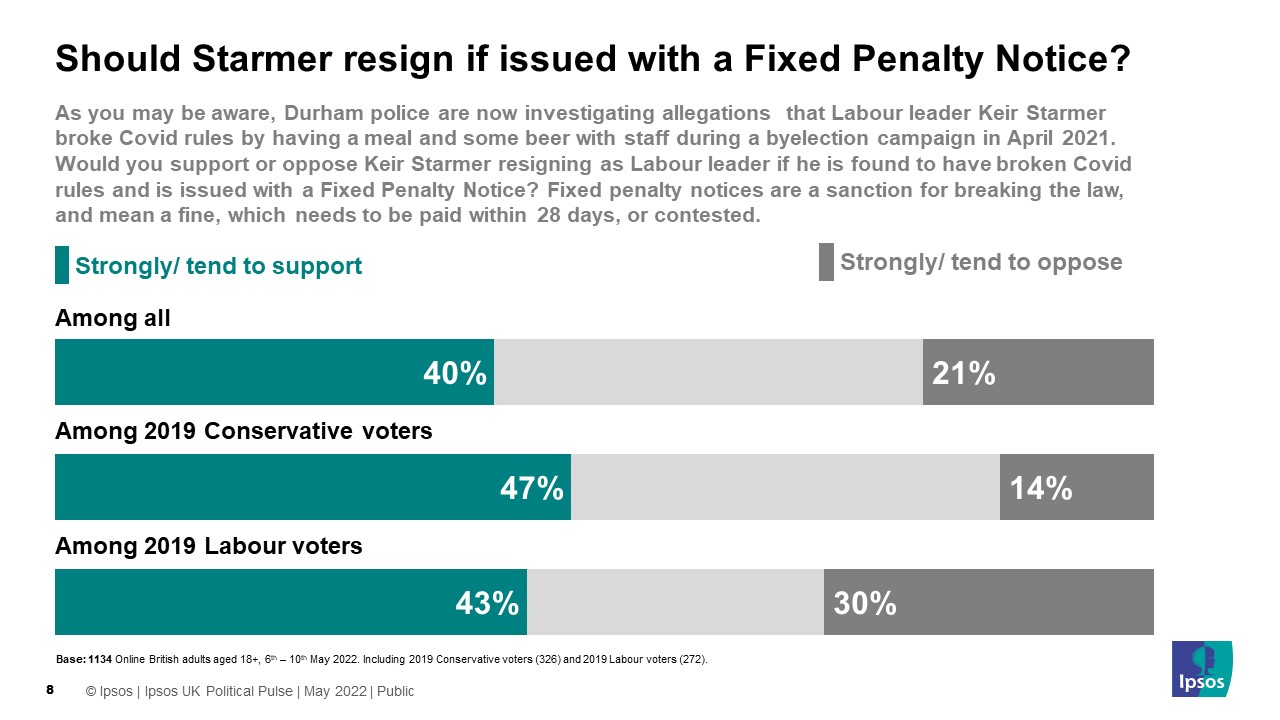 Meanwhile, after Boris Johnson has faced multiple claims about his own breaches of Covid regulations during the pandemic, less than 3 in 10 (28%) are confident he has followed covid regulations appropriately, while two-thirds (67%) are not. Half (51%) now support the Prime Minister resigning. This is similar to the 52% that said the same in April before he was fined but less than the 58% that said the same in late January / early February.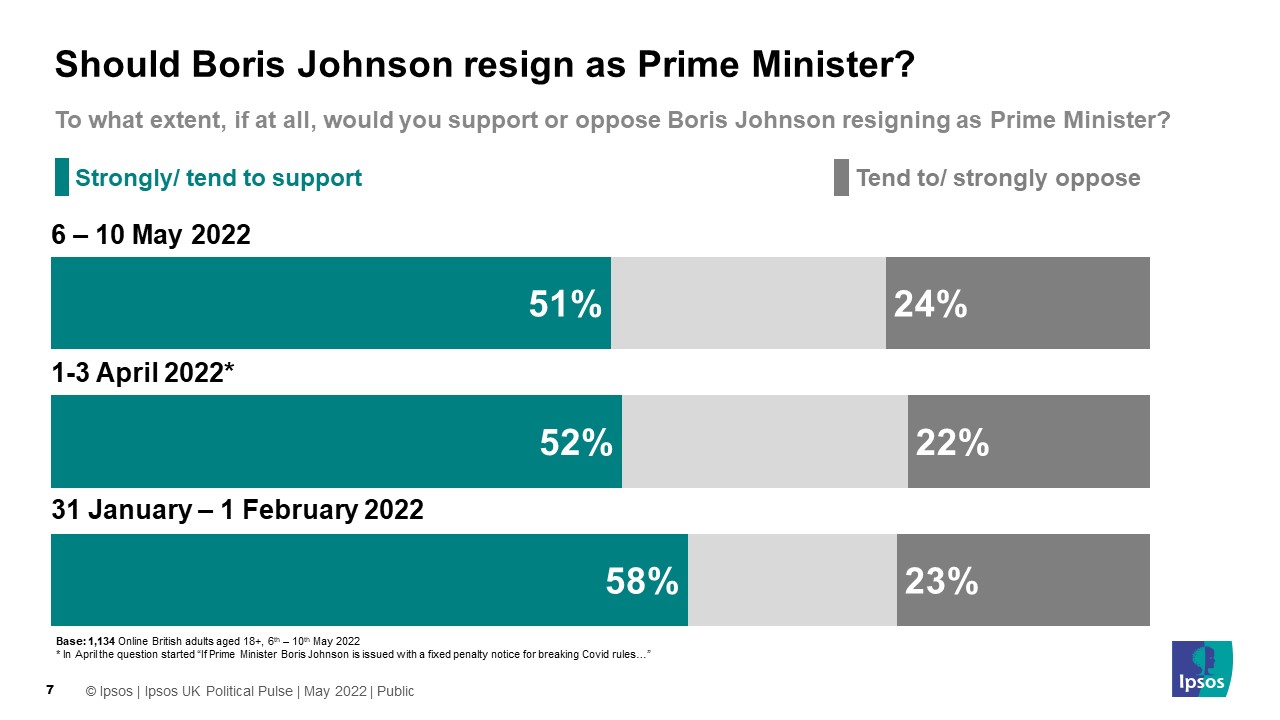 However, despite these numbers, the evidence suggests that other issues are far more important than 'beergate' or 'partygate' in terms of how the public judge Johnson and Starmer.
When presented with a list of 15 factors and asked which were 'very important' in informing their view of Boris Johnson and Keir Starmer, the top answers for both related to how they would address the cost of living (Johnson 47% and Starmer 42%), with their following, or otherwise, of Covid regulations way down the list (10th for Johnson and 12th for Starmer.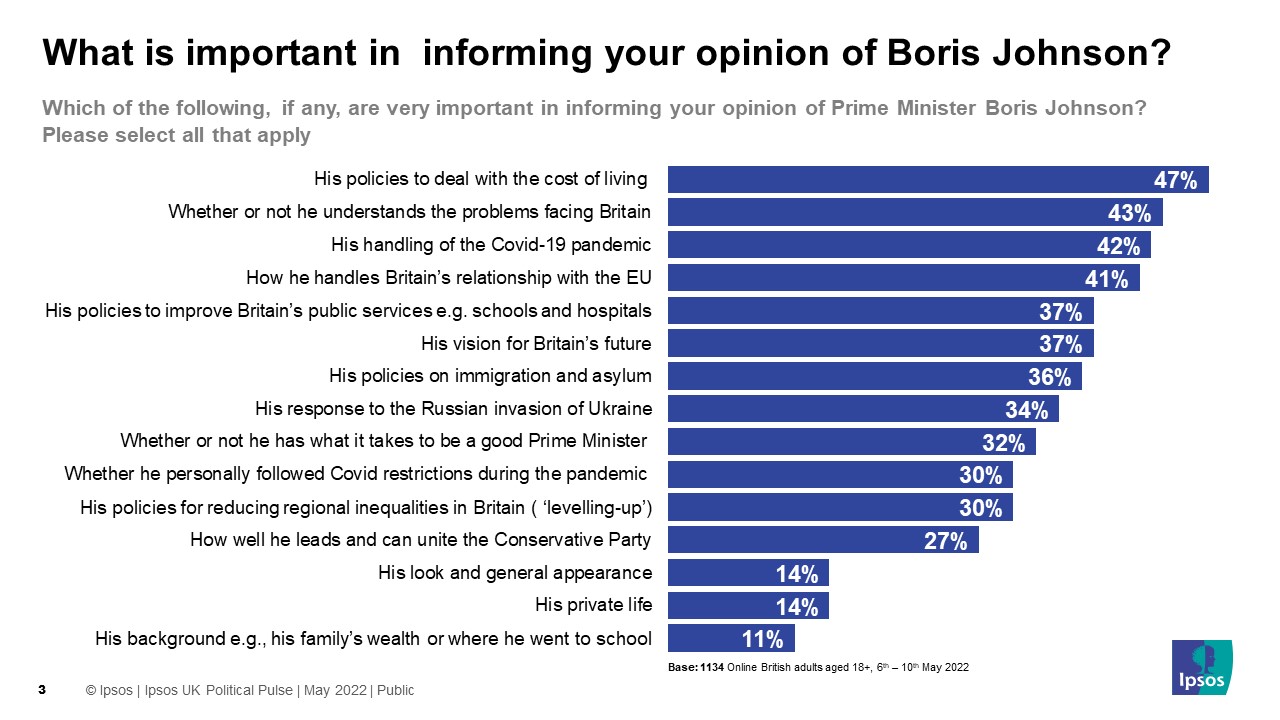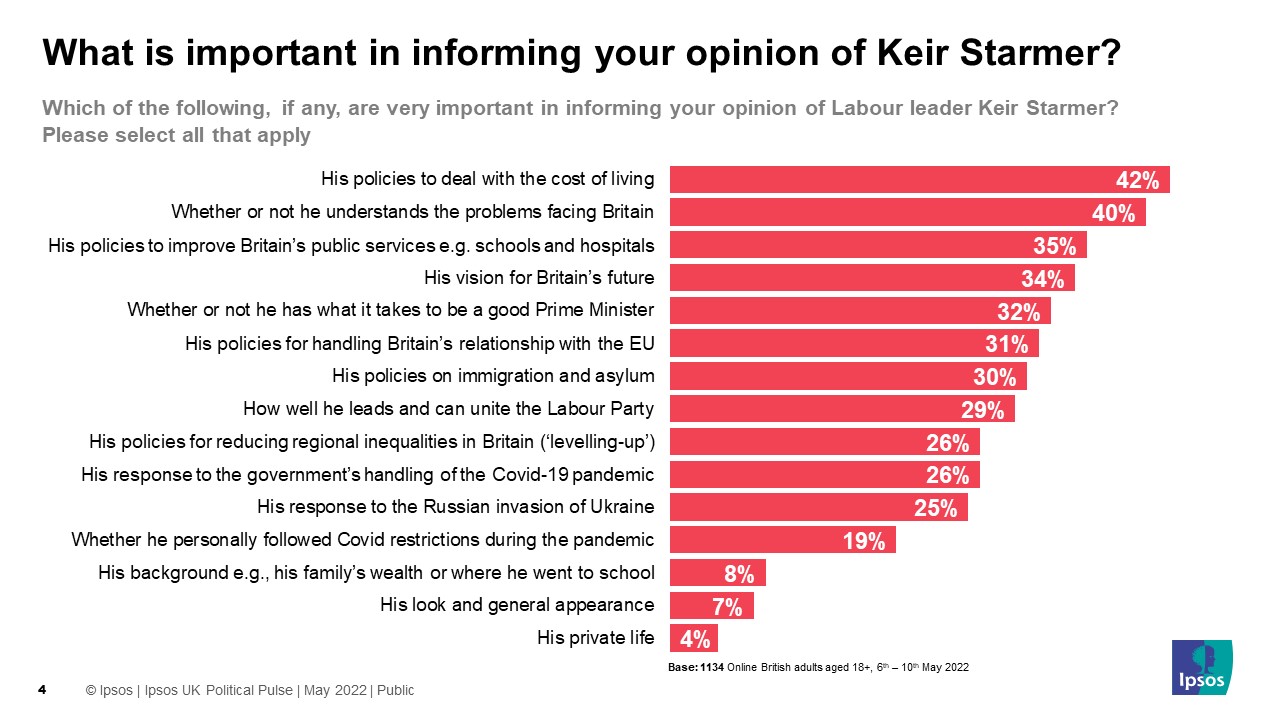 Are people following these stories?
Stories of "beergate" and "partygate" do cut through to the public. Seven in 10 (68%) say they are closely following news about Boris Johnson being accused of breaking Covid rules during the pandemic, 62% are pay attention to stories about fines being issued as part of the police inquiry into Downing Street parties and 56% are following news about Keir Starmer being accused of breaking Covid rules. However, by way of comparison, 78% are closely following stories about the Russian invasion of Ukraine and 81% about the rising cost of living. 54% are closely following stories about last week's local elections.
Keiran Pedley, Director of Political Research at Ipsos, said:
These numbers suggest 'partygate' is more damaging to Boris Johnson than 'beergate' is for Keir Starmer, at least for now. The public appear to be following stories about Boris Johnson breaking Covid rules more closely than stories about Keir Starmer and they are keener to see the Prime Minister resign than the Labour leader. However, in many ways, such discussions are a distraction from the most important issue on voters' minds – the cost of living. The public are following stories about the cost of living more closely and are more likely to judge both Johnson and Starmer on how they respond to that, rather than whether they followed Covid rules during the pandemic.
Technical note:
Ipsos UK interviewed a representative sample of 1,134 Britons aged 18+. Interviews were conducted on Ipsos's online omnibus from 6th-10th May 2022. Data are weighted to match the profile of the population. All polls are subject to a wide range of potential sources of error.
 
Download