Public Opposition to EMU Entry Has Risen Sharply

3 March 2000
There are high risks of a rate hike at the upcoming MPC meeting, but we suspect (just) that rates will be left on hold this month. Recent data suggest that risks to growth and inflation are clearly on the high side of the MPC's forecast, and that rates will need to rise soon. Our no-change view is based on the recent dovish comments by Deputy Governor Clementi, whose view on rates in the past usually has coincided with that of the Committee as a whole. If rates do not rise this month, they probably will go up in April and perhaps again in May.
Our latest MORI poll suggests that, despite the latest launch of the "Britain in Europe" campaign, public opposition to EMU entry has risen sharply. On both our questions, the share of people that support EMU entry is the lowest since our regular polls began in late 1997.
This trend in public opinion will make it even less likely that the government -- which is highly opinion poll conscious -- will actively promote EMU entry over the coming year. By default, the prospect of the UK joining EMU is receding to the distant horizon.
UK -- Balance of Opinion for the Question: "If there were a referendum now on whether Britain should be part of a single European currency, how would you vote?", 1991 - March 2000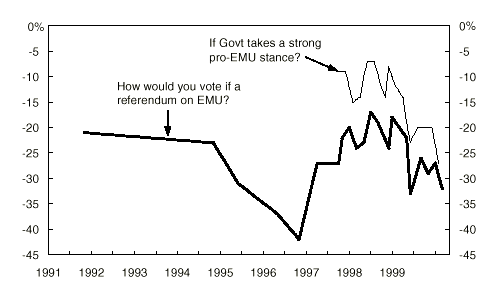 Economic & Market Analysis - Sterling Weekly Schroder Salomon Smith Barney [pdf format - 100K]
Technical details
Latest polling conducted between 24 and 29 February 2000. Sample size 1,959 people for latest survey.