Public split over potential alternative candidates for PM
Our polling, conducted on 7th July 2022, finds no clear winner among the public as to who should succeed Boris Johnson as Prime Minister.
New polling from Ipsos finds the public remain split over which alternatives to Boris Johnson would make a good Prime Minster should the opportunity arise.  The three most popular remain Keir Starmer, Rishi Sunak and Sajid Javid, with three in ten Brits believing they would do a good job (30%, 31% and 29% respectively).  In contrast, a third of people think these three MPs would do a bad job (37%, 36% and 34% respectively), and still around another 1 in 3 are neutral or don't know.  These figures are little changed from June (although Sajid Javid's scores have improved slightly).
Whilst 34% of Britons think a Labour Government led by Keir Starmer would do a better job of running the country than the current government, 29% think it would make no difference and 27% that it would do a worse job.  Three in 10 (29%) that think a Conservative government led by Rishi Sunak would do a better job than the current government, 18% worse, but 4 in 10 (42%) expect it would make no difference (this pattern is broadly unchanged since earlier in the year). 
Among other potential candidates, around 1 in 5 believe each of Ben Wallace, Liz Truss, Dominic Raab, Jeremy Hunt, Priti Patel, Nadhim Zahawi, Michael Gove and Penny Mordaunt has the potential to be a good PM.  There is more variation in the amount of negative opinion, highest for Priti Patel and Michael Gove (53% and 47% respectively believe they would do a bad job), followed by 40% critical of Dominic Raab and around 1 in 3 of Jeremy Hunt and Liz Truss.  Over half are neutral or do not know for Nadhim Zahawi, Ben Wallace and Penny Mordaunt.
Among Conservative 2019 voters, 46% think Sunak would do a good job as PM, 37% Javid, 34% Raab, 31% Wallace and 29% Truss.  Around a quarter think each of the others would do a good job, and a fifth feel the same for Penny Mordaunt.  Just over half, 56%, of Labour 2019 voters think Keir Starmer would do a good job as PM.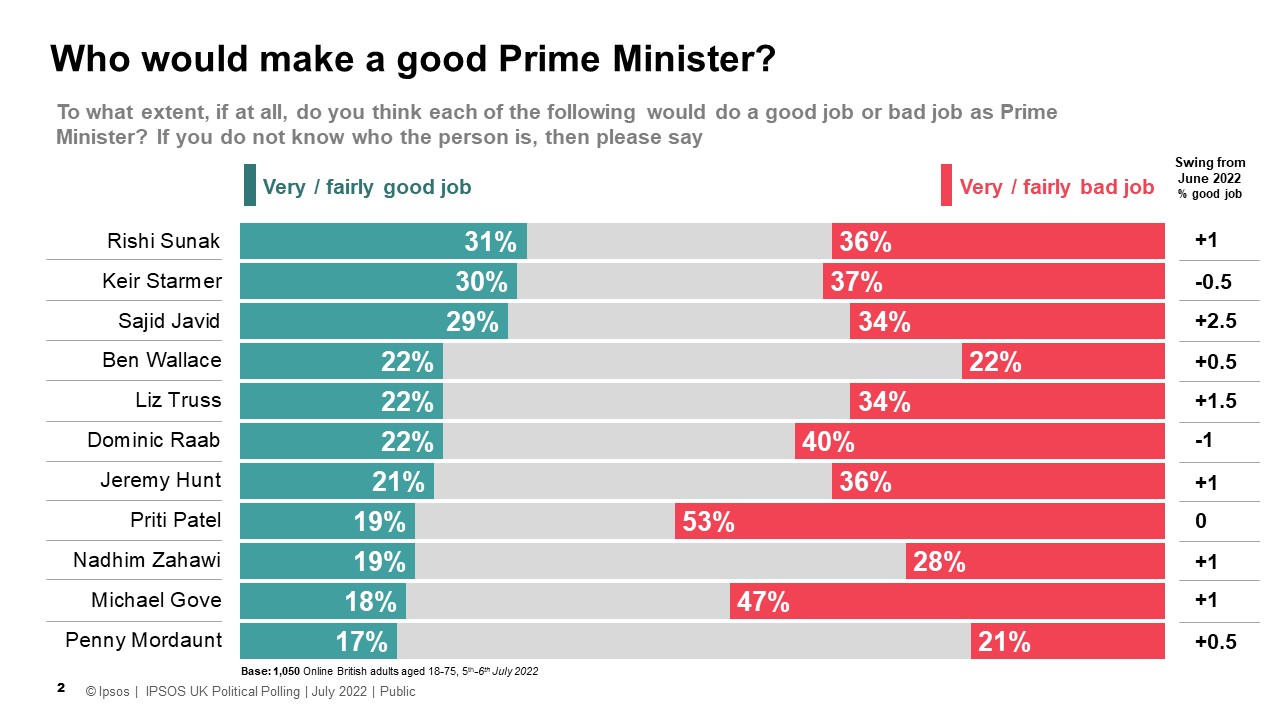 Gideon Skinner, Head of UK Politics at Ipsos, says:
Despite recent events, and the deterioration in Boris Johnson's public opinion ratings, the public does not have very strong views on potential alternatives.  While we have seen before that Keir Starmer still has more to do to convince the public that he would do a better job as PM, amongst potential Conservative candidates Rishi Sunak and Sajid Javid lead the way (including among past Conservative voters), but even they have as many negatives and as many unsure as they have positive views.  Even among Conservative 2019 voters, as many think a Rishi Sunak government would make no difference as think it would do a better job than the current government.  This all partly reflects relatively low public awareness, which means views can change – and that any leadership contest is still open at this stage.
Technical note
Ipsos interviewed a representative quota sample of 1,050 adults aged 18-75 in Great Britain. Interviews took place on the online Omnibus on 7th July 2022. Data has been weighted to the known offline population proportions. All polls are subject to a wide range of potential sources of error.