Public support charging motorists to use roads, but want it to be done for the right reasons

A new Ipsos survey finds that 62% of people across the UK are in favour of schemes which would charge road users a fee to drive around towns and cities. . A quarter, 25%, are strongly supportive.
The survey, undertaken last month, follows an Ipsos survey of Captains of Industry which found even higher levels of support for schemes which are designed to reduce traffic congestion and improve the local environment (doing this by reducing emissions, or raising revenue to invest in transport). Eight in ten, 82%, of Captains either strongly support or tend to support such schemes.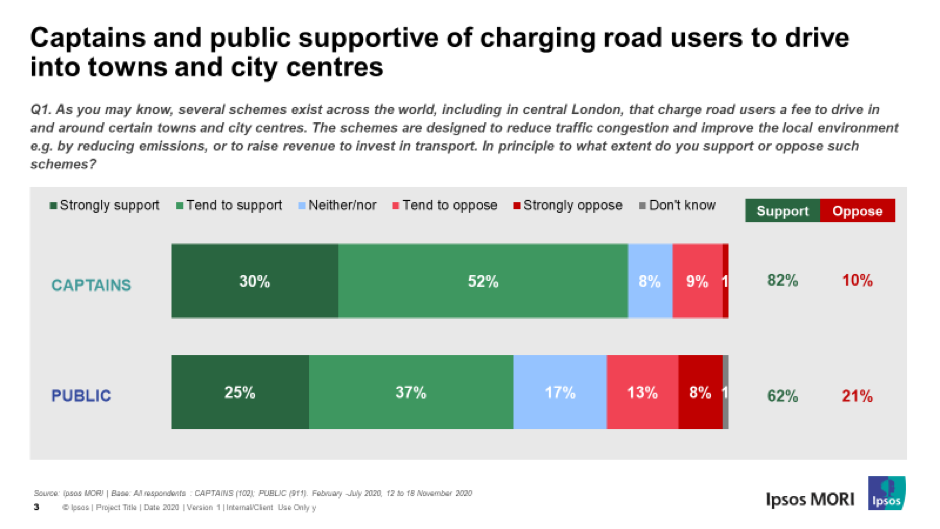 Those with access to a car are equally as supportive as the wider public; 60% support the idea in principle, 22% are opposed.
The public have not always been behind schemes of this nature. A survey by Ipsos in 2007 using the same question found higher levels of opposition than support (48% were opposed, 33% in support).  
Among both the public and Captains, support for schemes weakens if the revenues collected are used to benefit the road user in the form of lower road tax – dropping from 62% to 39% (with 34% in opposition). There is an even more marked shift among Captains; from 82% support to 34% (there is 51% opposition).
Public transport is seen as a worthy beneficiary of the revenues collected from schemes; 64% of the public saying they would either strongly support or tend to support the introduction of schemes if all the revenues collected would be used to improve public transport. The same is true of 80% of Captains.
Similarly, the suggestion that schemes which charge motorists result in a greener and cleaner future garners extra support and weakens opposition. For example, while 21% of the public oppose schemes in principle, this falls to 15% of charges are higher for more polluting vehicles and 14% if revenues are used to improve air quality.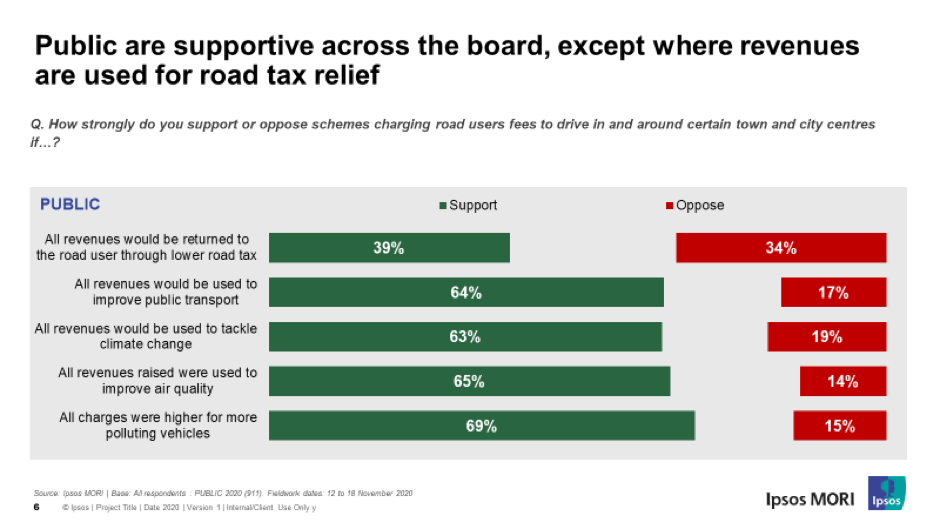 Hypothecation – earmarking the revenues raises for a specific purpose – also strengthens levels of support. A third of the public, 33%, say they would strongly support these schemes if all revenues were used to tackle climate change, eight percentage points higher than it is when this isn't a component of the scheme. A similar pattern exists if revenues are raised to improve air quality; 31% of the public strongly support this.
Captains are especially supportive if charges are higher for polluting vehicles – 41% are strong supporters of this compared to 30% for schemes in general. Just 6% oppose this, along with 15% of the general public.
Commenting on the findings, Ben Marshall, Research Director for Transport and Infrastructure at Ipsos, said:
Media reports that the Chancellor of the Exchequer is weighing up plans for a new national system with motorists paying directly to use Britain's roads, have put road pricing back on the political agenda. Public opinion will play an important role, just as it did in curbing previous ambitions to find a new way of funding the country's roads.
The recent focus has been on a new scheme's revenue-raising potential given a multi-billion 'tax hole' caused by the Coronavirus pandemic and a move to electric cars. But our survey shows that while both public and industry's instincts are 'pro'- the introduction of charging schemes in principle, practical implementation will matter. Hypothecation and communication about the social and environmental benefits of any scheme will be really important.
Technical Note:
The survey of the general public was conducted online by Ipsos and involved 911 UK adults aged 16+.
Fieldwork took place between 12-18 November 2020.
Data are weighted to match the profile of the population.
Ipsos's Captains of Industry Survey 2020 involved 102 interviews with respondents from the top 500 companies by turnover, and the top 100 by capital employed in the UK.
Respondents were Chairmen, Chief Executive Officers, Managing Directors/Chief Operations Officers, Financial Directors, or other executive board directors.
Interviews were primarily carried out by telephone/video conferencing due to COVID-19 (9 were conducted face to face before lockdown). Fieldwork took place between February – July 2020.
Full details are available at www.ipsos-mori.com