Britons still more concerned than reassured post-Budget for the economy, public services and their own finances – but less worried than after Autumn Statement
Labour maintains small lead as most trusted on the economy according to an Ipsos poll conducted after Jeremy Hunt's Spring Budget.
Overall reactions to the Budget more muted than after Autumn Statement – it makes fewer feel either concerned or reassured, more are on the fence
Labour maintains small lead as most trusted on the economy, while little to choose between Rishi Sunak and Keir Starmer as most trusted leader (Sunak led in November)
Energy price guarantee and fuel duty freeze most supported policies, along with free childcare, but more oppose freezing tax thresholds
New polling from Ipsos in the immediate aftermath of Jeremy Hunt's Spring Budget reveals that it leaves Britons more concerned than reassured for Britain's economy, public services, and their own financial circumstances – although not quite as concerned as they were when reacting to the Autumn Statement last November.  Based on they had heard or seen about the Budget:
22% say it made them more reassured for Britain's economy, 35% more concerned (28% neither, and 15% do not know enough).  Last November, the Autumn Statement left 25% reassured, 40% more concerned, and 23% neither.
12% feel more reassured for Britain's public services (down 7ppts compared with November), 35% more concerned (also down 11 ppts), and 35% neither (+12).
13% feel more reassured for their own financial circumstances (-4), 37% more concerned (-9) and 37% neither (+11)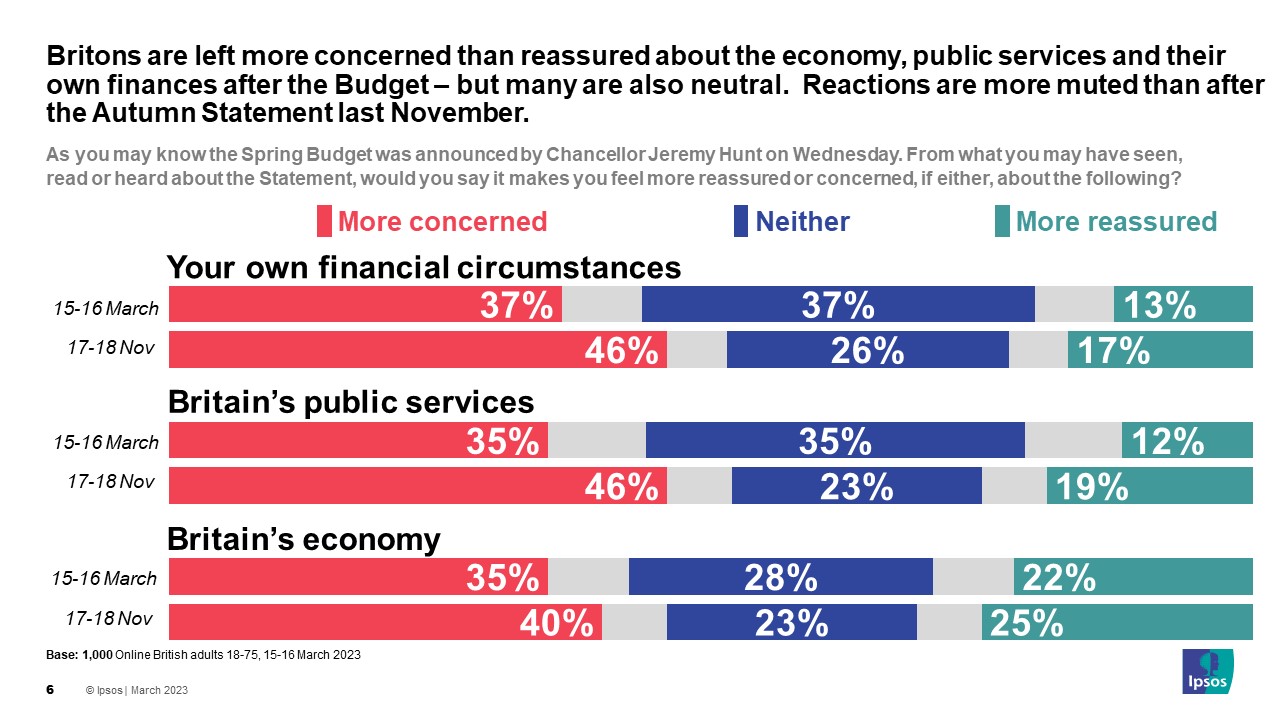 Although people are slightly less negative about the state of the economy than a month ago (79% think it's in a poor state, down from 88% last month, while 17% think it's doing well, up 7ppts), there is little sign of trust in the Conservatives on the economy improving compared with November.   Labour are more trusted to manage the economy over the Conservatives by a margin of 32% to 26% (similar to last November), while Rishi Sunak has lost his lead over Keir Starmer as the most trusted leader with the two level-pegging on 29% vs 27% respectively (after the Autumn Statement Sunak led by 36% to 28%).
Similarly, only 29% are very or fairly confident that the Conservatives have a good long-term economic plan for Britain (down from 34% in November), while 61% do not have much confidence.  Labour performs slightly better, with 35% confident in their long-term economic plans, 51% not (little changed from November).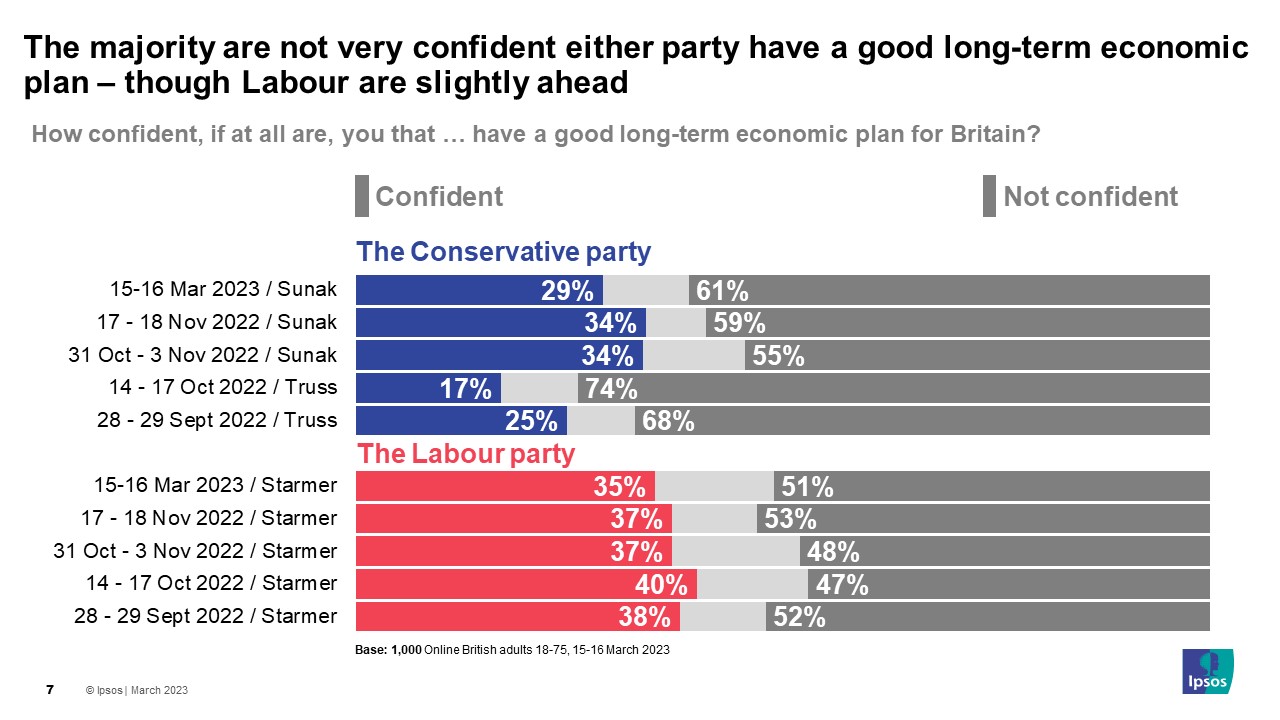 This may reflect the fact that many still blame the Conservatives for Britain's current economic difficulties – though even more place responsibility on the Covid pandemic and Russian invasion of Ukraine.  Around 3 in 4 think the pandemic (78%) and the invasion of Ukraine (74%) have contributed at least a fair amount to the current economic difficulties facing the British economy, and 72% cite the state of the global economy. 
But around 7 in 10 also blame the policies of Liz Truss and Kwasi Kwarteng (70%) and the Conservative party's economic policies generally over the last 13 years (67%).  Another 6 in 10 (60%) also hold Rishi Sunak and Jeremy Hunt specifically at fault.  Jeremy Hunt's personal ratings as Chancellor are also weak, with 22% thinking he is doing a good job and 35% a bad job - both up since November, although not as bad as Kwasi Kwarteng's scores.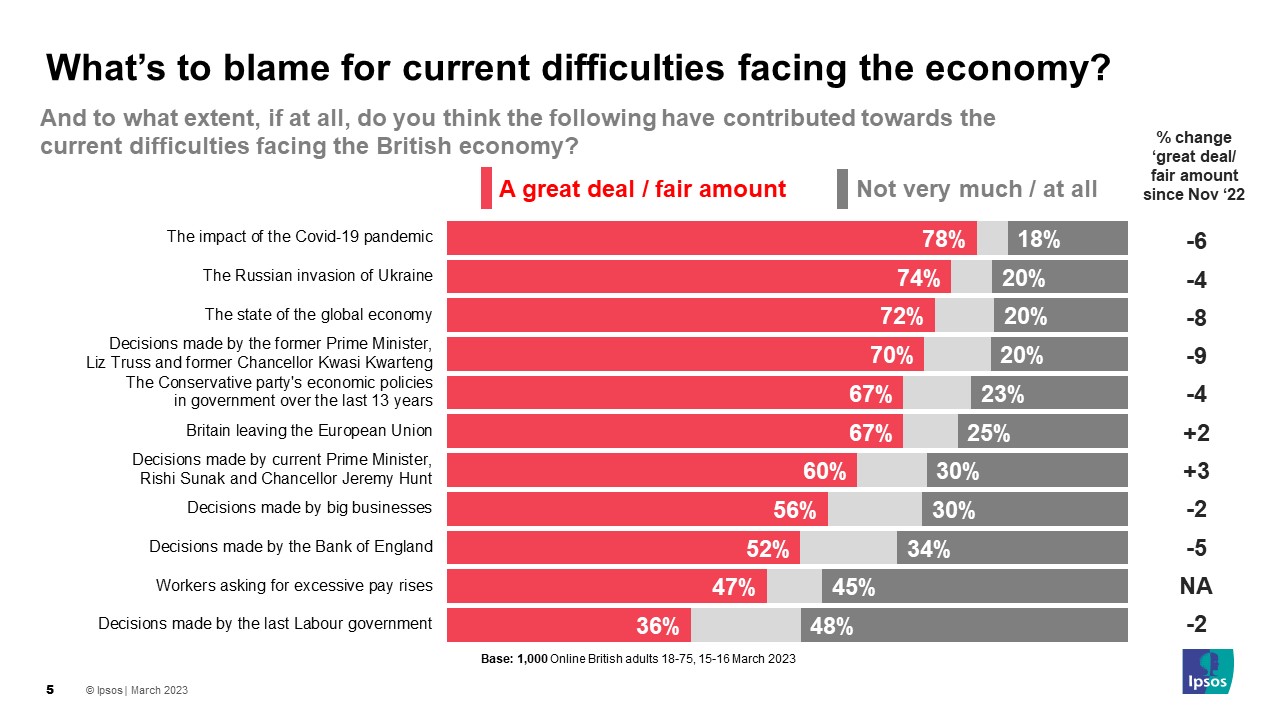 Looking at the Budget in more detail, around 6 in 10 (57%) say they were following stories about it fairly closely, behind news about the cost of living (81%), but similar to the proportion following stories about Ukraine (62%), strikes (also 62%), and the situation between Gary Lineker and the BBC (54%). 
The most popular individual policies were extending the energy price guarantee (74% supported) and maintaining the 5p reduction in fuel duty (70%), but many other of the individual policies also received more support than opposition, especially providing 30 free hours of childcare (59% support), investing £20bn on low carbon energy projects (53%), increasing the annual pension tax-free allowance from £40,000 to £60,000 (53%), and increasing childcare support for families on Universal Credit (52%).  Half (50%) also support increasing the main rate of corporation tax from 19% to 25%.  However, only 29% support freezing income tax thresholds – nearly 4 in 10 (37%) are opposed.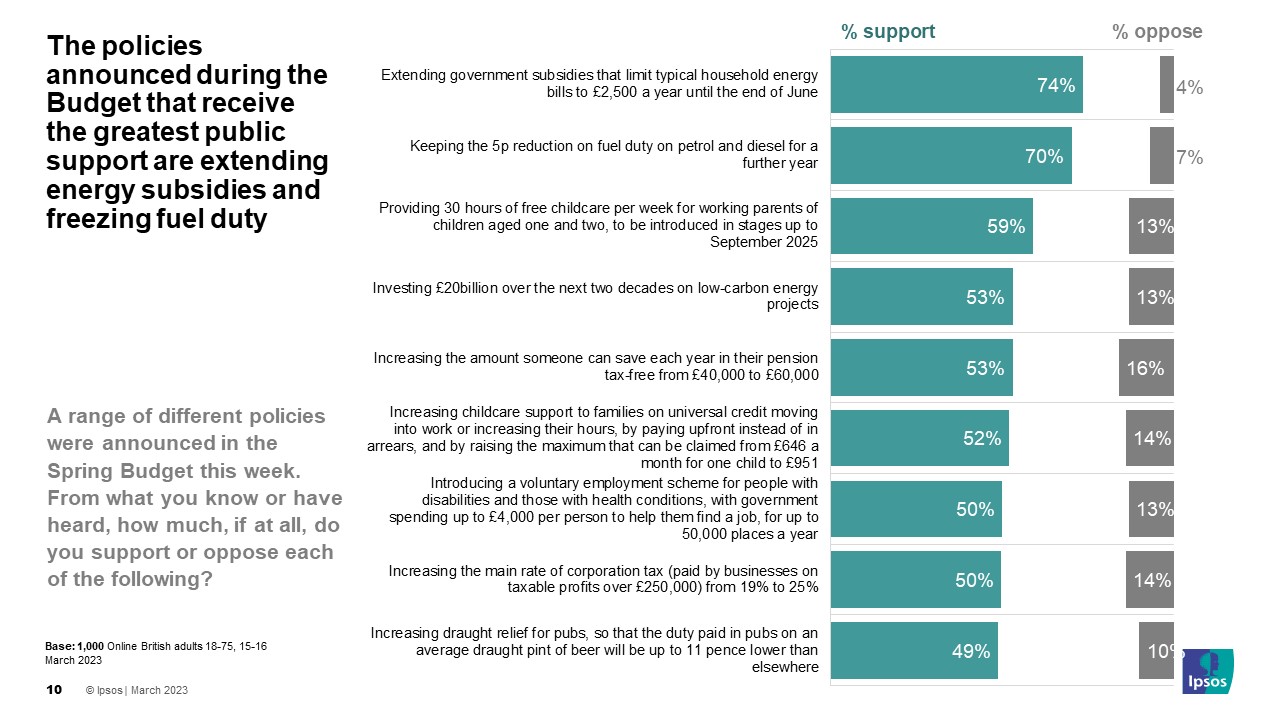 ---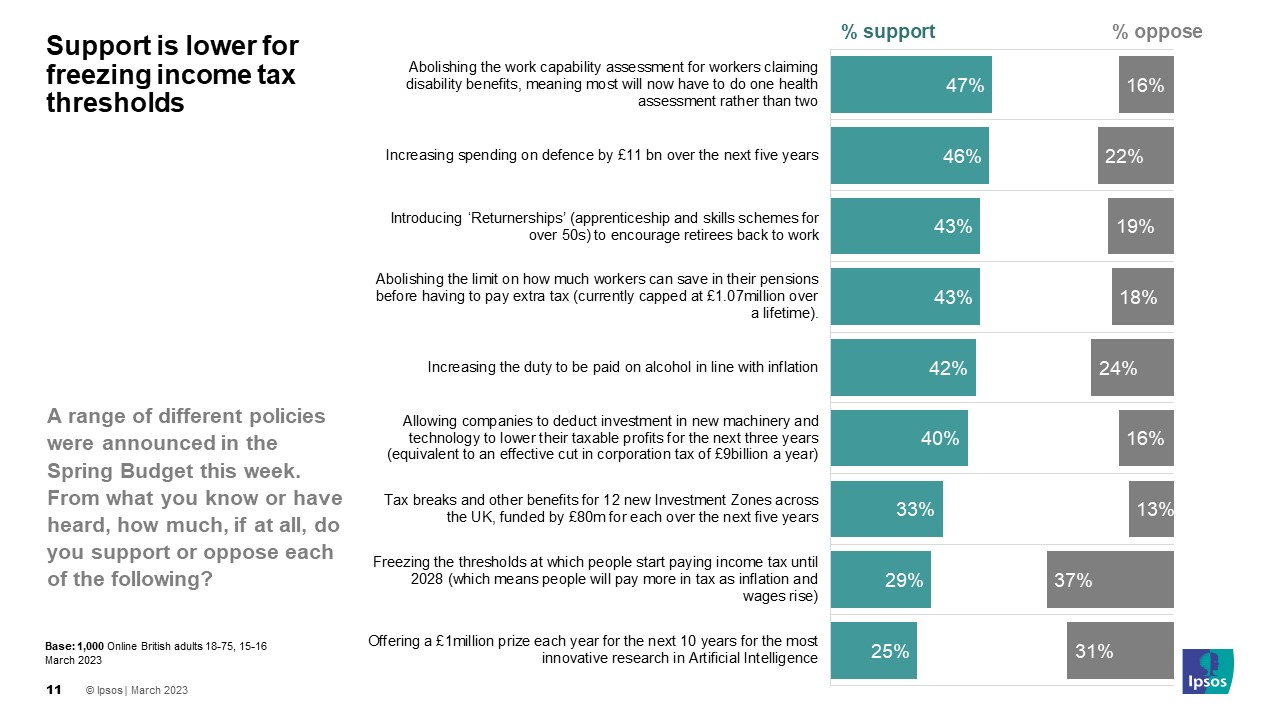 The energy price guarantee and the fuel duty freeze are also both seen as two of the policies that will benefit the country the most and people personally.  Providing free childcare and investing in low carbon energy projects are also among the policies that people think will benefit the country the most – but fewer say they will benefit them individually.
Gideon Skinner, head of political research at Ipsos in the UK, said:
Britons have had a more muted reaction to the Spring Budget than to the Autumn Statement last November.  While it leaves fewer feeling more concerned for the economy and public services, it is not leaving many reassured either – which may reflect that although perceptions of the economy are slightly better than they were then, they are still mostly negative.  
For Jeremy Hunt and Rishi Sunak, there will be some concern that while many of the individual policies they announced are popular, so far there is little sign of long-term confidence in the Conservatives' economic policies improving, while Labour are still more trusted on the economy – albeit only marginally.  Although Britons recognise that external factors are also to blame, many do still hold the Conservatives responsible for at least some of Britain's economic difficulties.  Changing this will not just depend on people's immediate responses to the Budget in the short-term, but on whether the public sees any improvements in the economy and to public services over the next few months.
Technical note
Ipsos interviewed a representative quota sample of 1,000 adults aged 18-75 in Great Britain. Interviews took place on the online Omnibus 15th – 16th March 2023. Data has been weighted to the known offline population proportions. All polls are subject to a wide range of potential sources of error.