Cost of living crisis in Northern Ireland: a consumer journey
Consumers in Northern Ireland are being impacted by rising costs, at a time when they already have the lowest gross weekly income compared to the UK average. Captured through interviews and video diaries, the real-life journeys in this article show how affordability permeates all aspects of the consumer experience and highlights how people are making difficult financial decisions and sacrifices with their food shopping behaviours. With the prospect of a second Northern Ireland Assembly election within a year, we reflect on the challenges any future Executive faces in delivering for the people of Northern Ireland.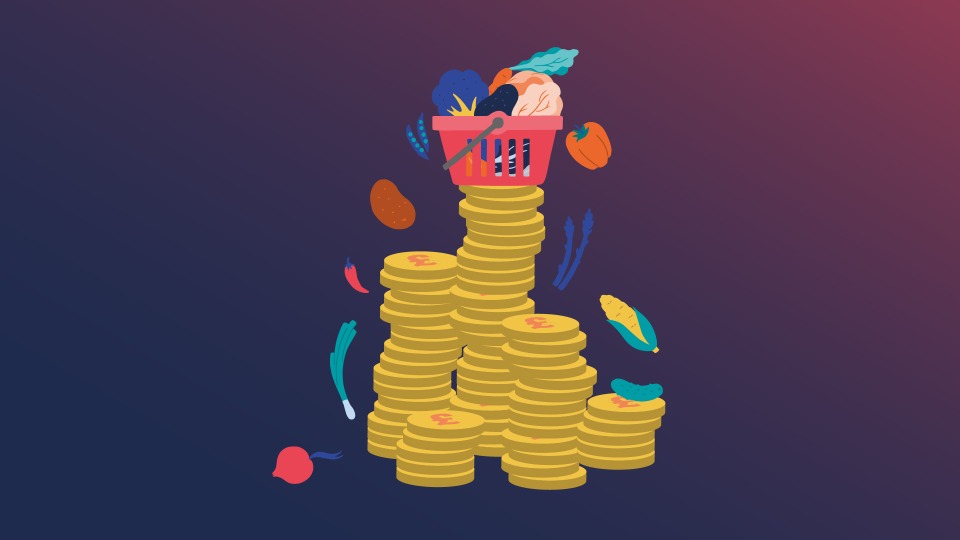 Vanessa Martinez


Senior Research Executive


 
The cost of living crisis is having a very real impact on consumers in Northern Ireland who are changing their food shopping behaviours as prices continue to climb. While consumers throughout the UK are feeling the pinch, it appears that those in Northern Ireland may be feeling this more acutely, particularly in light of the current political backdrop.

Earlier this year we worked with a group of people across Northern Ireland to capture how the cost of living crisis is personally impacting their day-to-day living in real-time. This digital ethnography research used video-diaries and in-depth interviews which allowed us to go beyond statistics and capture people's real, human, experiences in the face of this crisis.
As people juggle the rising costs of food, fuel and energy, the current financial climate is influencing when, where, and how often consumers shop for groceries as well as what items people are buying. Underpinning this bleak outlook is the political stalemate in Northern Ireland, which has impacted policy implementation and legislative change in the region, complicating the matter further. 

At the time of writing, Northern Ireland has not had a functioning Executive since 3rd February 2022, and political instability has led to issues relating to the distribution of funding, which is particularly crucial at this challenging time. Northern Ireland consumers struggle with the lowest gross weekly income compared to the UK average (£235 compared to £260 UK average)64. Meanwhile, data from the Living Costs and Food Survey shows that the average household in NI spends relatively more on food and non-alcoholic beverages (15% in Northern Ireland, compared to 12% in the UK)65. Data published in Asda's Income Tracker in July 2022 also highlights the reduced spending power of Northern Ireland households, who have the lowest discretionary income of any region in the UK – and have seen weekly discretionary income fall below £100 for the first time since Q2 201766.
Research conducted on Ipsos' KnowledgePanel67 on financial vulnerability this year shows that over half (56%) of Northern Ireland residents find that keeping up with bills and repayments is at least somewhat of a burden. Over a quarter (27%) are not confident managing money, while 16% regularly go in and out of having a negative bank balance, highlighting the financially precarious situation that many households find themselves in.
Rising bills are directly influencing how consumers navigate their food shopping
Our digital ethnography research conducted for the Consumer Council of Northern Ireland (CCNI), using Ipsos AppLife, showed us that affordability permeates all aspects of the consumer experience. All participants noted price rises for their food basket in the last year – but more noticeably, since the beginning of 2022, consumers in Northern Ireland are seeing that their money is not going as far as it used to.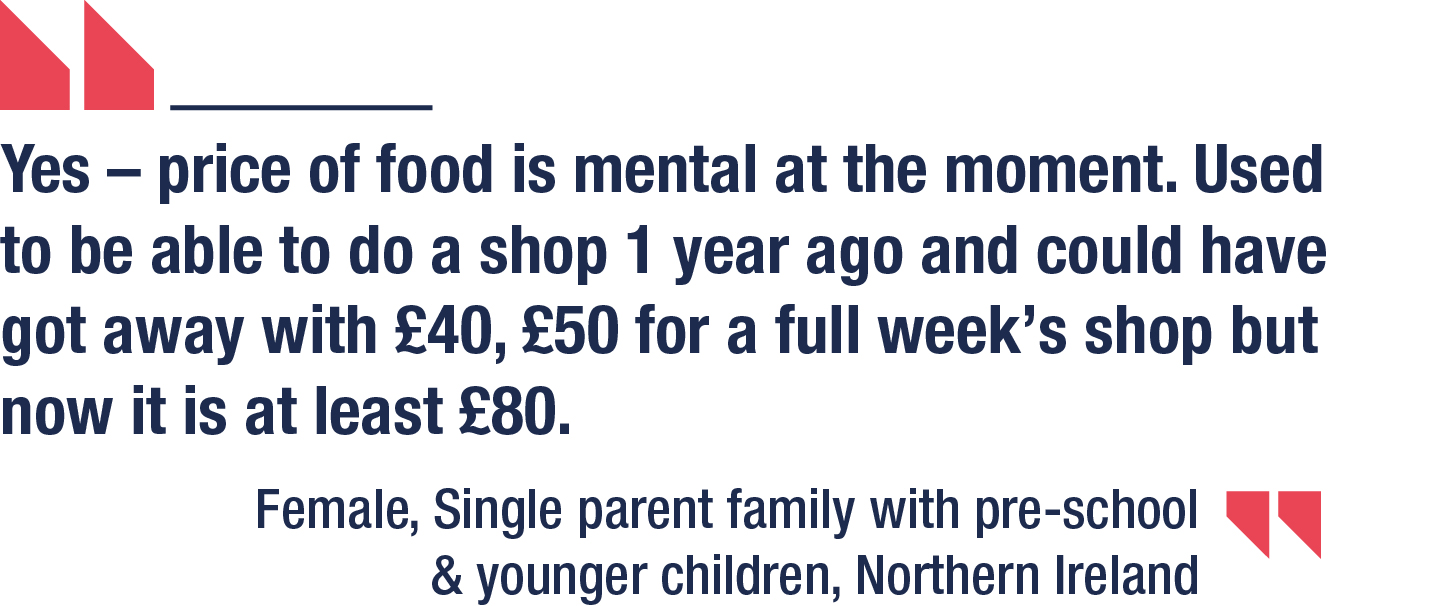 The lowest earning households and single-parent families are most disproportionately affected by rising food costs, often having to make difficult decisions, prioritising different bills week-to-week. However, all consumers are concerned about the rising cost of food, which they believe will only increase further in the coming months.
Consumers' overall behaviours are also changing as a result of soaring bills, as our research participants reported visiting supermarkets less frequently and reducing the amount of car journeys they make in a week to save on fuel costs.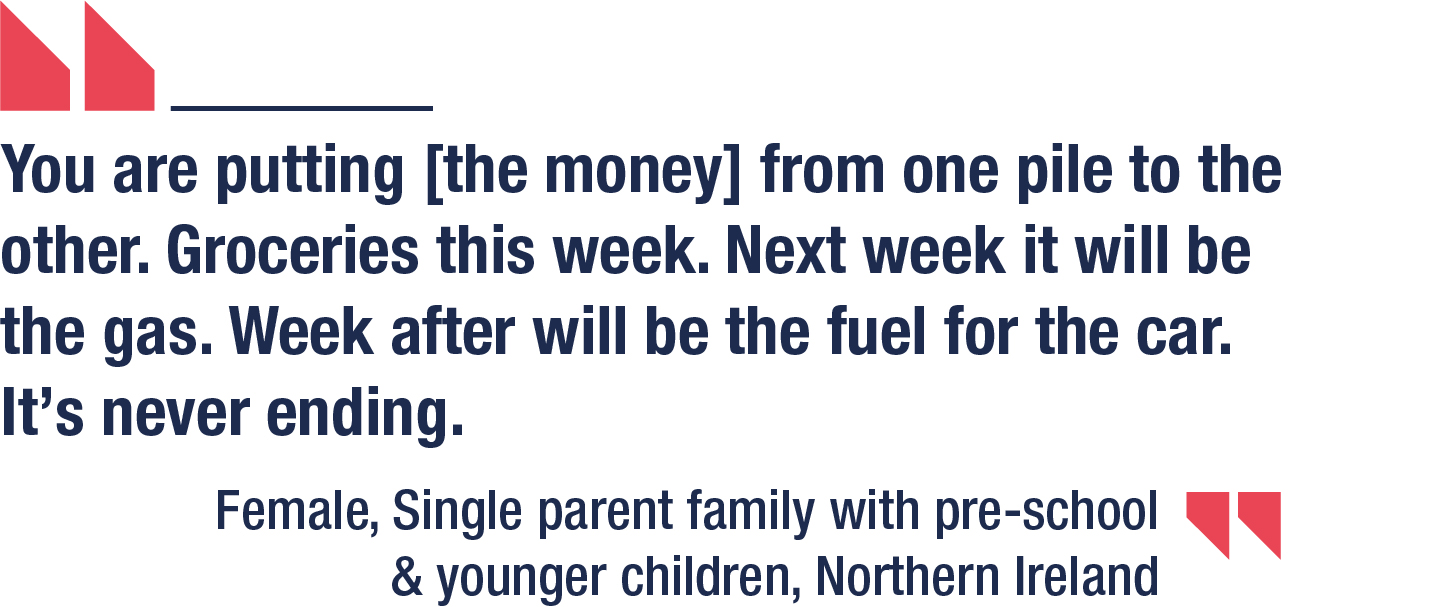 Like elsewhere in the UK, Northern Ireland consumers are opting for cheaper brands, cutting back on luxuries and shopping around for deals and offers in a bid to manage rising prices – something that Cameron Garrett, Vicky Mullis and Charlotte Albiston explore further in their Food insecurity: too much to stomach article in this edition of Understanding Society.
Loyalty schemes are also popular among consumers and are often seen as a key motivator which brings participants back to certain supermarkets. However, savvy shoppers in Northern Ireland are shopping around more than ever to find the best value for money and if the consumer can find a product for a better price elsewhere, they will shop at several retailers to make a saving.
Value for money has never been more important but consumers in Northern Ireland are reluctant to compromise on the quality of produce, particularly meat products and healthy food options. Generally, consumers in Northern Ireland feel they can still access a healthy diet but there is a perception among some that eating 'healthily' can be expensive and for this reason processed or convenience options are purchased by some to keep costs down. As prices continue to rise, access to foods considered to be healthy and affordable – such as fresh meat, fruit and vegetables – is likely to be further impacted, meaning that some consumers may be opting for more convenience foods over time, which may have an impact on health down the line. For now, however, consumers in Northern Ireland are unlikely to change their buying behaviours when it comes to meat, as they continue to visit local butchers, look at on-pack labelling and look for quality assurance labels. Quality meat produce is important to the Northern Ireland consumer and therefore they are more likely to make sacrifices elsewhere in their food shop.
Supply chain issues in Northern Ireland have also brought further challenges. Consumers have noticed changes to availability since 2021, which have been attributed to the impacts of the COVID-19 pandemic and circumstances around EU Exit and the Northern Ireland Protocol. Reduced availability has been thought to affect some products more than others, such as core dietary products including fresh meat, fresh fruit and vegetables, cooking oils, baby formula and baby food.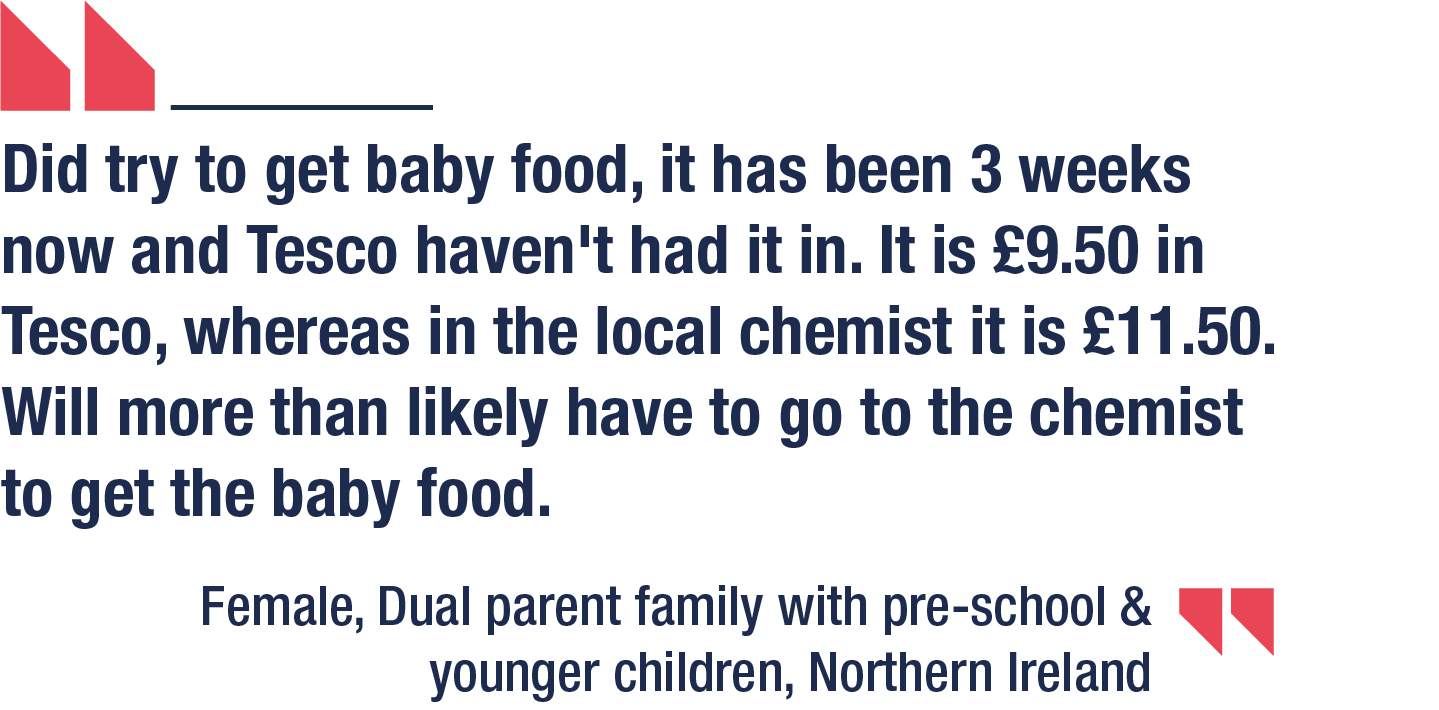 The cost of living crisis has wide-reaching and wide-ranging consequences that impact individuals and households, as well as society at large. According to a recent report from the Institute of Health Equity68, fuel poverty can directly impact available funds for healthy foods, or the resources to prepare nutritious meals. Rising food and fuel costs may also see some families choosing to 'heat or eat', impacting on their physical health and mental wellbeing. The Chief Constable of the Police Service Northern Ireland (PSNI) has also expressed concerns that the cost of living crisis may lead to an increase in crimes such as theft and domestic violence69.
Delivering for the people of Northern Ireland
With no end in sight to the political turmoil and the uncertainty around when the Northern Ireland Secretary Chris Heaton-Harris will call another Assembly Election, it is clear that any future Executive will face enormous challenges in delivering for the people of Northern Ireland.
The cost of living crisis – and perhaps more specifically the rising cost of fuel, energy, and food – must be top of the agenda. In the meantime, some supporting measures are starting to show: on 29th September 2022 it was announced that households in Northern Ireland will receive the £400 energy payment as part of the Energy Bills Support Scheme70. It will, however, be very difficult to enact real change in Northern Ireland without a functioning Executive, meaning that the already disadvantaged consumer faces a tough future.
As the formation of a functioning Executive is primarily being held up due to the issue of the Northern Ireland Protocol, it is imperative that a resolution is found between the UK Government and the EU on this complex issue, without compromising the terms of the Good Friday/Belfast Agreement. And in the meantime, for participants who took part in the AppLife Consumer Shopping Experiences, life is not going to get any easier – at least in the short term – even for the most savvy of shoppers.
Some other articles you might like...