Use of data and statistics
Here are some of the findings from Ipsos's Winter 2011 Survey of MPs.
Two in five MPs got a stats question right in the Winter 2011 survey of MPs, despite 77% saying that they are confident dealing with numbers.
Asked to state the probability of tossing a coin twice and getting heads in successive throws, less than half gave the right answer, which is 25%. Three out of five MPs either did not know or gave the wrong answer, while the most common response was 50%.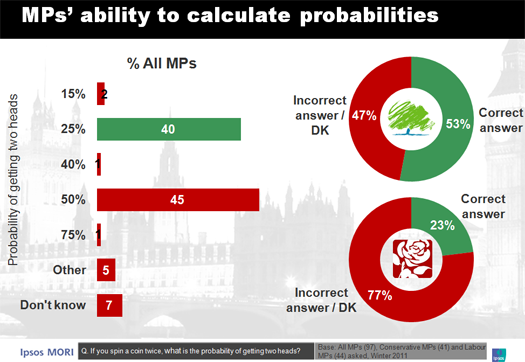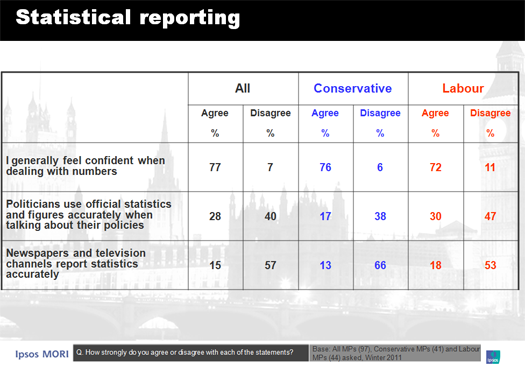 A higher proportion of MPs got the question right than the general public. In 2010 (15-18 October 2010) Ipsos interviewed 1,028 members of the British Public (16-64 year olds) online. That survey showed that just 30% of the general public gave the correct answer to this same question – 10 percentage points lower than MPs. Just as with MPs, the most common answer was 50%.
Technical Note
This report presents the topline findings of the winter 2011 study of Britain's Members of Parliament, part of Ipsos's programme of regular multi-sponsored studies among key audiences.
Methodology details:
Fieldwork dates: 1 November – 20 December 2011
Total number of respondents: 125 (Conservative 51, Labour 58, Liberal Democrats 13, and Others 3)
The questionnaire was 'versioned' to keep the interview to a reasonable length, with 97 MPs answering the getstats questions (Conservative 41, Labour 44, Liberal Democrats 9, and Others 3) unless additional filters were applied
An initial sample of 325 MPs were contacted to ensure that those interviewed closely represent the profile of the House of Commons
Interviews were conducted face-to-face
The total sample interviewed is closely representative of the House. Based on those asked each question, data have been individually weighted where necessary to reflect the true balance by party and ministerial or spokesperson position.
Sometimes the percentage result for "All MPs" may be greater than the sum of the percentage results for Labour and Conservative MPs, as it also includes results from other parties. Where results do not sum to 100%, this may be due to computer rounding, multiple responses, or the exclusion of "don't know" categories