Completing i-Say Surveys Scores Car for Retired Navy Man
Toronto, ON
- After completing surveys for Ipsos Interactive Services and Ipsos i-Say, Edward Eby of Middleton, Nova Scotia has won a brand new Ford Fusion. Edward was selected from over 164,000 VIP i-Say panelists across the U.S. and Canada who completed surveys throughout the past year. Edward picked up the keys to his new car on May 24.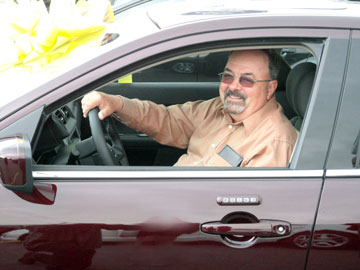 Since 2007, Edward has been completing online surveys with Ipsos i-Say. He appreciates being able to express his opinions to decision makers--and winning a car was a nice surprise for doing something he truly enjoys. "The 2011 Ford Fusion has the perfect trunk size for my golf clubs!," Eby says.
"Giving the car away to Edward was a pleasure. He is truly a great panelist and has been for the past 4 years. He likes giving his opinion without really expecting anything in return," says Lisa Landry, Senior Incentives Manager for North America. "He had no idea how many reward points he had accumulated for answering surveys over the years, so imagine his surprise when he was chosen to be the 2011 VIP car give-a-way winner!"
The Ipsos i-Say Panel has become a premier tool for reaching out and connecting with consumers. Through solid panel management practices--including sampling, targeting, data quality initiatives and of course, broadly appealing incentives--the ultimate result is a high quality panel that achieves richer, more meaningful information for clients.
Ipsos i-Say awards a variety of prizes to its members, including gift cards, monthly and quarterly draws and extra points through a special Loyalty Program.
"Our loyal panelists deserve the very best from us. When you do more, you deserve more," says Deb Santus, Senior Vice President, Ipsos Interactive Services. "The Loyalty Program is just another great way for panelists to earn points. Basically it comes down to this: the more surveys you take and complete, the more extra points you will earn."
While Edward drives away a winner, the true winners are clients who benefit from the in-depth perspectives provided from loyal panelists like this year's car winner.
Visit www.i-say.com in the United States, www.i-say.ca in English Canada, or www.je-dis.cain French Canada.
For more information on this news release, please contact:
Lisa Landry Senior Incentives Manager - NA Incentives Ipsos Interactive Services (647) 459-9644 [email protected]
About Ipsos
Ipsos is a leading global survey-based market research company, owned and managed by research professionals. Ipsos helps interpret, simulate, and anticipate the needs and responses of consumers, customers, and citizens around the world.
Member companies assess market potential and interpret market trends. They develop and build brands. They help clients build long-term relationships with their customers. They test advertising and study audience responses to various media. They measure public opinion around the globe. Ipsos member companies offer expertise in advertising, customer loyalty, marketing, media, and public affairs research, as well as forecasting, modeling, and consulting. Ipsos has a full line of custom, syndicated, omnibus, panel, and online research products and services, guided by industry experts and bolstered by advanced analytics and methodologies. The company was founded in 1975 and has been publicly traded since 1999. In 2010, Ipsos generated global revenues of e1.140 billion ($1.6 billion U.S.).
Visit www.ipsos-na.com to learn more about Ipsos offerings and capabilities.
Ipsos, listed on the Eurolist of Euronext - Comp B, is part of SBF 120 and the Mid-100 Index, adheres to the Next Prime segment and is eligible to the Deferred Settlement System. Isin FR0000073298, Reuters ISOS.PA, Bloomberg IPS:FP
Download