Features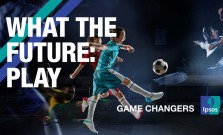 Discover What The Future
Play isn't just fun and games — it's a serious business, and its future will impact sectors spanning food, spirits, sports, streaming, toys, retail and more. What will that mean for the ways we watch, shop, and have fun?
Please help us congratulate the 2022 You-ies Award Winners for client and project excellence. Held annually by Ipso… https://t.co/X6IaydSEMI
10:25 PM - 26 January 2023
At Ipsos, we are passionately curious about Society, Markets and People.
"Game Changers" – our tagline – summarises our ambition:
we provide true understanding and make our changing world easier to navigate,
so that our clients can make faster, smarter and bolder decisions.