Features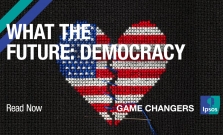 Discover What The Future
As market researchers, we attempt to understand the similarities and differences in people's attitudes and behaviors. This issue of What the Future is about one main division: party identification, that is, whether we are red or blue.
How did he do? More than 8 in 10 Americans rate President Joe #Biden's #inauguration speech as good, according to a… https://t.co/CRhnHHWZOM
11:12 PM - 20 January 2021
At Ipsos, we are passionately curious about Society, Markets and People.
"Game Changers" – our tagline – summarises our ambition:
we provide true understanding and make our changing world easier to navigate,
so that our clients can make faster, smarter and bolder decisions.