Features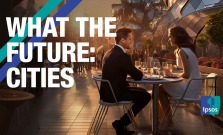 Discover What The Future
Between remote work, a cost-of-living crisis and climate change, cities are facing new challenges — and new opportunities. The shifting role of cities won't just affect how people live and work but will shape the future of industries.
At Ipsos, we are passionately curious about Society, Markets and People.
"Game Changers" – our tagline – summarises our ambition:
we provide true understanding and make our changing world easier to navigate,
so that our clients can make faster, smarter and bolder decisions.