Features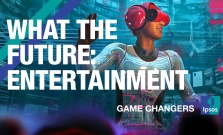 Discover What The Future
Americans' dependence on screens is growing. In 2019, pervasive media was a theory. Today, multiple screens mediate nearly all aspects of our lives. We're not going back, we're pushing forward, into the metaverse. In this new reality, creators, platforms,
In the past year consumers spent MORE at #grocery stores but as the pandemic subsides, 49% expect spend for meals t… https://t.co/Fe5tgnWRRR
2:01 PM - 18 May 2021
At Ipsos, we are passionately curious about Society, Markets and People.
"Game Changers" – our tagline – summarises our ambition:
we provide true understanding and make our changing world easier to navigate,
so that our clients can make faster, smarter and bolder decisions.