Features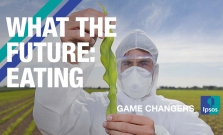 Discover What The Future
The future of food and eating is being changed by six factors that will shape how food growers to retailers will market and sell their products. The big question is whether and how these changes will stick.
Companies in 2022 face more pressure than ever to show a commitment to sustainability. Here's how brands can show c… https://t.co/BJVpVy0192
9:28 PM - 21 January 2022
At Ipsos, we are passionately curious about Society, Markets and People.
"Game Changers" – our tagline – summarises our ambition:
we provide true understanding and make our changing world easier to navigate,
so that our clients can make faster, smarter and bolder decisions.