Features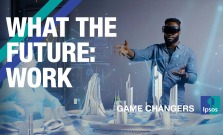 Discover What The Future
Matt Carmichael, editor of What the Future, sees a key tension between the desire to transform the workplace and the urge to "return to normal." The future of work, he thinks, could look much like the present.
We work with America's biggest companies, providing research, data, and insights. Interested? #MRXjobs… https://t.co/7Wmrvo9vvl
11:01 PM - 30 November 2022
At Ipsos, we are passionately curious about Society, Markets and People.
"Game Changers" – our tagline – summarises our ambition:
we provide true understanding and make our changing world easier to navigate,
so that our clients can make faster, smarter and bolder decisions.