Features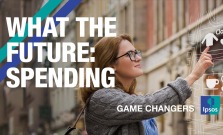 Discover What The Future
The future of spending will be driven by how resilient people are to forces largely beyond their control. In this What the Future: Spending issue, we explore how will people respond to these forces with their values and their wallets.
OCT 13: Ipsos' Pedr Howard among the leading #creative minds taking the stage to discuss innovations in stimulating… https://t.co/ZnYMNaYzIJ
5:02 PM - 3 October 2022
At Ipsos, we are passionately curious about Society, Markets and People.
"Game Changers" – our tagline – summarises our ambition:
we provide true understanding and make our changing world easier to navigate,
so that our clients can make faster, smarter and bolder decisions.