Features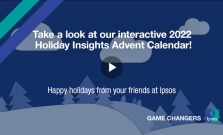 Discover 2022 Holiday Insights Advent Calendar
The countdown to the holidays is officially here! Deep dive into each insight by scrolling over our interactive Holiday Advent Calendar!
Advertising during inflation is challenging. We have a few tips, including this one: consumers want to hear from br… https://t.co/RInQX9fxGi
4:00 PM - 4 December 2022
At Ipsos, we are passionately curious about Society, Markets and People.
"Game Changers" – our tagline – summarises our ambition:
we provide true understanding and make our changing world easier to navigate,
so that our clients can make faster, smarter and bolder decisions.