Features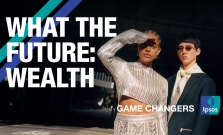 Discover What The Future
Ipsos research highlights Americans' unique view of wealth and the influence that digital, diversity and the Great Wealth Transfer will have on how we pass, share, spend and invest it.
A lot is going on, but this week we take a step back to revisit perceptions of election integrity, a perennially im… https://t.co/96UxRD8X3P
12:32 AM - 4 December 2021
At Ipsos, we are passionately curious about Society, Markets and People.
"Game Changers" – our tagline – summarises our ambition:
we provide true understanding and make our changing world easier to navigate,
so that our clients can make faster, smarter and bolder decisions.