Features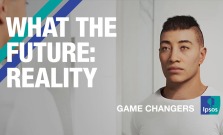 Discover What The Future
How we define and experience reality is constantly evolving as technologies to shape and use it become more powerful. This What the Future: Reality issue explores what will that mean for society, brands and business in the coming decades.
...because insights are a beautiful thing. Read more about trends in the beauty/fashion industry featuring… https://t.co/lW9K2aITL9
11:00 PM - 23 September 2022
At Ipsos, we are passionately curious about Society, Markets and People.
"Game Changers" – our tagline – summarises our ambition:
we provide true understanding and make our changing world easier to navigate,
so that our clients can make faster, smarter and bolder decisions.