Features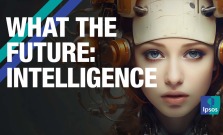 Discover What The Future
Whether you're ready or not, the AI era has arrived. Here's what brands, businesses and policymakers need to know about the potential risks and rewards, and how to navigate the tension between AI's wonders and the worries about its potential.
At Ipsos, we are passionately curious about Society, Markets and People.
"Game Changers" – our tagline – summarises our ambition:
we provide true understanding and make our changing world easier to navigate,
so that our clients can make faster, smarter and bolder decisions.