Features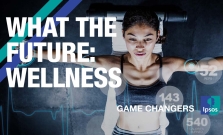 Discover What The Future
Six macrotrends will shape the future of wellness. One key trend: an aging population that will impact the growing caregiving crisis and how we innovate products and services to meet their needs.
Join Ipsos' #onlinecommunities experts to hear the factors shaping the mindsets and purchase decisions of #GenZ, as… https://t.co/fKrJ64ZHsn
10:00 PM - 27 January 2022
At Ipsos, we are passionately curious about Society, Markets and People.
"Game Changers" – our tagline – summarises our ambition:
we provide true understanding and make our changing world easier to navigate,
so that our clients can make faster, smarter and bolder decisions.