Features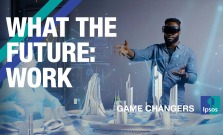 Discover What The Future
Matt Carmichael, editor of What the Future, sees a key tension between the desire to transform the workplace and the urge to "return to normal." The future of work, he thinks, could look much like the present.
Has alcoholic #beverage consumption gone up over recent years? How will #inflation impact buying; do #Affluent… https://t.co/KCtifOZ4a6
10:01 PM - 25 November 2022
At Ipsos, we are passionately curious about Society, Markets and People.
"Game Changers" – our tagline – summarises our ambition:
we provide true understanding and make our changing world easier to navigate,
so that our clients can make faster, smarter and bolder decisions.