Features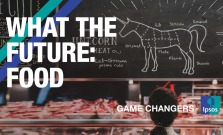 Discover What The Future
As climate change and technology shape how we produce our food, so too are we developing new ways to procure and consume it. Meanwhile, the pandemic upended many habits. Thankfully, solutions exist which we'll talk about in What the Future: Food issue.
It's never too late to say THANK YOU to our guest speaker, Michael Bach, who recently spoke at an all staff Ipsos N… https://t.co/8k61RWgDaH
9:01 PM - 24 June 2022
At Ipsos, we are passionately curious about Society, Markets and People.
"Game Changers" – our tagline – summarises our ambition:
we provide true understanding and make our changing world easier to navigate,
so that our clients can make faster, smarter and bolder decisions.