Features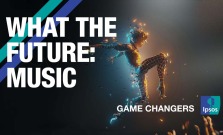 Discover What The Future
Technology will influence music's future, but the old and new will mix. In What the Future: Music, we explore how brands and fans connect through music as AI, streaming, virtual avatars and the metaverse take hold in a new music culture.
Listen in as Doug Smith talks about his role with Ipsos' Channel Performance team and why he is #ProudtobeIpsos. Do… https://t.co/AMGGDZoGlm
12:00 AM - 19 August 2022
At Ipsos, we are passionately curious about Society, Markets and People.
"Game Changers" – our tagline – summarises our ambition:
we provide true understanding and make our changing world easier to navigate,
so that our clients can make faster, smarter and bolder decisions.