Features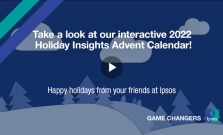 Discover 2022 Holiday Insights Calendar
The countdown to the holidays is officially here! Deep dive into each insight by scrolling over our interactive Holiday Advent Calendar!
It's day 7 of the Ipsos Holiday Insights Advent Calendar, and today we highlight seven tips for how brands can deve… https://t.co/2BfbcziSvz
4:00 PM - 7 December 2022
At Ipsos, we are passionately curious about Society, Markets and People.
"Game Changers" – our tagline – summarises our ambition:
we provide true understanding and make our changing world easier to navigate,
so that our clients can make faster, smarter and bolder decisions.