Features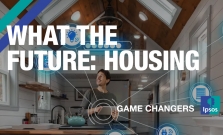 Discover What The Future
This issue of What the Future is a homecoming of sorts as our inaugural 2017 issue also focused on housing. While the patterns of how and where we live have barely changed, Americans have new expectations for home.
Many of us miss our co-workers: social ties make us feel whole. But looking ahead, Americans want flexibility in th… https://t.co/OYVr8cjtw7
1:00 AM - 6 March 2021
At Ipsos, we are passionately curious about Society, Markets and People.
"Game Changers" – our tagline – summarises our ambition:
we provide true understanding and make our changing world easier to navigate,
so that our clients can make faster, smarter and bolder decisions.