When DC isn't talking about the impeachment hearing, the focus is all on Pete Buttigieg's run for the Democratic presidential nomination. His poll numbers in both Iowa and New Hampshire are strong (Politico). Better still, he has been picking up steam in the national polls (Washington Post).
How is the lone millennial candidate jumping ahead?
The arguments vary: Mayor Pete has a strong ground game; his message is moderate and relatable; he is whip smart and is a great stump speaker. Our own debate polling with FiveThirtyEight underscores his strong performance in the last few debates.
So he is about to take off, right?
There are arguments against that as well: Buttigieg does not resonate with the African American community; he is just the mayor of the fourth largest city in Indiana; he is not tall enough; and so on. (Benenson Strategy Group)
In my opinion, Buttigieg's primary barrier has nothing to do with the above reasons but his low name recognition (familiarity) to date. After all, "you've got to be known to be liked." The good news for Buttigieg is that over time, name recognition can be overcome.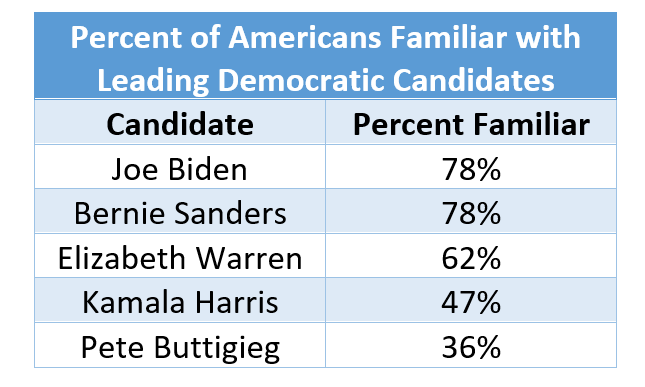 At this stage of the game, with the candidates starting out with varying degrees of name recognition, I like to compare how favorably candidates are viewed among voters who are very familiar with them and their platform. In statistical parlance, this is a way to control for differing levels of familiarity.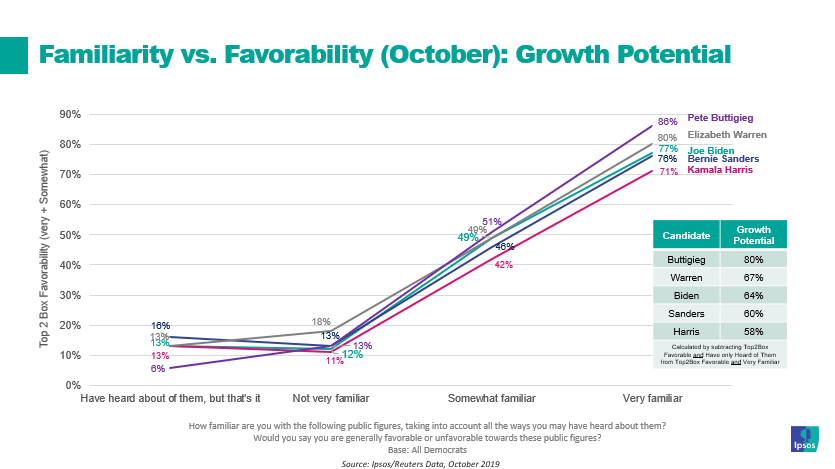 From the familiarity perspective, Buttigieg performs very well. Among his primary opponents he has the highest potential. I typically treat such metric as nothing more than directional in nature. Put differently, Buttigieg has clear upsides, more so than his competitors.
The one main caveat at this point is that Buttigieg still has not shown much positive improvement on "beating Trump"—the number one priority among potential Democratic primary voters. It is my view that the candidate who owns the "beat Trump" factor will be the Democratic nominee.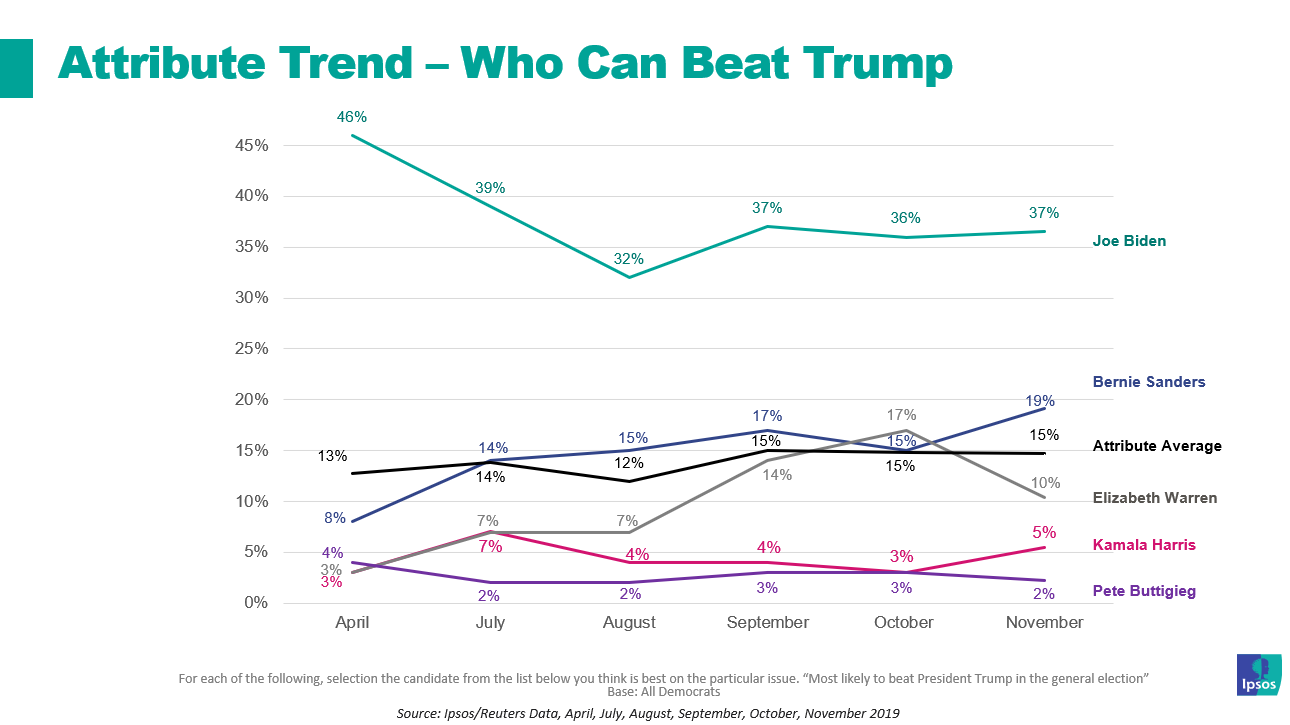 Interestingly, after losing ground on this metric between April and August, Biden has managed to staunch the bleeding. In contrast, Warren lost serious ground since October after announcing her Medicare for All vision.
In a way, Buttigieg's lack of "inside the Beltway" experience could be read as a positive by voters jaded with Capitol Hill shenanigans. As one of two military veterans running for the presidential nomination and with his centrist messaging intended to speak to Democrats, Republicans and Independents, he is a breath of fresh air.
Net Net
Though the nominees still have a long road ahead of them, it's safe to say that Buttigieg has picked up some steam.
Without a doubt Buttigieg has the most potential for growth in the field currently but his electability metric still looks weak (most likely due to his low name recognition). If he is to make a true run of it, he will need to own the electability space.
For more information, please contact:
Clifford Young
President, U.S.
Public Affairs
+1 202 420-2016
clifford.young@ipsos.com
About Ipsos
Ipsos is now the third largest market research company in the world, present in 90 markets and employing more than 18,000 people.
Our research professionals, analysts and scientists have built unique multi-specialist capabilities that provide powerful insights into the actions, opinions and motivations of citizens, consumers, patients, customers or employees. Our 75 business solutions are based on primary data coming from our surveys, social media monitoring, and qualitative or observational techniques.
"Game Changers" — our tagline — summarizes our ambition to help our 5,000 clients to navigate more easily our deeply changing world.
Founded in France in 1975, Ipsos is listed on the Euronext Paris since July 1st, 1999. The company is part of the SBF 120 and the Mid-60 index and is eligible for the Deferred Settlement Service (SRD).
ISIN code FR0000073298, Reuters ISOS.PA, Bloomberg IPS:FP
Download