Cliff's Take: Uncut Gems and Our Social Proximity to Addiction
The unexpectedly brilliant film Uncut Gems shows how addiction affects our social milieu (light spoilers ahead!)

Several weeks ago I went with my two sons to see the movie Uncut Gems before they went back to college. At the time, I knew little about the film. I ultimately went because of their intense lobbying.
Their pitch: it was an Adam Sandler film that somehow had a 91% Rotten Tomatoes rating. A quick search also showed that Uncut Gems was not a comedy despite starring Sandler. All very interesting. Ok I was in.
I went in with very few expectations but came out surprised. It was a brilliant but disturbing film. Adam Sandler was incredible in a non-comedic role.
So what was the film all about?
Adam Sandler plays Howard Ratner, a NYC diamond district jeweler and gambling addict, who goes from deal to deal, day trading his life away to feed his addiction and pay off loan sharks and pawn brokers. Directed by Josh and Bernie Safdie, Uncut Gems takes on a frenetic pace as you watch Howard spin out of control.
Most interesting to me was how Howard's addiction affects the people close to him—his wife, children, girlfriend, relatives, and business partners. He was charming and intrepid while at the same dysfunctional and ultimately destructive to those in his social milieu.
The film made me think about our social proximity to addiction. Thinking of all the people in Howard's network of friends and families who were caught up, one way or another, by Howard's addiction made me wonder how many other Americans are similarly close to someone struggling with addiction.
Do we all know someone like Howard?
This line of thinking led me to two questions: (1) how pervasive is addiction in America? And (2) how many of us know someone with an addiction?
Pervasiveness of Addiction
Trying to accurately gauge how many people have an addiction in the United States immediately poses challenges. There are many definitional difficulties when we try to pinpoint what addiction is exactly.
NIH has a simple definition for it:
"Addiction is defined as a chronic, relapsing disorder characterized by compulsive drug seeking, continued use despite harmful consequences, and long-lasting changes in the brain. It is considered both a complex brain disorder and a mental illness. Addiction is the most severe form of a full spectrum of substance use disorders, and is a medical illness caused by repeated misuse of a substance or substances."
The medical community generally has moved towards the point of view that addiction or substance use disorder is a disease of the brain (though questions remain about this). This view is supported when addiction is viewed both as a mental health issue and a function of impaired neurological processes in the brain as it develops an increasing tolerance for and dependence on certain substances.
But addiction is vastly complex. Many other factors influence whether a given person will develop an addiction. These could be preexisting mental health issues, traumatic experiences, or a host of other reasons. Addiction often goes unresolved unless an effort is made to address these other, co-related root causes, which can be thorny to untangle in their own right.
In Howard's case, his gambling seemed to be connected at least in part to his optimism or mania, an intrinsic part of his personality. Perpetually convinced that he was finally going to get his big break, he kept entrenching himself further until there was no way out.
Going back to the definitional challenges, it's worth remembering that until relatively recently, Howard's gambling addiction in Uncut Gems wouldn't even technically have been considered a "substance use addiction," as alcohol or opioid addiction are. Instead pathological gambling was seen as an impulse control disorder.[i]
To get a sense of what proportion of the population suffers from addiction, we turned to the Substance Abuse and Mental Health Services Administration's (SAMHSA) National Survey on Drug Use and Health (NSDUH) and the National Council on Problem Gambling (NCPG).
Both sources show – as we know, given the fact that there is a much-discussed opioid crisis occurring – that millions of Americans struggle with addiction each year.
| | | |
| --- | --- | --- |
| Addiction/substance abuse | People with substance use disorder (Statistics drawn from SAMHSA and National Council on Problem Gambling)[ii][iii] | Proportion of total US adult population (Adult population calculated at 254.7m using most current U.S. Census population estimate)[iv] |
| Alcohol | 14,800,000 | 5.8% |
| Opioid | 10,300,000 | 4% |
| Prescription pain reliever | 9,900,000 | 2.7% |
| Pathological gambling | 2,000,000 | 0.8% |
| Methamphetamine | 1,600,000 | 0.6% |
| Cocaine | 968,000 | 0.4% |
| Heroin | 808,000 | 0.3% |
But what about social proximity to addiction? How many of us know someone who is struggling with addiction?
Social Proximity to Addition
To get at Americans' relative social proximity to addiction, we ran a survey asking the public whether they have anyone in their family or social circles suffering from addiction, across a host of addiction or substance use types. As an initial guide, I utilized a social proximity question developed during my time in Brazil, to better understand how social milieu influences mental health as well as crime.
So – what did we find?
It is clear that a solid majority of Americans have some direct social connection to addiction, either through a friend, family member, acquaintance, or people they encounter in their daily lives. When asked, 56% of respondents said that they know someone who is struggling with addiction. We as Americans are closely connected to addiction.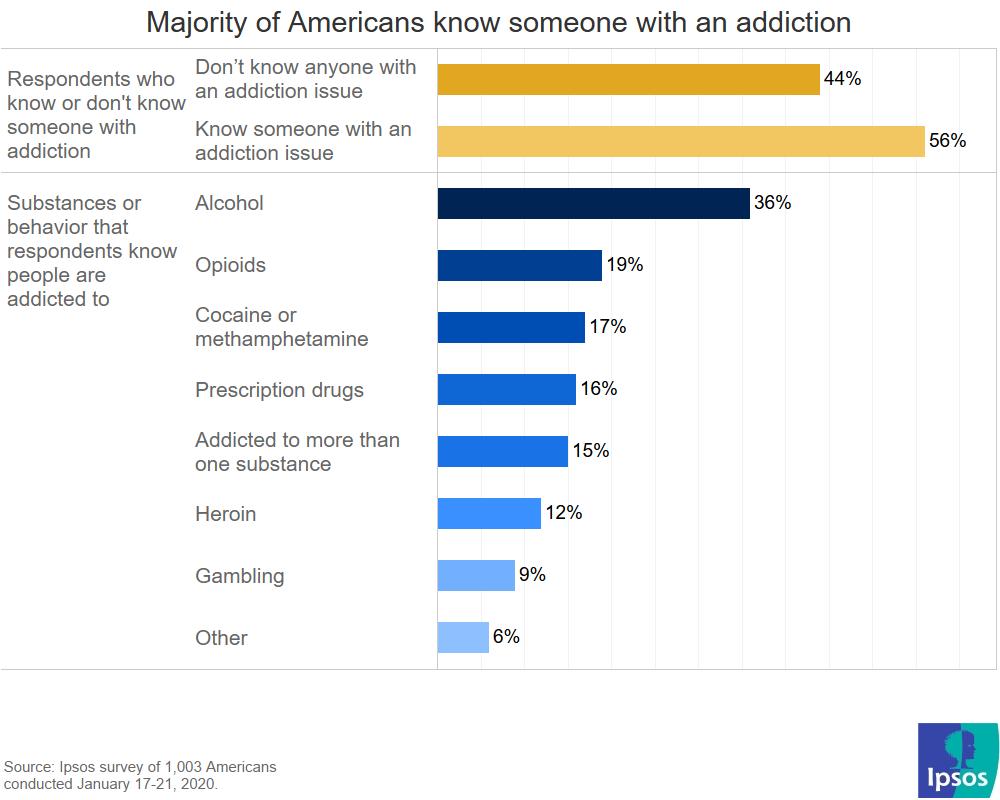 Social Stigma: Disease or Fault?
One of the most pernicious aspects of addiction is the stigma surrounding it. Society can be harsh in condemning addicts, saying that their failure to overcome addiction comes down to a lack of willpower. We see a similar pattern play out over and over again in Uncut Gems, as other characters ridicule and physically attack Howard.
That said, public opinion does seem to be shifting away somewhat from that particularly rigid mindset. Research shows that Americans increasingly view addiction as a significant problem. In our recent Ipsos poll, 48% agreed that "addiction is a choice and it is up to the addict to solve their problems." However, the majority of respondents (78%) also agree that "addiction is a disease and warrants support and treatment." 
Put differently, this suggests that close to half of the American public holds two opposing views about addiction at the same time, believing that there is some personal responsibility on the part of the individual struggling with addiction, while simultaneously feeling that external support for the disease is warranted.
I wish that we had made this a force choice question to tease out America's relative belief between disease versus the fault of the individual. Perhaps we can do that in a future poll.
Concluding Remarks
The tragedy of Uncut Gems wasn't only Howard's. As he becomes increasingly obsessed with the biggest bet of his life, his family members, friends and associates get pulled into the maelstrom with him.
For me, Uncut Gem's most chilling message is that addiction isn't just about the individual but about the collective.  I would even argue (with the data we have here) that the social stigma around it is fundamentally linked to the unintended negative impact that addicts can have on the people within their social reach. This was Howard's story in a nutshell.
[i] "Expanding the Definition of Addiction: DSM-5 vs. ICD-11." Retrieved from: https://www.ncbi.nlm.nih.gov/pmc/articles/PMC5328289/
[ii] Alcohol, cocaine, heroin, methamphetamine, prescription pain relievers, opioids:
Substance Abuse and Mental Health Services Administration. (2019). Key substance use and mental health indicators in the United States: Results from the 2018 National Survey on Drug Use and Health (HHS Publication No. PEP19-5068, NSDUH Series H-54). Rockville, MD: Center for Behavioral Health Statistics and Quality, Substance Abuse and Mental Health Services Administration. Retrieved from https://www.samhsa.gov/data/
Pathological gambling:
National Council on Problem Gambling. Retrieved from: https://www.ncpgambling.org/
[iv] U.S. adult population:
U.S. Census Bureau, current population estimate, July 1, 2019. Retrieved from https://www.census.gov/
For more information, please contact:
Clifford Young
President, U.S.
Public Affairs
+1 202 420-2016
clifford.young@ipsos.com
About Ipsos
Ipsos is now the third largest market research company in the world, present in 90 markets and employing more than 18,000 people.
Our research professionals, analysts and scientists have built unique multi-specialist capabilities that provide powerful insights into the actions, opinions and motivations of citizens, consumers, patients, customers or employees. Our 75 business solutions are based on primary data coming from our surveys, social media monitoring, and qualitative or observational techniques.
"Game Changers" — our tagline — summarizes our ambition to help our 5,000 clients to navigate more easily our deeply changing world.
Founded in France in 1975, Ipsos is listed on the Euronext Paris since July 1st, 1999. The company is part of the SBF 120 and the Mid-60 index and is eligible for the Deferred Settlement Service (SRD).
ISIN code FR0000073298, Reuters ISOS.PA, Bloomberg IPS:FP