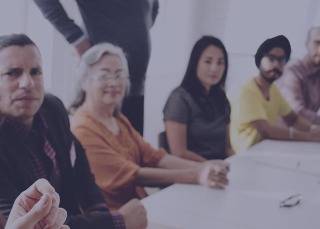 Employee Relationship Management
Leadership & Organizational Culture
OUR SOLUTIONS
Client Context
How do you define a leadership model and values that are aligned with your strategy?
How do you identify and assess leadership behaviors to help your organization succeed in digital times?
How can you engage your leaders to implement your strategy?
Strategic Engagement
Assess the level of engagement of your leaders to succeed the transformation.
Leadership Model Definition
Help identify "leadership framework 2.0" based on your needs and current identity.
Corporate Values Definition
Organizational Culture Alignment (e.g., Customer Centricity, Rules Compliance, Safety...).
Employee Experience Optimization (On-boarding, Diversity, Inclusion, Wellbeing, Exit)
Assess the quality of your on-boarding process & evaluate "moments of truth"
Identify gaps between the employer promise and the employee experience
Evaluate the inclusiveness capabilities of your organization
Build & assess corporate values in support of the brand
Segment and adapt your HR offering
Case Studies
A leading collective services case study [strategic engagement]
In 2013, this company designed a new and ambitious strategic plan involving major strategic, organizational and cultural changes. Key to succeed was leadership buy-in. Therefore, a few months before implementing this project, the Group decided to measure key managers' adherence. Ipsos was selected to conduct this strategic survey which targeted 3,000 key managers in 69 countries. A specific support has been provided both ahead of data collection and results restitution (presentations for all entities Steering Committees, communication support and action plans follow-up). The success of this process has led to a new survey in 2015 involving a larger perimeter so as to continue change management.
A major banking group case study [organizational culture alignment]
In 2009, Ipsos collaborated with this Group to understand and evaluate its employee barometer. The first wave launched in 2009 and targeting 83,000 employees in 30 countries was aimed at aligning various employee research efforts across the organization. Repeated in 2011, 2013 and 2015, the process now reaches 130,000 employees in 82 countries (26 languages) and has become a real management tool supporting the Group's transformation. For the last wave, the company has refocused the barometer on its Values and Leadership model.