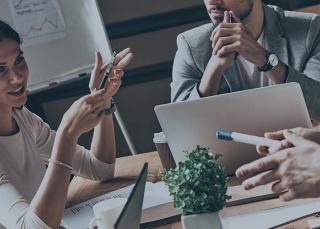 Public Affairs
Message Development Research
OUR SOLUTIONS
When confronted with a new issue, debate or crisis, the stakes for communicators can be high — say the wrong thing at the wrong time and it can be costly for you or your client. Ipsos' Message Development Research helps to mitigate that risk by conducting opinion research with your key audiences and stakeholders to find the right messages for you to achieve your goals.
Key Concepts for Message Development
A good message is fundamentally important, but it is not enough – communications need to come from a credible and trusted source. If message recipients trust the messenger, much of the battle is already won.
Know your reputational drivers to ensure that the correct message, pitched at the right level, is directed towards the correct audience.
Test messages with the audience to ensure that they will respond to them as intended; get the right message to the right people.
Communications and initiatives that are aligned with an organization's key strengths are much more successful.
Message testing is an iterative process that involves both quantitative and qualitative research.
Respondents' attitudes toward an organization can be shaped by communications within the course of a survey. The attitudinal shifts among respondents provide opportunities for targeting communications.
Ipsos' Message Development Program
The depth of message testing depends on the organization's timing and its comfort with what is being communicated. Ideally, message testing is conducted simultaneously with the agency and client organization's initial message generation sessions, so that research findings can feed into the process each step of the way.
We call this the message funneling process:
Phase 1 includes testing initial message hypotheses. At this stage messages can be vetted and sorted into tiers by effectiveness. Typically, this stage is qualitative in nature, including one-on-one interviews and/or focus groups.
Phase 2 consists of testing message statements. We look for the degree of believability and the extent to which the messages can modify opinion and behavior. This stage can be qualitative or quantitative in nature, but quantitative survey research is usually required so that statistically reliable data can be collected on what is, and what is not, working.
Phase 3 re-tests the message statements in Phase 2, with adjustments. The interval between Phases 2 and 3 allows for considerable client input as the results from Phase 2 can be used in the adjustment process. This is typically performed through qualitative research like in-person or online focus groups.
The final product is a message that meets the four C's of effective messaging: clarity, conciseness, credibility and crispness.
Why Partner with Ipsos for Message Development?
Our excellence in research methodologies and capabilities reveals what your client's audiences are saying and thinking, and helps you anticipate what they will do. PR and communications professionals with access to this critical information will be able to design and implement strategic public relations and communications solutions more easily, and get more effective results for their clients.
It's about building relationships and reputation. Ipsos can work with you as your partner. Together, we can provide fast and optimal research solutions for your clients.