From environment, economy to COVID-19: Our top stories on social media in first half of 2020
These are the reports, stories and videos that got you talking, sharing and engaging with us.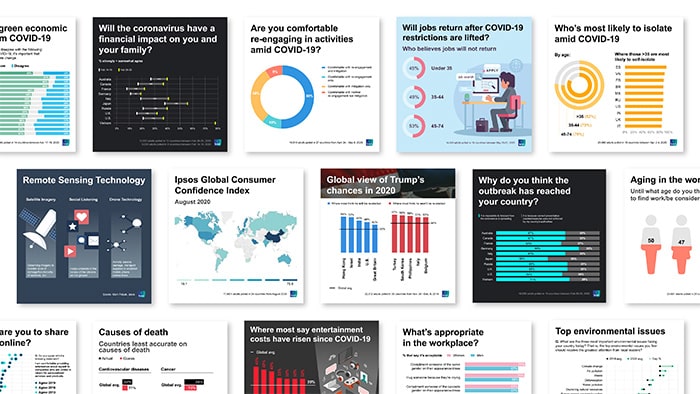 We're now over the first half of 2020 and on our Global Advisor polling platform we've been ramping out content like never before to keep up with demand for the public's view of the coronavirus pandemic.
While COVID-19 has been top of mind for many this year, there are other topics that social media users connected with – especially at the beginning of the year – ranging from the environment and economy to food and the gender debate.
With all that we've been doing, we thought now is a good time to look back and reflect on what made news, got you talking, sharing and engaging with us on Twitter, LinkedIn, Facebook and Instagram.
Here are the top posts on the platforms by engagement and impressions as we dig a little deeper into why these stories and videos resonated with you.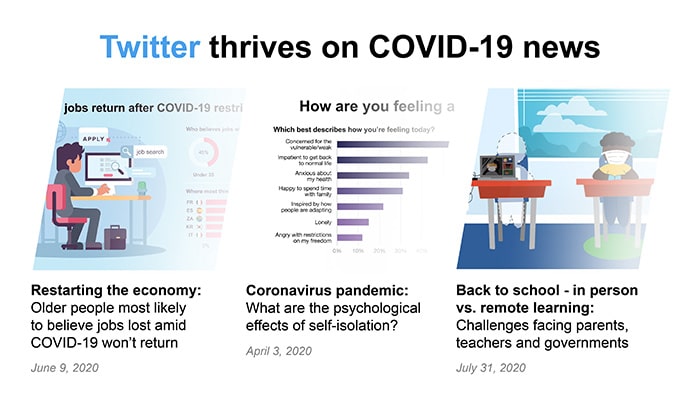 Being one of the foremost platforms for sharing news, it comes as no surprise that the top content on Twitter in the first half are all related to COVID-19.
Users were most engaged by a report in June on whether jobs lost during the pandemic would return once lockdowns were lifted, which got thousands of impressions. Seeing the success of this, we followed up with story on why older people – those aged 45 and older - are most likely to believe the jobs lost won't return, drawing on what economists saw in previous recessions.
Shifting from the economic side, the second most circulated story was about the psychological effects of self-isolating amid the pandemic – focusing on how anxious people were about their health at the height of the first COVID-19 wave. This did well on all platforms – but made the most headway on Twitter as behavioural psychologists and doctors explained how we're changing and gave advice on how to cope.
Our back to school story focusing on the challenges facing parents, teachers and governments over in person versus remote learning in the coming school year also got your attention. The story was backed by polling that showed two in three people support restricting the number of days kids should attend school – igniting debate over what a safe return to school should look like.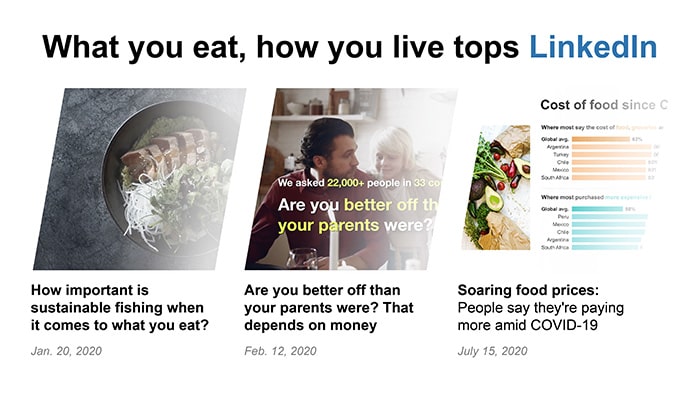 Even though it's considered a platform for networking and businesses – our videos focusing on personal topics like what you eat and how your life is progressing did the best on LinkedIn.
A video on how important sustainable fishing is outpaced all other posts – giving you what you needed in 90 seconds about support for and against eating endangered fish and overfishing. The video was based on a report conducted on behalf the World Economic Forum – released on the eve of Davos in January.
Another video that created a lot of buzz on the platform in February was based on a poll that asked if you thought you are better off than your parents were when it comes to life's accomplishments and milestones including money. It gave people a chance to reflect on how their life is progressing while highlighting that better access to technology has not necessarily translated into a better quality of life.
Rounding off the top three was another COVID-19 related story, but this time about how many of you think you're paying more for food and groceries since the pandemic. We spoke to supply chain experts and economists about why food prices were rising even as economies faced deflationary pressures amid recessions, and how long this would last.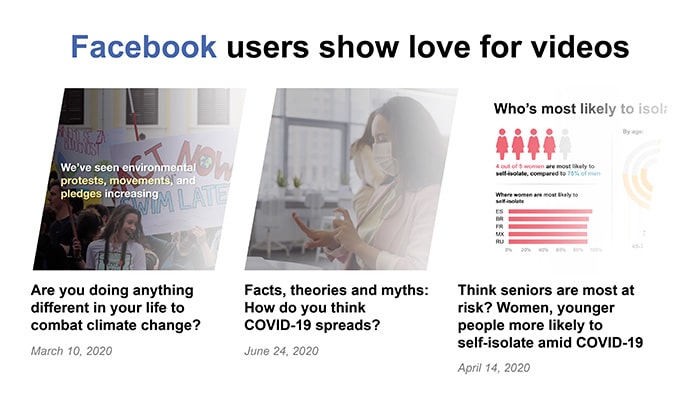 Videos have always done well for us on Facebook, so it's not surprising that two of our top videos this year dominated engagement on the platform.
First was our take on how worried you are about climate change and whether it's enough for you to change how you live your life. This was based on another survey done on behalf of the World Economic Forum ahead of Davos and we zeroed in on how two in three people said they changed their behaviour because of the environmental phenomenon.
The next most popular post was our report on theories and myths about how people think COVID-19 spreads. We turned this into a two-minute video that tackled everything from how long people thought the virus lived on surfaces to whether children and pets could transmit it, among others.
In the third spot is a story focusing on why women and younger people are more likely to self-isolate whether by choice or government order amid COVID-19 when seniors and men seem more at risk. This resonated with our audience as experts explained how social drivers of risk-taking behaviour come into play as people protect themselves.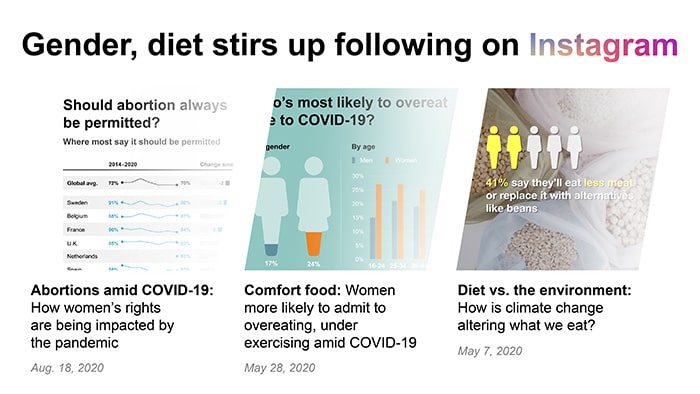 Even though our presence on Instagram is still new (we've only been on the platform for less than a year), we're seeing great reach and distribution of our content in a short amount of time.
Stories that took a hard line on sensitive issues really took off with how abortions are being impacted by COVID-19 in the top spot. We talked to medical experts on what is considered an essential service during a pandemic and why delaying abortions could lead to more women ending up in hospital at a time when emergency rooms are already full.
Another story tackling the stress and anxiety that women are facing really struck a chord with our audience as we highlighted why women are more likely to turn to overeating and under exercising during the pandemic. Psychologists broke down what emotional eating is, and how women can cope without putting themselves at risk of developing longer term illnesses.
Continuing on the food bandwagon, Instagram users loved our diet versus the environment video on how climate change is altering what we eat. We focused on how many across 29 countries say they'll eat fewer dairy and meat products to limit their contribution to climate change.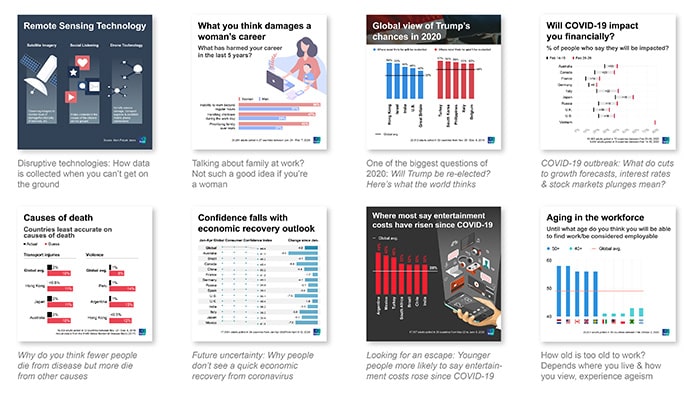 Other notable stories on social media: