Global Warming Issue Unites World Opinion
82% view climate change as major threat. On the heels of the 2015 United Nations Climate Change Conference held in Paris, Ipsos polled citizens around the world to gauge their opinion on the climate change and global warming issues.
An overwhelming majority (84%) in 27 countries consider global warming a serious issue. Half (54%) consider it very serious issue.
The Americas are on the opposite ends of the spectrum on the seriousness of global warming. Only 4 in 10 (39%) respondents in North America consider it a very serious issue compared to 4 in 5 (83%) respondents in Latin America.
Is There Evidence of Temperature Increase?
Seven in ten (70%) say there is solid evidence that the average temperature on earth has been getting warmer.
More see the evidence of temperature increase this year than in 2014 (62%), with the biggest gain of 13 points in North America (48% in 2014 vs 61% in 2015).
Is Reducing Emissions Possible Within Ten Years?
One of the highlights of the Paris climate change agreement is the commitment of all countries to reduce carbon emissions. However, the majority (59%) disagree that it is practical and feasible to almost completely eliminate the use of oil and gas in the next ten years.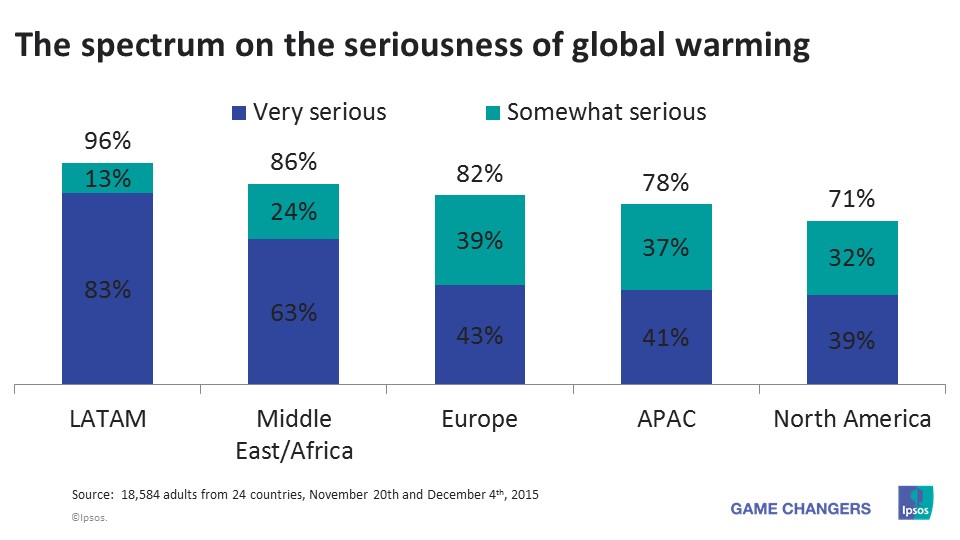 Download