Increasing pessimism about 'return to normal' by June from COVID-19 crisis, shows poll
People in Japan, the U.K. and Australia are most negative about a recovery by June.
Optimism over the coronavirus outbreak coming to an end in a few months has declined in most countries surveyed by Ipsos since March in the latest global poll.
In mid-March, majorities of people in most countries surveyed believed the COVID-19 crisis was a relatively short-term crisis which would be resolved by June, and life would return to normal.
This optimism has continuously declined in about half the countries polled since March 12-14 as citizens appear to be settling in for the long haul. In a survey of 28,000 people across 15 countries conducted from April 2 to 4, the respondents most negative about a recovery by June are in Japan (19%), the United Kingdom (27%), and Australia (32%).
On the other end, those most optimistic about a June recovery are in Vietnam (92%), Brazil (85%) and Mexico (84%).
The biggest change we have seen in opinions since mid-March about a June recovery have been in countries where optimism has declined. This is led by Canada down 25 percentage points, followed by France (-23), Italy, Japan and the U.K. (-22).
Overall, these findings show that in countries where there has been a large movement in opinion about a June recovery, the sentiment turned more negative than positive.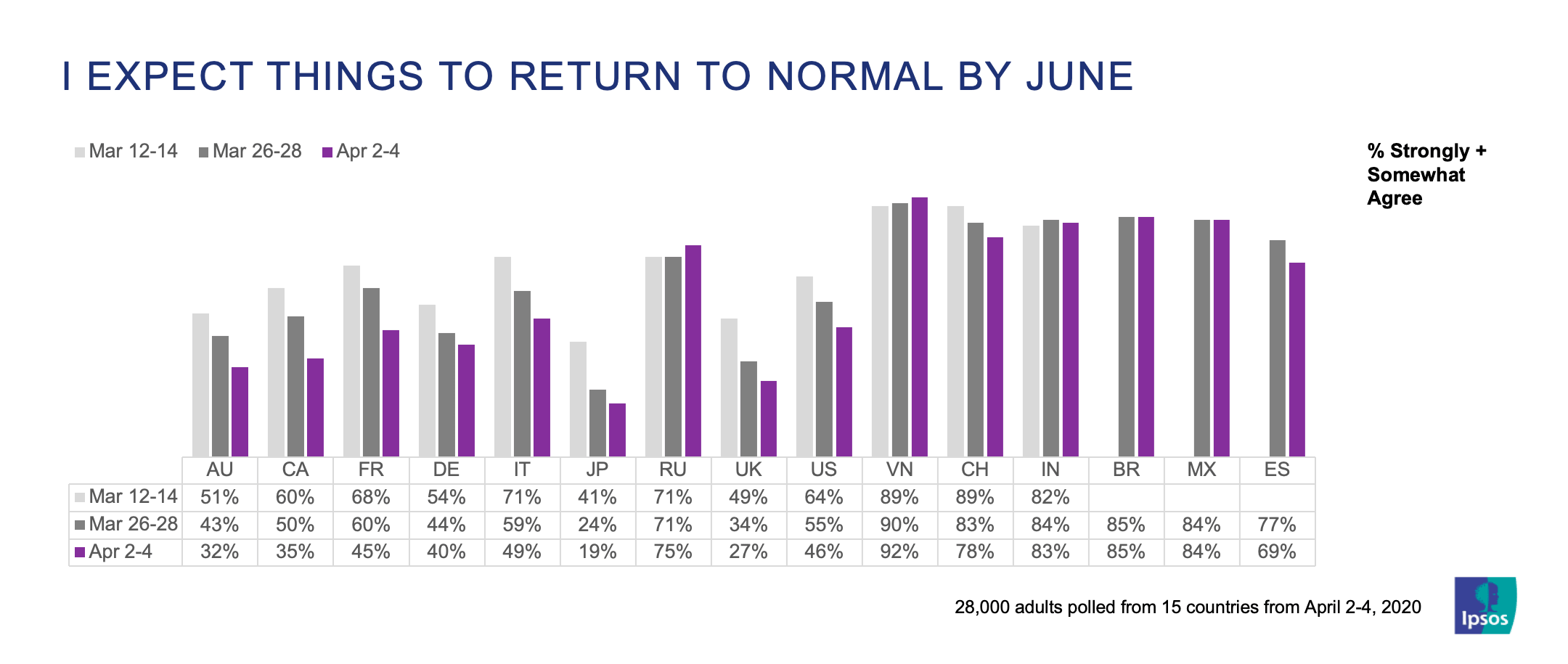 These are the results of an Ipsos survey conducted April 2nd to 4th, 2020 on the Global Advisor online platform among 28,000 adults aged 18-74 in Canada and the United States and 16-74 in Australia, Brazil, China, France, Germany, Italy, India, Japan, Mexico, Russia, Vietnam and the United Kingdom. Where available, tracking results from previous studies, conducted through March and selected results from February are referenced by date.