Ipsos MORI/GfK Exit Poll for BBC/ITV News/Sky News
Ipsos MORI / GfK Exit Poll for BBC, ITV and Sky News once again proves accurate.
After yet another seismic night in British politics, Ipsos MORI is proud to be a key partner once again in the very accurate Exit Poll for BBC/ITV News/Sky News and led by a team of top academics. The opening prediction suggested the Conservatives would be the largest party but fall short of an overall majority, projecting seat totals of 314 for the Conservatives, 266 for Labour, 34 for the SNP, 14 for the Liberal Democrats and 22 seats for other parties.  With just one result still to come in, this projection is extremely close to the actual results of 318 seats for the Conservatives, 261 for Labour, 35 for the SNP, 12 for the Liberal Democrats and 23 seats for other parties.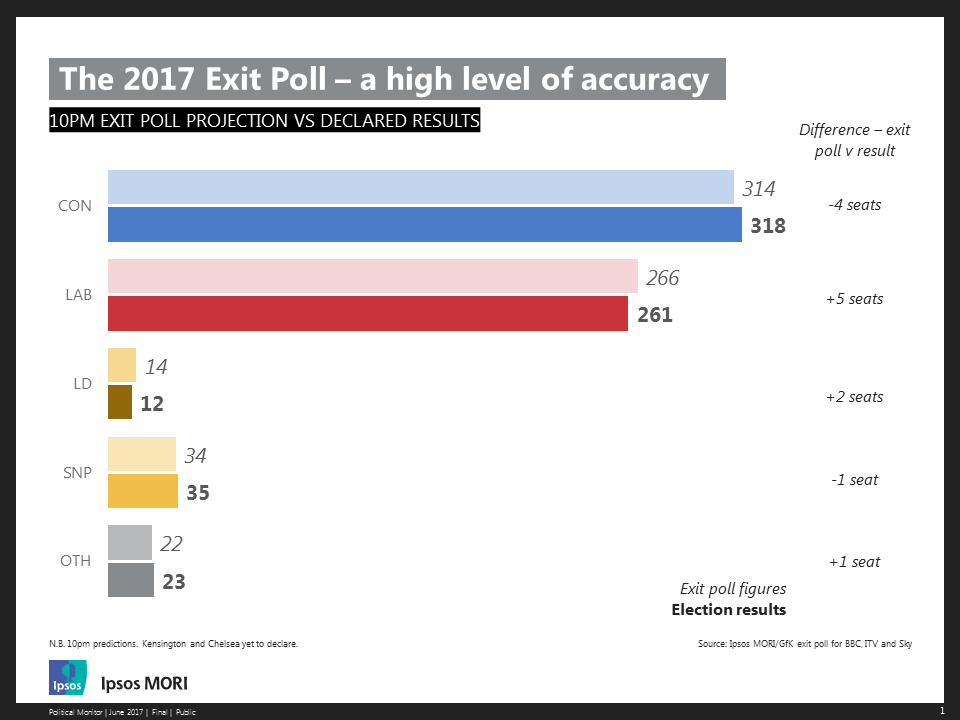 Some doubted that the projection could be correct, but the Exit Poll has an incredible record of accuracy over a number of elections.
A history of UK election polls: in recent elections they have been pretty accurate https://t.co/j37Euyzt6E pic.twitter.com/G5FAeIQtJ0

— Financial Times (@FT) June 8, 2017
Ipsos MORI is involved in the design, administration and fieldwork of the Exit Poll (with fellow researchers at GfK), before the analysis is carried out by a team of academics led by Professor John Curtice. We are particularly proud that our team of researchers, fieldforce and operations teams were able to set up and carry out such a mammoth task in just six weeks, that usually takes six months. The interviewers deserve particular praise, carrying out over 30,000 interviews in total despite British summer time weather and a fair few cute dogs.  Of course, we also want to thank every voter who agreed to take part – it could not happen without them.