Leveraging Real-World Evidence to Drive Pricing & Access
The importance of Multiple Data Source Integration and Value Attribution in Multi-Component Disease Management.
This paper was presented by Chris Teale at the World Evidence Pricing and Access Congress in Amsterdam in March 2022
---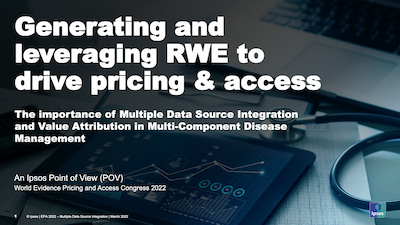 In the future, value in healthcare will be increasingly delivered by multi-component disease management rather than by drugs or interventions in isolation.  It will be driven by the gradual fusion – around the traditional drug – of genomics (biomarkers & diagnostics), wearable digital technologies, and data analytics/artificial intelligence. This will pave the way to more precise and personalised treatments, better outcomes, and more effective and efficient healthcare.
At the same time, the shift will add complexity to value, price, access and health technology assessment. New approaches to value evidence generation will certainly be needed, and these will often demand the integration of multiple data sources in new and innovative ways. It will not be a smooth process. Systemic and stakeholder changes may be necessary.
How do we as an industry prepare for the future landscape? What problems need to be solved? Which data sources will be available, accessible, and acceptable to use? What partnerships must be forged?
In this new paper from Ipsos, Chris Teale, Senior Vice President in our European Market Access Team, explores these important questions in detail.