Looking for holiday cheer? Global consumer confidence hits new over 2-year low
Global Consumer Confidence Index in December is at the lowest since May 2017.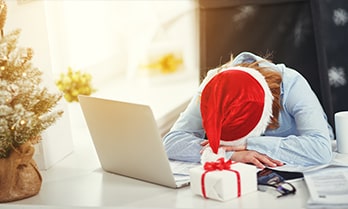 "'Tis the season to be jolly" in many parts of the world when purse strings open up, and holiday celebrations with colleagues, friends and family drive up consumption and spending.
But if the latest reading on how the global consumer is feeling is anything to go by, it seems we may not be up to the task this year.
The Global Consumer Confidence Index fell to a new two and a half year low of 48.5 points in December, according to the latest survey conducted in 24 countries. This marks the lowest reading since May 2017 and the lowest point this year.
The index is down 0.1 point from November, and lower by one point over the past three months.
Nicolas Boyon, Senior VP of U.S. Public Affairs at Ipsos and an author of the report, said the three-month decline on the global index was driven by a significant drop in confidence in almost half of the 24 markets during the same period.
Seven of those 11 countries are in Europe with the biggest declines in Poland (-3.5), Turkey (-3.4), Sweden (-3.2), Italy (-2.6), and Russia (-2.6). Overall, sentiment in the 11 countries fell by as much as 3.5 to 1.6 points over three months.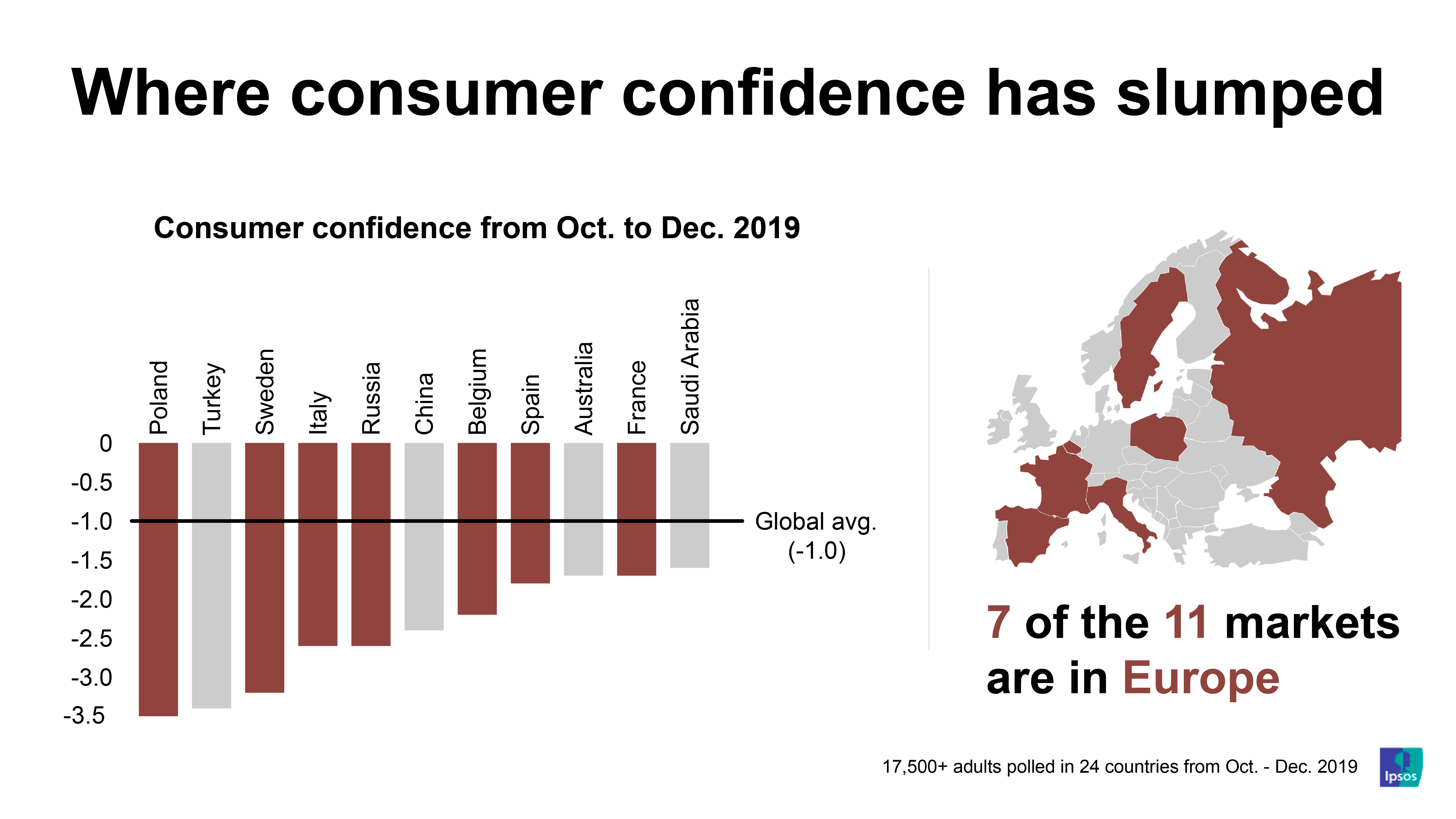 Boyon points out the declines are even more substantial when you look at year-over-year figures with confidence in places like Sweden and Italy down around 5 points from December last year.
"Over the past year, the overall trend is down," said Boyon. "I would surmise that it reflects a confluence of different types of anxieties  ̶  uncertain political climate in some countries such as inconclusive elections, protests, trade disputes and social ills."
What's weighing on the consumer?
Douglas Porter, Chief Economist at BMO Financial Group, said the results are in line with what he's seeing as well with confidence generally down in many countries as global growth has cooled, and recession talk ramped up during the summer.
"It depends on the country, but we are expecting broadly a more subdued consumer outlook for the 2019 holiday spending forecast globally, and this is a major reason why we're not looking for a big pick-up in growth next year," said Porter.
The global economy is growing at the slowest pace since the global financial crisis – with the Organisation for Economic Cooperation and Development (OECD) forecasting 2.9% growth this year – which is the lowest in a decade.
A combination of a slowdown in the world's second biggest economy – China, the trade war with the U.S., and higher consumer price inflation have all been weighing on consumer confidence, according to Porter.
"China's consumers are a quiet victim of the trade war – lower yuan, higher imported food costs and tariffs," said Porter. "U.S. sentiment is holding up, because the tariffs really haven't been passed onto U.S. consumers, financial markets have had a strong year, and job growth has held up well."
"European and UK consumers have faced a big cooldown in growth this year, especially in manufacturing – again, a casualty of the global trade war," he added.
Optimism in the U.S.
Consumer confidence in China has fallen 2.4 points in the past three months, while the U.S. saw a gain of 1.6 points. A big driver of sentiment in the U.S. was the jobs sub-index – which rose more than three points over the past three months.
Porter thinks U.S. consumers will be a bright spot for the global economy, because finances are strong, markets are robust, and job growth is holding up.
The latest data from the U.S. Department of Labor this month showed that job growth increased by the most in 10 months in November, while the unemployment rate was back down the lowest level in almost half a century at 3.5%  – the lowest since 1969.
Meanwhile, investor confidence after the U.S.-China trade accord last week Friday has been driving global stock markets to all-time highs despite impeachment proceedings in the U.S. The benchmark S&P 500 is up more than 27% this year, while Asia's biggest market – Japan's Nikkei – has risen almost 20%.
While Porter expects to see some recovery in global consumer confidence with the rebound in equities, and better news surrounding key risks like the trade war and Brexit, he points out that sentiment has been driven by the ebbs and flows of the trade war.
"For example, the preliminary Phase 1 [trade] agreement was reached in early October, and sentiment bounced," he said. "On the flip side, the trade war took at least two nasty turns this year, in early May and August."