South African Grant Recipients in the Spotlight
In the latest Pulse of the People™ study in South Africa we examined attitudes and opinions of country direction, delivery of government services and opinions of leadership among those who are receiving social grants from the government and those who are not.
About four in every ten (42%) adult South Africans who are recipients of government grants consider themselves to be poor.  It is interesting to note that almost half of recipients of government grants believe that they are "somewhere in the middle1" – and not particularly poor!
1 This answer category was not read out to respondents when the question was asked.
If we look at the reaction of South Africans who do not receive government grants, it is no surprise that just below six in every then (56%) see themselves as "somewhere in the middle", while almost a quarter (24%) describe themselves as "poor". Self-assessed poverty is thus much more than just the objective reality of monthly income.
This question formed part of the six-monthly Pulse of the People™ study which is conducted regularly by Ipsos in South Africa. In the analysis for this press release, responses of those who receive grants were compared to those who do not receive grants, all of whom are adult South Africans 18 years and older. This is particularly interesting against the background of the media attention over the last few weeks on SASSA, the Department of Social Development, CPS and individual role players when it comes to the paying of government grants at the beginning of April 2017.
Do grant recipients have different opinions?
The graph below illustrates that the opinions of grant recipients do not differ at all from that of their fellow South Africans when it comes to the issue of whether the country is heading in the right or the wrong direction. Overall, only about three in ten South Africans believe the country is going in the right direction – whereas more than half think that things are going the wrong way.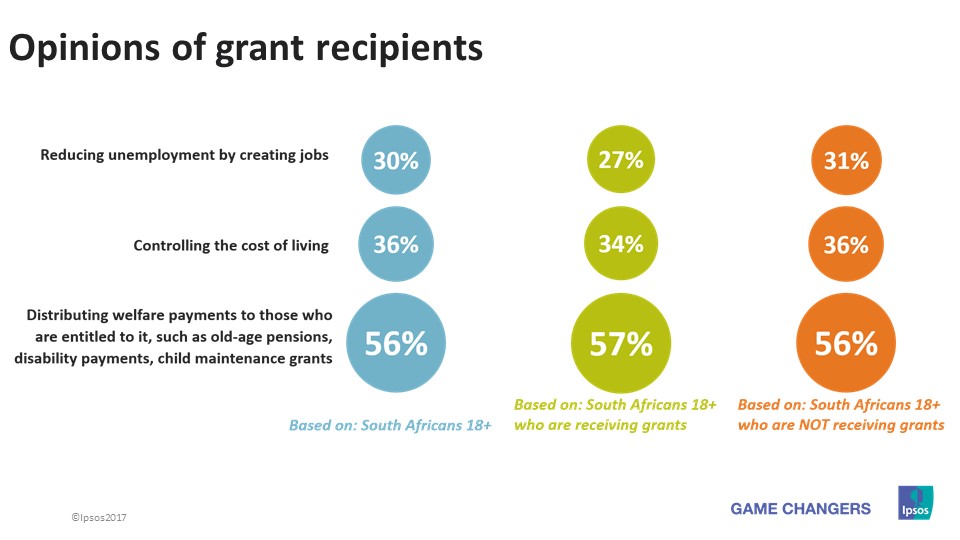 Opinions about government and delivery
Likewise, if we compare opinions on issues of service delivery, the opinions of grant recipients do not differ widely from those who are not grant recipients. 
Respondents were asked about several issues and the graph overleaf shows a selection of these.  Respondents were asked if government was handling the particular issue "very well", "fairly well", "not very well" or "not at all well". 
The figures overleaf refer to those who thought that government was handling the particular issue very or fairly well.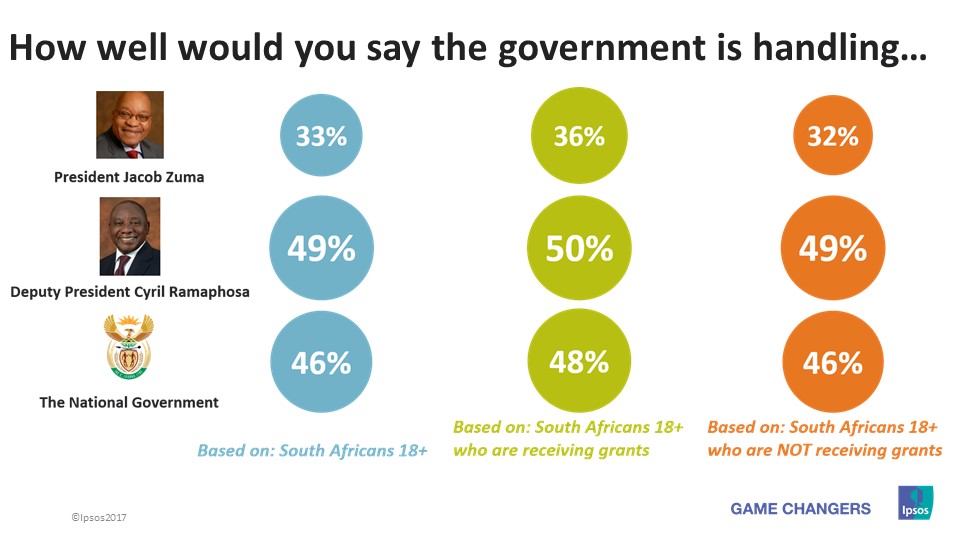 Top 2 box scores used: "Very Well" & "Fairly Well"
It should not be a surprise that grant recipients are slightly more critical of the government's handling of job creation (27%) and the cost of living (34%) than those who are not grant recipients – as intuitively these issues should be of more concern to those who depend on the government for a large part of their livelihood.
Interestingly, on only one of these issues the government scores a "pass mark" (50% or more) – namely for the distributing of grants. Still, less than six in every ten (57%) of those who are grant recipients believe this process is handled well by the government.
Opinions about leadership
A third of South Africans (33%) say that president Jacob Zuma is doing his job very or fairly well.  Those who are grant recipients are slightly more complimentary, with 36% saying that he is doing his job very or fairly well. 
There is very little difference in the opinions about the deputy president (49%) and the overall opinion about the national government (46%).
In view of the developments during the last week when the president recalled the minister of finance from an investor roadshow in the UK and USA, another measure is relevant.  An approval rating of different politicians is done – respondents had to allocate a point out of 10 to each leader; ten out of ten if they were totally in favour of the political leader and a 0 out of 10 if they were totally against him; or any number in between.
Grant recipients have a slightly more favourable view of president Zuma and give him 4.5 out of 10, whereas his approval rating among the general population is at 4.
There is little difference in the approval ratings for minister Gordhan and he scores 5.2 out of ten among South African adults. In all cases the approval rating for the minister of finance is higher than that of the president2.
2 For a full press release on this issue, refer to the February 2017 eNCA/Ipsos South Africa press release titled: "POLLS: South Africans disappointed by political leadership".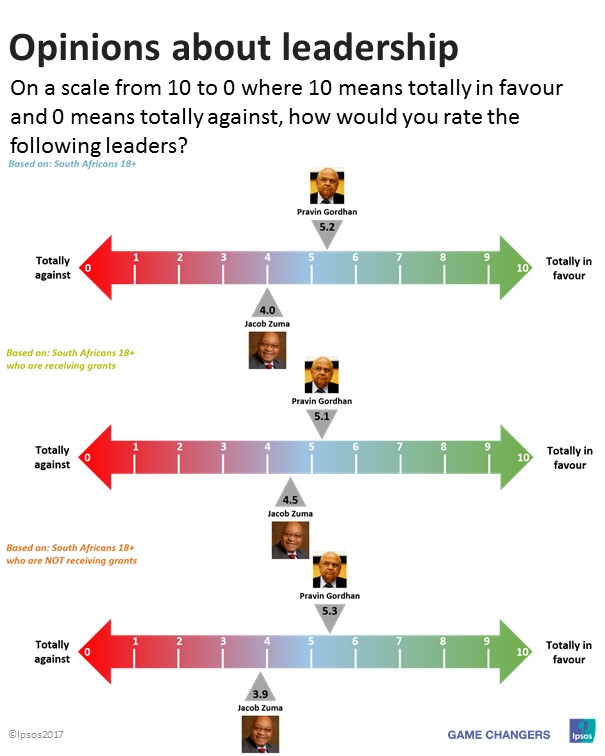 Profiles
The following graphs are to give more insight into the profile of grant recipients, as compared to all South African adults and to those who do not receive any grants.
Gender
Internet Access
Age
Car ownership
​​​
Working status
Children younger than 15 living in the household
Marital Status