One year in, more Britons unfavourable towards Keir Starmer than favourable
Ipsos MORI takes a look at how Keir Starmer is performing one year into his tenure as leader of the Labour Party.
As Keir Starmer marks one year as Labour leader, exclusive polling by Ipsos MORI for Times Red Box shows 37% of Britons are unfavourable towards the Labour leader (+3 pts from February) with 26% favourable (down 2 points). 31% claim they are neither favourable nor unfavourable and 6% say they don't know.  50% of 2019 Labour voters are favourable towards Starmer but one in five say they are unfavourable (22%).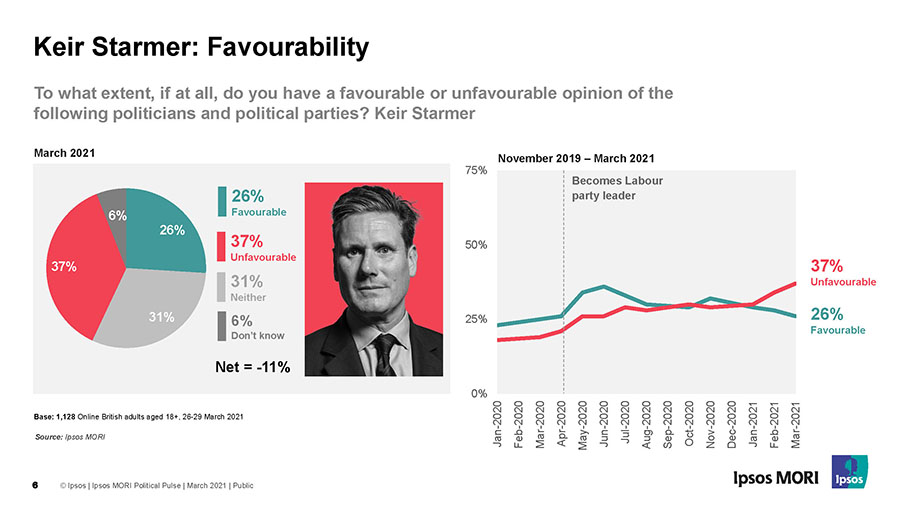 When we compare Starmer to other leading politicians we find:
38% are favourable towards Boris Johnson (+3 pts from February) and 40% are unfavourable (-2).
44% are favourable towards Rishi Sunak (+5 pts from February) and 25% are unfavourable  (-2).
31% are favourable towards Matt Hancock (+3) and 39% are unfavourable (no change).
Starmer and the Labour Party
Perceptions of Starmer's impact on the Labour Party are mixed. Whilst Britons are more likely to think he will change the Labour Party for the better (30%) rather than worse (13%), a clear majority (57%) think he will make no difference (40%) or say they don't know (17%). Meanwhile, the 30% that say he has changed them for the better has fallen significantly (-13 points from 43%) since last April. Labour voters are more likely to say he will change the party for the better (38%) rather than worse (22%) with 29% saying he has made no difference and 11% saying they don't know.
These figures are reflected in Labour's overall favourability ratings. Just one in four (26%) Britons are favourable towards the Labour Party (down 2 points from February) and 43% are unfavourable (+4 points). The 26% that are favourable is unchanged from the last rating Labour achieved under Jeremy Corbyn in March 2020, although the proportion that are unfavourable has fallen in that time from 52% to 43%.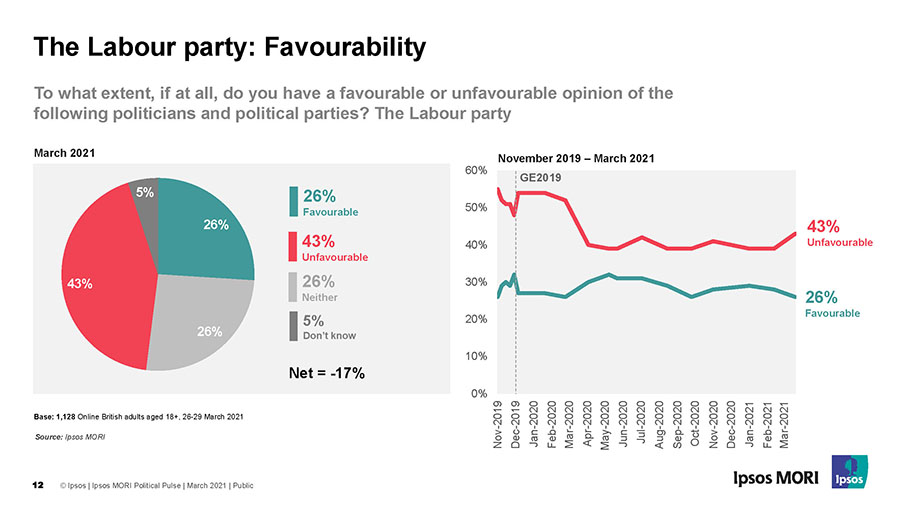 When compared to other parties:
36% are favourable towards the Conservatives (up 6 points from February) and 41% are unfavourable (down 2 points).
13% are favourable towards the Lib Dems and 44% are unfavourable. Figures are largely unchanged since the 2019 General Election.
23% are favourable towards the Greens (down 2 points from February) and 32% are unfavourable (+3 points).
Starmer vs Johnson
We asked the public to rate Starmer and Johnson based on whether a series of personality traits applied to them or not. For many attributes Johnson led Starmer on both these attributes applying to him and not applying, reiterating the fact that many have still to make their mind up on the Labour leader whereas Johnson often polarises opinion.
However, in terms of simply whether attributes 'apply' to each leader, Johnson beats Starmer on a series of important character traits including:
'Good in a crisis' (Johnson +22 pts),
Being a 'strong leader' (Johnson +14)
'He puts the needs of the country first' (Johnson +14).  
'He is going to make the country a better place' (Johnson +11)
Johnson also leads Starmer on having 'a lot of personality' (+41) whilst Starmer only leads Johnson on the one measure 'he pays attention to detail' (Starmer +4pts).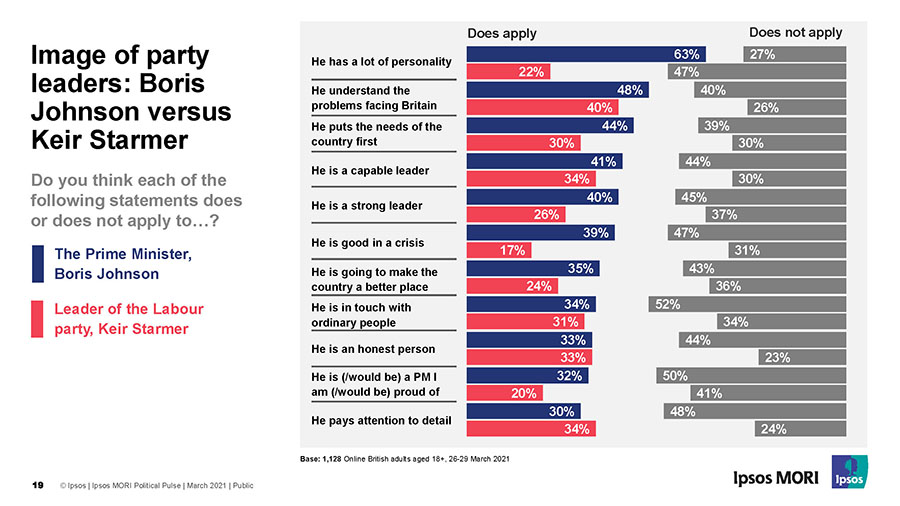 Keiran Pedley, Director of Politics at Ipsos MORI, said of the findings:
One year into his time as Labour leader, the honeymoon is clearly over for Keir Starmer. His favourability ratings have fallen and he trails Boris Johnson on several key leadership character traits. Meanwhile, while the public are less hostile towards the Labour Party as a whole since he took over, the jury is out on whether he is really making people actively more positive towards them. However, it should be stressed that the next General Election is many years away and Starmer's personal poll ratings compare favourably to several past Labour leaders. Time will tell if the current positive mood music around the government can last. If it doesn't then perhaps Starmer may capitalise.
Technical Note
Ipsos MORI interviewed a representative sample of 1,128 British adults aged 18+. Interviews were conducted online from 26-29 March 2021. Data are weighted to match the profile of the population. All polls are subject to a wide range of potential sources of error.