[Event] Ipsos at the MIE 2021
10 May 2021 9:00
- 08 June 2021 16:30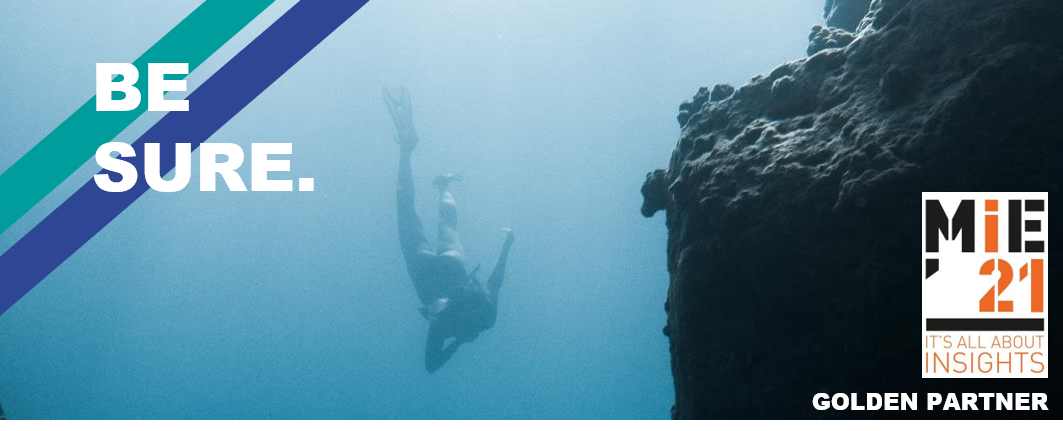 Because of corona, this year's MIE is not a physical event as we are used to, but a hybrid (digital & physical), competitive variant. The new MIE consists of two components: the digital 'Road to MIE' from 10 May to 8 June and the physical 'Best of MIE' on 22 and 23 September. Of course with the overall theme: It's all about insights. This year, Ipsos will present four interesting lectures. Read more details below and register for free.
Our lectures

#1 Automate for your customer needs – and serve them better  (ENG)
17 May 2021 • 4.30 pm 
Automation enables companies to better understand their customers and offer personalized services. But not every aspect of automation and personalization is desirable. Google and Ipsos researched this topic among brands in retail, finance and travel and will explain how striking the right balance can help build and retain customer trust.  
Presented by
Stefan Borghuis

Senior Research Executive Ipsos

Stefan Borghuis has a background in persuasive communication and has been working as a senior researcher at Ipsos since 2014. Within the Market, Strategy & Understanding team, he is mainly concerned with advising clients on brand perceptions and consumer needs and motivations.

Dunya van Troost

EMEA Market Insights Google

Dunya van Troost is a researcher and works as a research manager at Google. She advises and leads research projects in the field of online consumer behaviour, media use and data ethics. Dunya joined Google in 2018, before that she was active at public television and connected to the Vrije Universiteit in Amsterdam as a PhD. 
Watch the lecture here
#2 The new standard in audience measurement (ENG)
21 May 2021 • 4.30 pm
With the NMO (Nationaal Media Onderzoek), Ipsos Netherlands and Insights by Kantar provide an innovative solution for cross-media media reach research. Viewing, readership and listening behavior are measured and reported as integrated as possible. The consumer is central to this - instead of the media. Part of the solution sits in innovative technology, e.g. Mediacell. We explain how this research solution works and what it will bring.
Presented by
Paul Eldon

Global Deployment Director Ipsos

Paul Eldon has been instrumental in deploying Ipsos' audience measurement capabilities in the past decade. For this specific project he is the expert in the Media Cell technology.

Frans Kok

Director NLO

Frans Kok has been director of the Nationaal Luister Onderzoek (NLO) since 2016. Previously, he worked for the Stichting Kijkonderzoek (SKO), and was director of JIC STIR, the internet reach research. He represents the listening research in the new 'National Media Research' (NMO). A new era is dawning for listening research, as the new MediaCell method is being introduced.
Watch the lecture here
#3 Humanizing Data in a Data-driven World (ENG)
25 May 2021 • 9 am
Is it possible for data and insights teams to speak the same language? Of course. However, to do so they both need to understand the 'why' behind behavioral data. Dedicated to reducing churn at VodafoneZiggo, Ipsos humanized their customer database and churn prediction model. With an emotional layer of motivation and behavioral science it became possible to offer personalized interventions to people at risk of churning.
Presented by
Patricia Verhoelst

Associate Research Director Ipsos

Patricia Verhoelst is Associate Research Director at Ipsos within the Market Strategy & Understanding team and is very experienced with strategy studies. From segmentation to brand positioning and more. She worked on global and local projects across different categories. At Ipsos NL, Patricia makes sure the MSU team stays up to date with the latest developments within strategy research.

Daan Versteeg

Country Manager Ipsos Nederland

Daan Versteeg is Country Manager at Ipsos NL with 15+ years of experience in market research, digital analytics and data science. His career in strategy & marketing started at Shell, Heineken and Google, after which data strategy roles at Wakoopa, Netquest, Scoupy and Dentsu followed. Daan combines industry knowledge, an entrepreneurial spirit and innovation to drive growth at Ipsos.

Jan Zwang

Insights & Data Driven market intelligence professional

Together with the market & customer insights team, Jan always knows what's going on. Growing up in his dad's electronics store, he started to learn about customers' characteristics from an early age. During his job as global account manager for telecom operators his interest in this specific market emerged. Jan won the MOAward for Insight professional in 2012 and is now a member of the jury.
#4 A better customer experience by changing the mindset of Vebego employees (NL)
1 June 2021 • 12.30 pm
Employees are essential if you want to offer an optimal customer experience. A programme where customer insights and employee experience come together ensures that employees have the right knowledge and tools to get to work with customer feedback. But how do you structurally change the mindset of your employees? And that in a practical organisation with 21 companies in 4 countries in activities such as cleaning and green spaces? We did research to find the answer.
Presented by
Elly Oudshoorn

Associate Research Director Ipsos

Elly Oudshoorn is research director at the Customer Experience department of Ipsos with decades of experience in research. Together with customers she takes care of the design and implementation of (international) customer satisfaction programmes. Elly also contributes to securing the insights and actions in the customer organisations.

Andries van Bentum

Senior Strategy Consultant Vebego

Andries van Bentum is a consultant at the family company Vebego. As programme manager for, amongst other things, the theme 'customer feedback', he has been closely involved in the implementation of the NPS methodology within 21 Vebego companies. He's passionate about making connections between clients and contractors in order to achieve successful and pleasant relationships.
Watch the lecture here (in Dutch)
You can attend all four lectures by registering via the links. Did you find it an educating, interesting and meaningful story? Rate us with a good score afterwards, and then you might see the lecture again at the physical event in September. We look forward to seeing you at one or more of our lectures. See you then!