Insight Out: an Ipsos UU podcast
Insight Out is a monthly podcast exploring emerging trends, budding innovations and creative ways to get closer to real people in real life.
Welcome to the first season of Insight Out, hosted by Ipsos UU. Each month, our hosts will interview dynamic experts from across the insights industry, including within Ipsos, to expose truths, evoke empathy and fuel business growth now and into the future.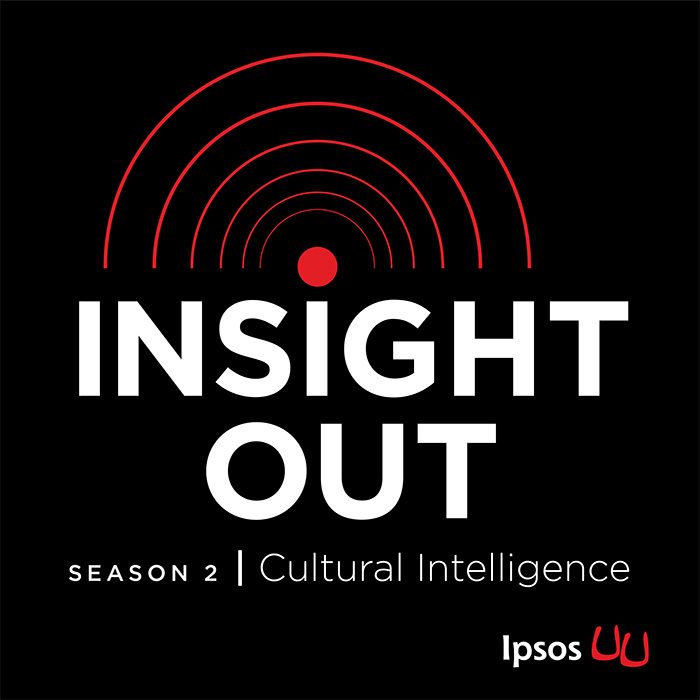 Season 2 of Insight Out is setting out to explore cultural intelligence and ways that culture influences the things we do and don't do, things we may not even be aware of and how that cultural understanding can help businesses as they grow and move into the future.
Subscribe today: Anchor • iTunes • Google Play Music • Spotify 
---
Season 2, Episode 6, September 2020: A Video is Worth A Million Words with Tania Caro
Today we're exploring the power of video to reveal deep human insights that are so needed to humanize business. Our special guest host, Cristina Craciun, Ipsos UU's LATAM Transformation Leader, talks with Tania Caro, videographer from Ipsos UU Chile, about how videos can make ideas travel faster, engage your audiences and generate empathy, by illuminating stories that could otherwise remain unasked and untold.
Tania is the winner of Ipsos UU's global Best-of-the-Best contest to provoke impactful qualitative work. Her winning video, "Are you really going to wait for this to pass?" can be seen in English or Spanish here. And be sure to follow Ipsos UU Chile on Instagram.
---
Season 2, Episode 5, July 2020: Fast and slow culture with Oliver Sweet
"Normal" is an elusive concept these days and our responses, frustrations and expectations as the pandemic plays out, vary widely across the globe. In this episode of Insight Out, April talks with Oliver Sweet, the Head of the Ipsos Ethnography Center of Excellence in the UK about cultural differences and how they directly and indirectly influence the response to Covid 19 in different markets.   
---
Season 2, Episode 4, June 2020: Showing Up for Black America with April Jeffries
No matter where you are around the world, you likely have been seeing the nationwide (and even global) protests against systemic racism in the United States, following the horrific murder of George Floyd on May 25, 2020 by a police officer. In this episode, April Jeffries joins Emma Grand to have a conversation about the Black and African American community within the context of the overall American culture. We talk through how we at Ipsos are grappling with this problem, and discuss how people, organizations and brands can show up for Black Americans through meaningful actions.
---
Season 2, Episode 3, May 2020: Decoding Culture with Karina Sanmartin and Valentina Rodriguez
In this episode, Emma Grand speaks to Karina Sanmartin and Valentina Rodríguez, Curation Practice Leads from Ipsos UU Spain, about how culture intersects and underpins the post-modern world of branding and why this cultural understanding is so critical today. We explore the concept of Cultural Transferability and discuss how brands can bridge the gap between a universal brand essence and local market needs.
---
Season 2, Episode 2, April 2020: Covid-19 with Colin Strong
What will the new normal look like and how can we be best prepared? In this special edition episode, April joins Colin Strong, Global Head of the Ipsos' Behavioural Science Center, for a discussion of Covid-19 through a BSci lens. Exploring the impact on our personal and professional lives, Colin weighs in on the dynamics of behavior change in the midst of uncontrolled circumstances and events.
---
Season 2, Episode 1, March 2020: Semiotic Vibes with Monique Centrone
In our first episode this season, April talks with Monique Centrone, Head of the Ipsos UK Semiotics practice, about how semiotics can help identify the important elements of a brand's vibe and how that can be used for successful connections with the people we serve.
---
Episode 9, January 2020: How to Be a Workshop Guru with Veronique Verellen
ROI on research is even more important in these agile times and so there is a growing focus on the crucial step of activation. Veronique Verellen, Ipsos UU's Global Service Lead of Censydiam Qual and Workshops, joins Emma Grand to discuss this evolving need and shares her lessons learned on how workshops can help to action and implement research.
---
Episode 8, November 2019: Microtargeting and Finding the Purple Unicorn with Jim Legg
These days growth is often dependent on finding the right, often narrow, segment of people who can make the biggest impact on your business. This requires spending time upfront with the right "representatives" to help understand the specific needs, wants and language of the group. But finding that microtargeted representative can be like trying to find a purple unicorn!
In this episode, April Jeffries speaks to Jim Legg, Global Head of Operations for Ipsos UU to explore the challenges and opportunities of microtargeting and discuss ways in which we can leverage technology to help connect us to the people we most need to talk to.
---
Episode 7, September 2019: The Minimum Viable Insight with Rollo McIntyre
Businesses, rightly or wrongly, are under extreme pressure to work at high speeds – and are implementing agile sprints and scrums and doing fast research wherever possible. Businesses also, quite rightly, want to get more involved in insight – co-creating with respondents, having ongoing dialogues with people, making products with people not for people. DIY research is growing but there is also growing unease as to the level of insights and empathy that this is producing.
In this episode, Emma Grand speaks to Rollo McIntyre, Global Head of Innovation for Ipsos UU to explore whether it is possible to marry agility with depth in order to go beyond a minimum viable insight.
---
Episode 6, August 2019: Building True Connections Online
Building relationships is core to human existence, but how does that translate when connecting in an online environment? In this podcast, Chad Nielson, Vice President of Online Communities in the US, joins as a special guest host to interview Eduardo Faria, Community Competence Lead for Asia Pacific. Together they explore how building authentic relationships with consumers online leads to uniquely deep insights and why we must tap into the principles of intrinsic motivations to better connect with key audiences.
Read more about this topic now: For the Love of Money.
---
Episode 5, July 2019: Must We Still Talk to People?
In this episode, Emma speaks with Sue Phillips, Global Service Leader Insights for Impact, about whether or not we need to talk to people anymore to reveal insights. They explore how the way we interact and engage has changed over the years, and how our thinking and approaches must evolve to keep up to this new reality.
---
Episode 4, June 2019: Woke Brands
In this episode, April speaks to Cristina Craciun, Ipsos' Global Transformation Leader exploring the risks and rewards of having a Brand with Purpose. Does your brand live up to its mission and values? If it doesn't, today's value-driven generation will readily dismiss your brand.
---
Episode 3, May 2019: Discovering Disruptive Innovators with Andrew Leary
Emma interviews Andrew Leary, Global CEO of Ipsos' Social Media Exchange, to explore disruptive innovations and a new approach to identify lead users. #socialdata #innovation
Click here to read the paper co-authored by Andrew and Sandro Kaulartz, Chief Research Officer of Ipsos Social Intelligence & Analytics, called Introducing the New Era of Lead User Innovation.
Episode 2, April 2019: Humans versus AI with Radhecka Roy
In this episode, we speak to Radhecka Roy, Global Lead of Strategic Curation with Ipsos UU, as she explores the need for humans in a world of technology, data and information overload. Click here to read Radhecka's paper, Human Curation in an AI World.
Episode 1, March 2019: Contextual Breathing with April Jeffries
In our inaugural episode, April Jeffries, Global President of Observation with Ipsos UU, joins Emma for a conversation about a new philosophy called Contextual Breathing. Click here to watch her Pecha Kucha presentation.