Who are the world's biggest wearable tech buyers?
From the Fitbit to Apple's smartwatch: wearable tech is becoming increasingly popular across the globe. Early adopters of new technology, the world's affluent are at the forefront of purchasing wearable tech, ownership reaching over 30% in Spain, Turkey and the USA.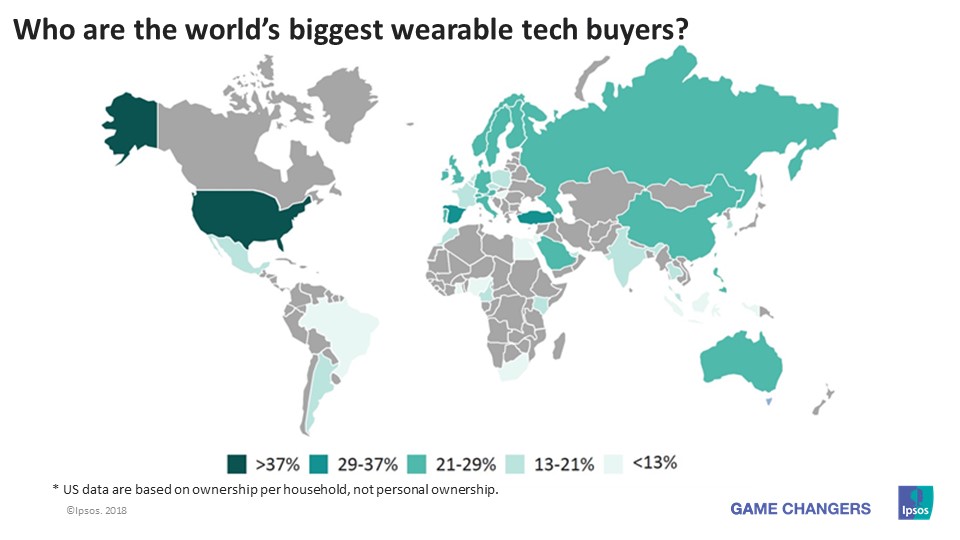 Increased adoption of fitness trackers and smartwatches is greatest in Western markets. Rapidly developing countries such as China (28,1%) and Russia (23,8%) offer opportunities for wearables producers and app developers.

Globally, the USA ranks first in terms of wearable tech penetration, 35,5% of Affluent Americans have a fitness tracker in their household, such as the Garmin Vivofit or the Fitbit. Another 15,5% of Affluent Americans own a smartwatch like the Samsung Gear or Apple Watch.
The Spanish Affluent rank second worldwide, a fitness tracker is the most popular wearable tech device: 19.5% personally owns one or more.
In Turkey, which has the third highest penetration, Affluent are most likely to own a smartwatch.
Wearable tech owners: not who you might expect
You might expect that smartwatches and fitness trackers are mostly bought by male, tech-savvy millennials – you would be wrong!
While, the gender gap in most countries is relatively small; men are more likely to own smart watches and fitness trackers are more popular amongst women.
In Europe, the USA, Asia and Latin America, adoption and ownership of smartwatches and fitness trackers is biased towards Affluent millennials. In the Middle East and Africa penetration is higher among consumers aged 35 and over.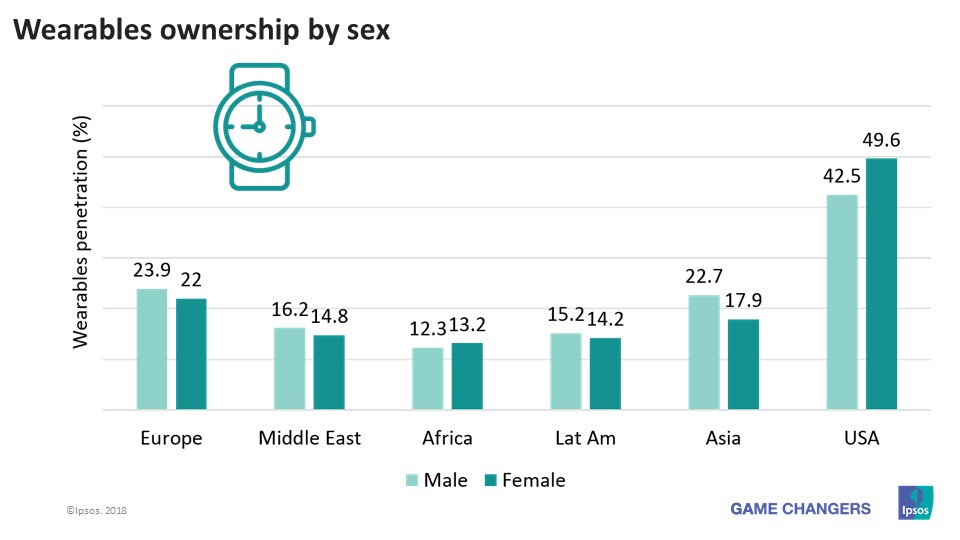 Would you like to receive the map and graphs in PowerPoint format? Request the data files here.
At Ipsos Affluent Intelligence, we deliver data and insights that help you to reach and understand the world's most influential consumers. Since 1995, our Ipsos Affluent Survey has been tracking the media use and consumption habits of almost 85.000 respondents within the top income segment, representing 145.2 million Affluent in 50 countries. Not only do Affluent spend more, they are also innovators who adopt new technologies at an early stage. Moreover, these top business decision makers act as opinion leaders and influence others within their communities. Contact us and learn more the Affluent today.