7 in 10 Britons agree that the UK is in decline
4 in 10 think today's youth will have a worse life than their parents, although around half say it will be better or around the same
New research by Ipsos, taken 19th-22nd August, shows 7 in 10 Britons agree that the UK is currently in decline (69%) while only around 1 in 10 (12%) disagree.  This reflects a similar sentiment found in December 2020 where almost 2 in 3 Britons aged 18-75 said the same (65%).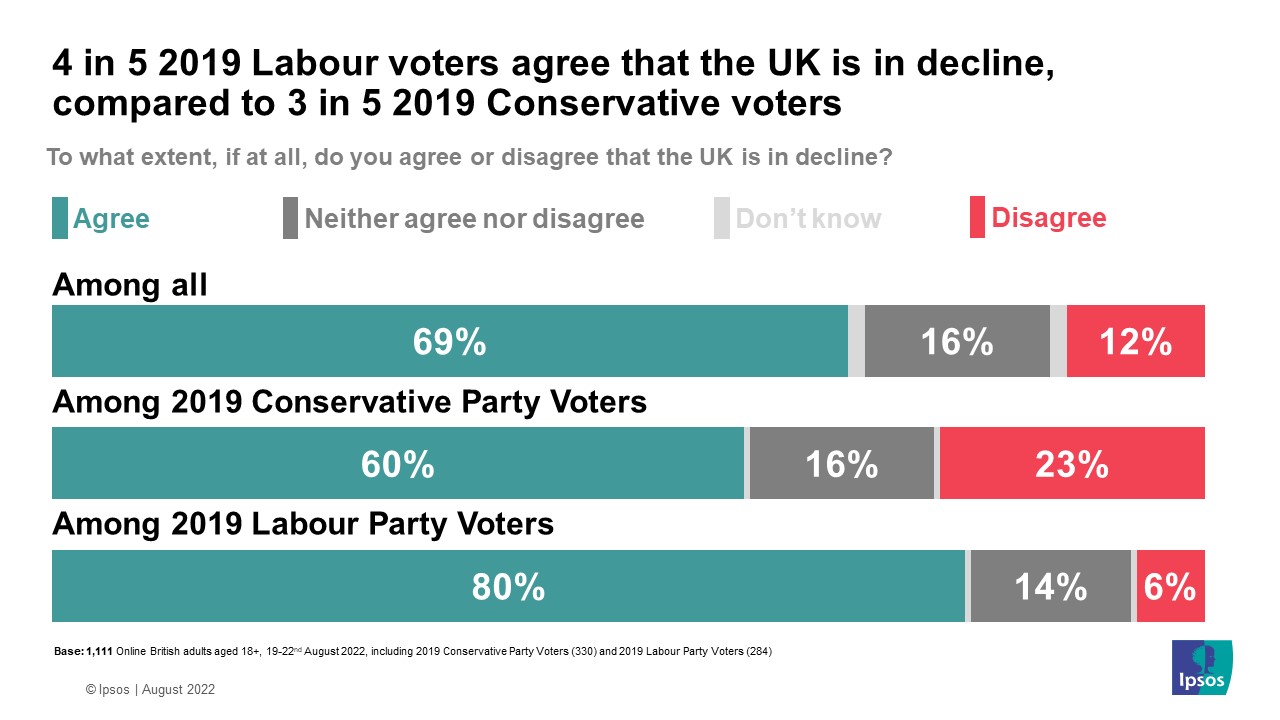 Those who voted Labour in the 2019 General Election are significantly more likely to believe the UK is in decline than those who voted Conservative: 80% vs. 60% respectively. Similarly, 82% of those who voted Remain in the 2016 EU Referendum believe the country is in decline while 64% of those who voted Leave say the same. 
Despite so many agreeing the country is in decline, opinions are less clear when it comes to predicting what life will be like in the future for today's youth. While just over a quarter (27%) expect young people to have a better life than their parents, 4 in 10 (40%) believe it will be worse, although this is lower than the 57% recorded in a similar poll of GB adults aged 18-75 conducted in December 2020. 
Younger Britons are most hopeful for the future, 40% of 18-24-year-olds say today's youth will have a better life than their parents, compared to the aforementioned average of 27%, overall.
Similarly, 3 in 10 (31%) expect their children to have a higher quality of life when they reach their parents' current age. Two in 10 expect their children's quality of life to be about the same as theirs now (22%) or lower (also 22%). 

Keiran Pedley at Ipsos, said:
Given public pessimism about the cost of living and apparent political malaise at the time this poll was taken, it is no surprise that many consider Britain to be in decline.  Whilst many are concerned at the future prospects of today's youth, it should also be said that some are more optimistic, especially younger Britons.
Technical note:
Ipsos interviewed a representative quota sample of 1,111 adults aged 18+ in Great Britain. Interviews took place on the online Omnibus on 19th-22nd August 2022. Data has been weighted to the known offline population proportions. All polls are subject to a wide range of potential sources of error.