Almost 4 in 10 think Rishi Sunak would do a good job as PM, but he is also the most well-known of the candidates
37% think Sunak would do a good job as PM, followed by 24% for Truss and Hunt, 22% Zahawi and 21% for Mordaunt
But Rishi Sunak is also the most well-known, with around 6 in 10 familiar with him and able to correctly identify his previous position as Chancellor of the Exchequer.
Recognition of the other candidates is much lower, especially Mordaunt, Tugendhat, Badenoch and Braverman, and few know what positions they held.
As the race for leader of the Conservative Party officially kicks off, new polling by Ipsos shows Britons think that, among the 8 candidates, Rishi Sunak is most expected to do a good job as PM. Almost 4 in 10 (37%) expect him to do well, an increase of 6 percentage points since 5-6 July, while 30% think he would do a bad job and another 33% are neutral or don't know. Rishi Sunak's ratings are now slightly ahead of Keir Starmer's, for whom 33% (up 3) think he would do a good job and 31% bad (down 6).
Opinion is split for the other candidates. A quarter think Liz Truss and Jeremy Hunt would do well, though 26% (down 12) and 32% (down 4)respectively say they would do a bad job. One in five think Nadhim Zahawi (22%, vs 21% bad job, down 9), Penny Mordaunt (21% (up 4), vs 12% bad job, down 9), and Tom Tugendhat (19%, vs 11% bad job) will do a good job as PM. For Suella Braverman, 16% think she would do a good job and 14% bad, and views are similar for Kemi Badenoch (15% good job/13% bad. However, there are many neutral and don't know opinions for all these: around 70% for Badenoch, Braverman and Tugendhat, 66% for Mordaunt, 57% for Zahawi, 49% for Truss and 44% for Hunt.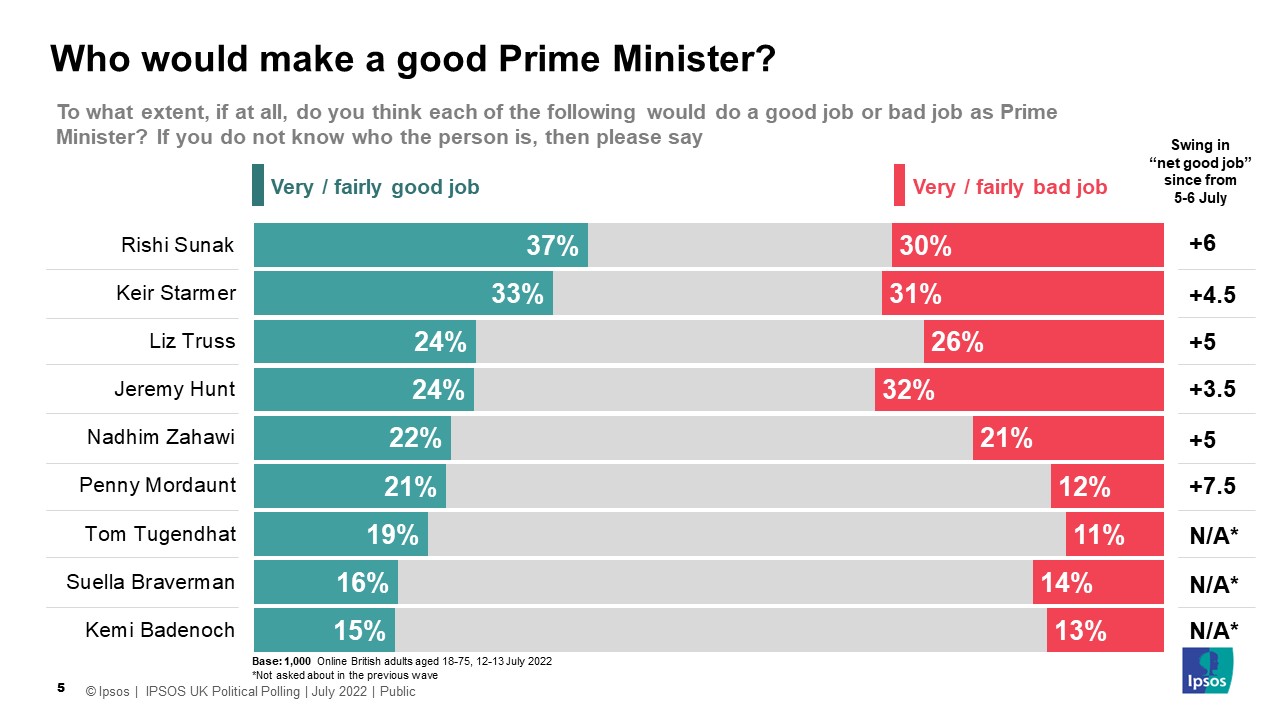 Among 2019 Conservative voters, over half (55%) say Sunak will do a good job as PM (24% a bad job), while 4 in 10 (39%) say the same for Liz Truss and a third are hopeful for Penny Mordaunt (33%). Around 3 in 10 believe Jeremy Hunt (30%, though he also gets the highest 'bad job' score at 29%) and Nadhim Zahawi (29%) will do well, followed by 25% for Tom Tugendhat, 19% for Suella Braverman and 18% for Kemi Badenoch.
But how well known are the candidates?
However, public attitudes towards the candidates clearly have to be understood in context of their levels of public awareness. Of the 8 candidates, Rishi Sunak is the only one about whom more than half of the British public feel they know at least a fair amount. Six in 10 (60%) say they know a fair amount or a great deal about the former Chancellor, with 56% correctly identifying him as the Chancellor of the Exchequer before last week's resignations from Boris Johnson's government. This compares with 53% saying they know at least a fair amount about Keir Starmer, and 62% able to identify him as Labour leader.
While Jeremy Hunt is second most known (40%), only 4% knew he was a select committee chair (and 10% said he was a Conservative backbencher). A third (33%) say they know Liz Truss, with 27% correctly saying she was Foreign Secretary. Almost 3 in 10 (28%) are familiar with Nadhim Zahawi however only 11% said he was Secretary of State of Education and 15% his new position of Chancellor.
Just 1 in 5 (20%) say they know Penny Mordaunt, and only 6% that she was Minister of State for Trade Policy, similarly only 15% are familiar with Tom Tugendhat and just 1% a select committee chair and 7% a backbench Conservative MP.
Only 14% say they know Suella Braverman, with 16% correctly choosing that she held the position of Attorney General. Kemi Badenoch is known by the same proportion as Suella Braverman however only 4% identify her as Minister of State for Equalities, Local Government, Faith and Communities.
Among their own voters, Rishi Sunak once again is significantly better known than his rivals. Almost three-quarters (73%) of those who voted for the Conservative Party in 2019 say they know him a great deal/fair amount while 4 in 10 say the same for both Liz Truss and Jeremy Hunt (both 41%). Three in 10 (30%) are familiar with Nadhim Zahawi and 2 in 10 know Penny Mordaunt (21%) and Tom Tugendhat (17%). Only around 1 in 10 2019 Conservative voters are familiar with Kemi Badenoch (12%), Tom Tugendhat (12%) and Suella Braverman (11%).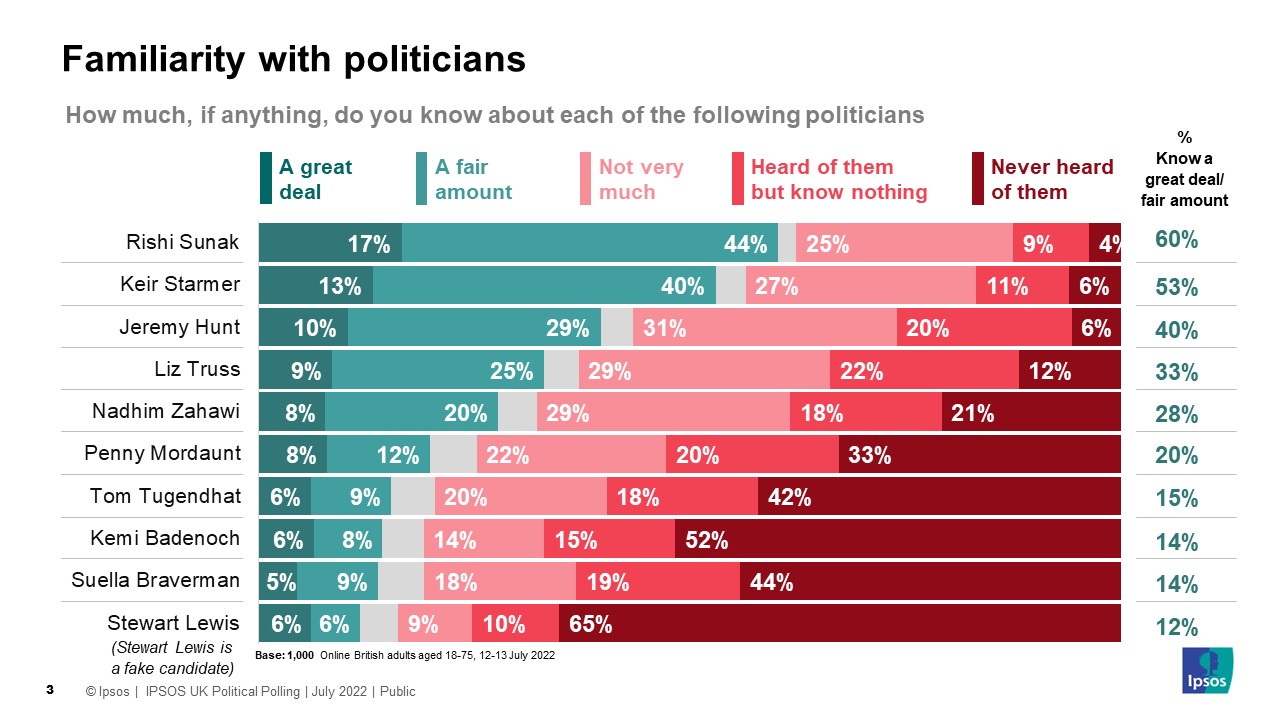 Are people paying attention?
Reflecting media coverage of the leadership contest, just under two-thirds (64%) say they are following stories about the Conservative Party's leadership race very/fairly closely. However, Britons appear more interested in cost of living and the heatwave, being followed by 87% and 82% respectively, while 68% are paying attention to the Russian invasion of Ukraine. Just over half (54%) are following stories about possible future strikes, 3 in 10 the Women's Euro 2022 tournament, and 23% are paying close attention to Love Island (23%).
Gideon Skinner, Head of Political Research at Ipsos UK, said:
Amongst the public and Conservative supporters as a whole, Rishi Sunak retains the advantage when it comes to which candidate Britons think would make the best PM. However, this at least partly reflects his greater name recognition; the large numbers of people who are unfamiliar with the candidates means that there is still scope for public attitudes to change, which lends some unpredictability as Conservative MPs and then members think about who they would vote for. Meanwhile, even though most people say they are following the contest, this research also reminds us that the issue that is really grabbing public attention at the moment is the cost of living crisis – addressing this is going to be crucial for whoever does become our next Prime Minister.
Technical note
Ipsos interviewed a representative quota sample of 1,000 adults aged 18-75 in Great Britain. Interviews took place on the online Omnibus on 12th-13th July 2022. Data has been weighted to the known offline population proportions. All polls are subject to a wide range of potential sources of error.