Autumn Statement leaves more Britons feeling concerned than reassured about the economy, their financial circumstances and public services
8 in 10 think the British economy is in a poor state – with Covid, the global economy, Ukraine, and both Liz Truss/Kwasi Kwarteng's policies and the Conservatives' 12 years in office all held responsible
New research conducted by Ipsos after the announcement of the Autumn Statement on Thursday, shows it leaves Britons less reassured than concerned about the economy, their own personal financial circumstances, and Britain's public services.
Four in 10 (40%) say the Autumn Statement made them feel more concerned about Britain's economy, while 25% feel reassured and 23% say neither.  Forty-six per cent say they are more worried about their own financial circumstances (17% reassured, 26% neither), and the same proportion (46%) feel more concerned for Britain's public services (19% reassured, 23% neither).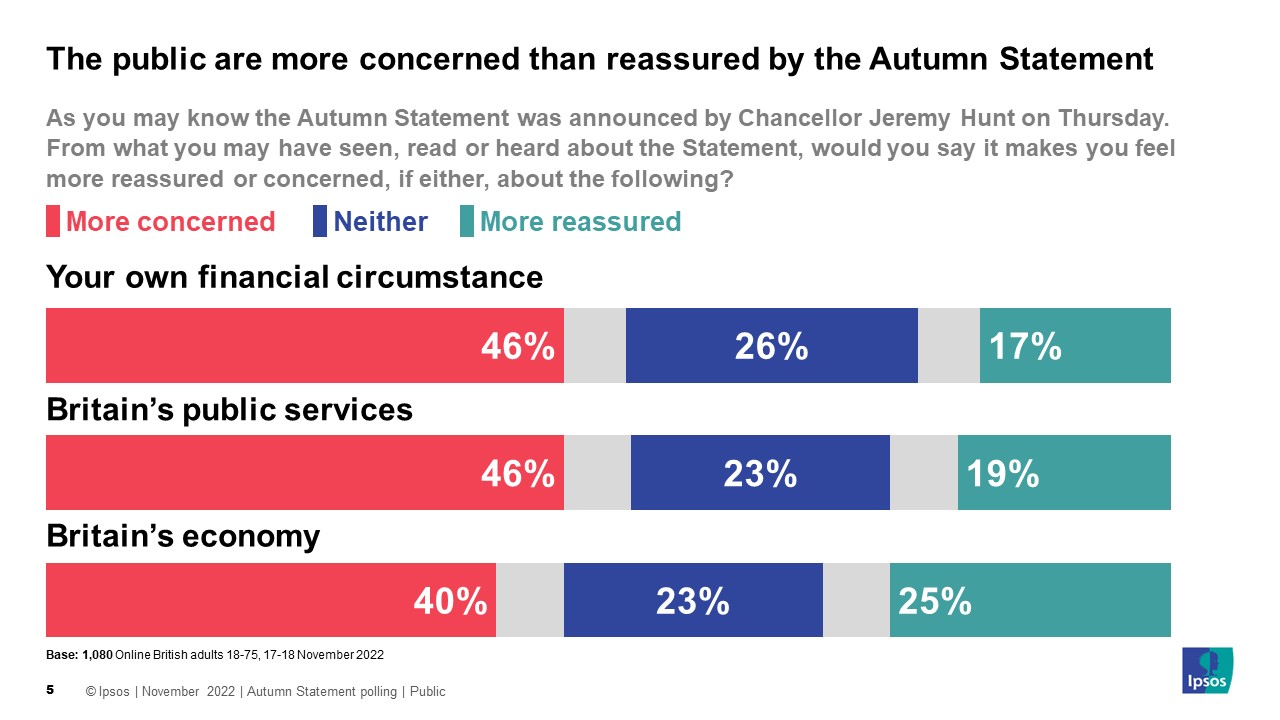 Opinion is divided when it comes to the increase in taxes while more are opposed to planned reductions in public spending. Over a third (37%) support the increase in taxes, against a similar proportion (36%) who are opposed. Meanwhile, only 26% are in favour of proposed cuts to public spending with 45% against. 
The Autumn Statement comes at a difficult time for the British economy, which 8 in 10 say is in a poor state (82%) compared to only 16% who say its current state is good. However, this has improved slightly from the 89% who said it was in a bad state earlier this month while only 7% said good.
The key causes of current difficulties facing the economy are seen as the Covid-19 pandemic (84% say has contributed at least a fair amount), the state of the global economy (80%), decisions made by former PM Liz Truss and her Chancellor Kwasi Kwarteng (79%) and the Russian invasion of Ukraine (78%). However, 7 in 10 (71%) also think that the Conservative party's economic policies over the last 12 years also bear responsibility, while more than half look to decisions by the current Prime Minister and Chancellor (57%).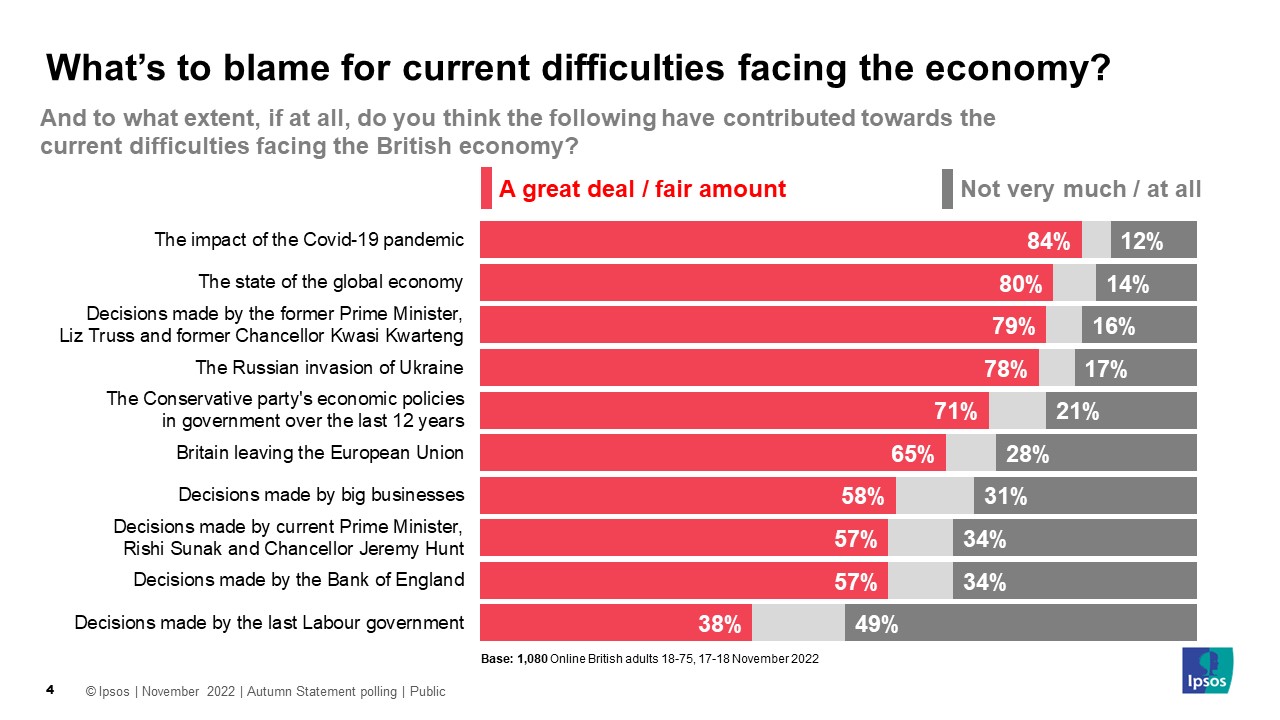 Other reasons include Britain leaving the EU (65%) and decisions made by big businesses (58%) and the Bank of England (57%). A minority place blame on decisions made by the last Labour government (38%). 
The Autumn Statement has been a focus for many with seven in ten (69%) saying they have followed news stories about it, although with even more paying attention to stories about the cost of living (87%).  For comparison, a similar number have been following the Russian invasion of Ukraine (71%), while  fewer have been closely following stories about I'm a Celebrity… Get Me Out of Here (39%) or the final of the Great British Bake Off (35%). 
Who is most trusted on the economy?
Following the Statement, roughly a third (34%) of Britons are confident the Conservative Party has a good long-term economic plan for Britain while almost 6 in 10 (59%) do not. Those who voted for the Conservatives in 2019 are more likely to believe their party has a good plan (58%) while only 14% of 2019 Labour voters say the same. 
Faith in the Labour Party is not much stronger however, with 37% believing the opposition party has a good economic plan for the country (rising to 69% of their own 2019 voters) while 53% do not. There is little sign that confidence has increased in either party since the beginning of the month.
There is a similar pattern when people are asked who they trust most on the economy, with a slight lead for the Labour party over the Conservatives by 34% to 28%, though 31% choose neither.  However, when comparing leaders, Rishi Sunak is slightly more trusted (36%) when compared to Keir Starmer (28%), though again 27% choose neither. 
Gideon Skinner, Head of Political Research at Ipsos in the UK, said:
Britons haven't yet come down definitively on one side or the other in their judgement on the Autumn Statement, but their initial reactions suggest it has not left many reassured about the economy, public services or their own circumstances, and instead around 4 in 10 are feeling more concerned.  This reflects widespread pessimism about the state of the economy – which people realise is affected by external factors such as Covid, Ukraine and the general state of the global economy, but the challenge for the Conservatives is that they do not escape blame either.  Although Liz Truss' mini-budget is held particularly at fault, many hold the Conservatives' record over the last 12 years culpable too. 
Technical note:
Ipsos surveyed a representative quota sample of 1,080 adults aged 18-75 in Great Britain. Surveys took place on the online Omnibus 17th-18th November 2022. Data has been weighted to the known offline population proportions. All polls are subject to a wide range of potential sources of error.