Britain's view of COVID-19 as 'high threat' to their business jumps 19 points in a week
Fifty-two percent of Britons now believe the coronavirus poses a 'high' or 'very high' threat to their job or business.
THE proportion of Britons who see the COVID-19 coronavirus as a high threat to their working life has increased by 19 percentage points over the course of one week.
Fifty-two percent of Britons surveyed over the weekend believe the coronavirus poses a 'high' or 'very high' threat to their job or business, up from 33% the previous weekend.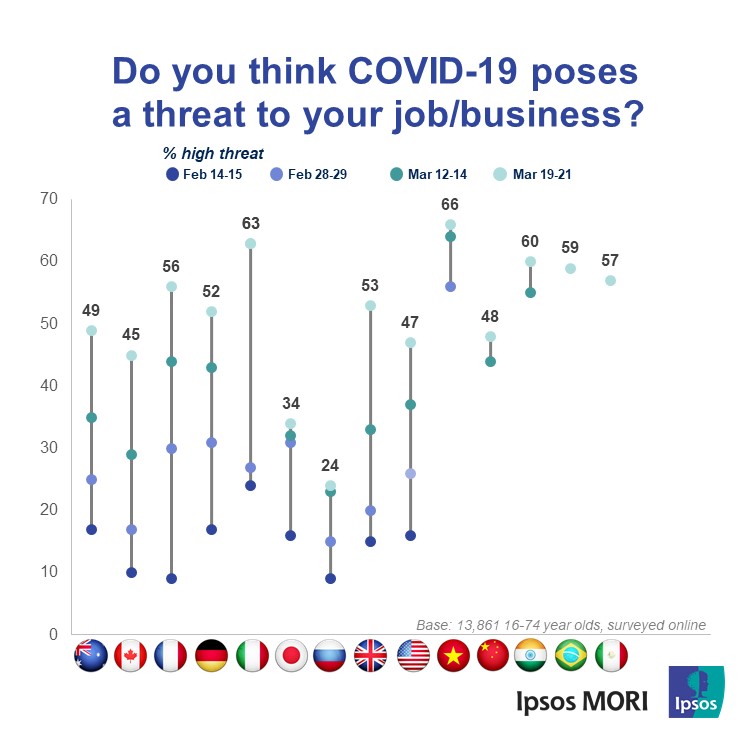 On average, 51% of survey participants across 14 countries agree that the COVID-19 coronavirus is a high threat to their job or business, according to data from Ipsos Global COVID-19 Tracking.
This rate is increasing in every market which has been surveyed multiple times. It is highest in Vietnam, where two-thirds of participants see COVID-19 as a high threat to their working life, followed by Italy at 63%.
Working: hard
It comes as half of working Britons say that the pandemic has made being able to work harder, per Ipsos.
Thirty-six percent of British adults who are in work now say they are working from home as a result of the coronavirus outbreak, up 21 points from the previous weekend.
In light of new measures to ensure Britons stay at home and limit the spread of the virus, we would expect to see more people working from home, and more people saying it has become more difficult to work.
This is particularly true of people who must play the dual roles of employee and parent, as they are working from home whilst their children are no longer able to go to school.
In this survey, conducted on the cusp of school closures and full "lockdown", 39% of British parents said that looking after their children had become more difficult since the outbreak of COVID-19, and that's before many of them had embarked on home schooling this week.
Adjusting to the new normal
Even prior to the lockdown in the UK, the COVID-19 coronavirus instigated significant behavioural changes among British adults.
Although only 50% of British adults said they were avoiding leaving the house more due to the COVID-19 coronavirus, demonstrating why the government took more drastic steps days later, this figure had already spiked significantly. In the previous wave, less than a quarter (23%) said they were staying home.
In addition, more than three-quarters (77%) of Britons have been washing their hands more due to the pandemic. Around a quarter (24%) have used online banking for this reason, while 2 in 10 (19%) have done online grocery shopping. These figures also saw marginal increases over the course of the week.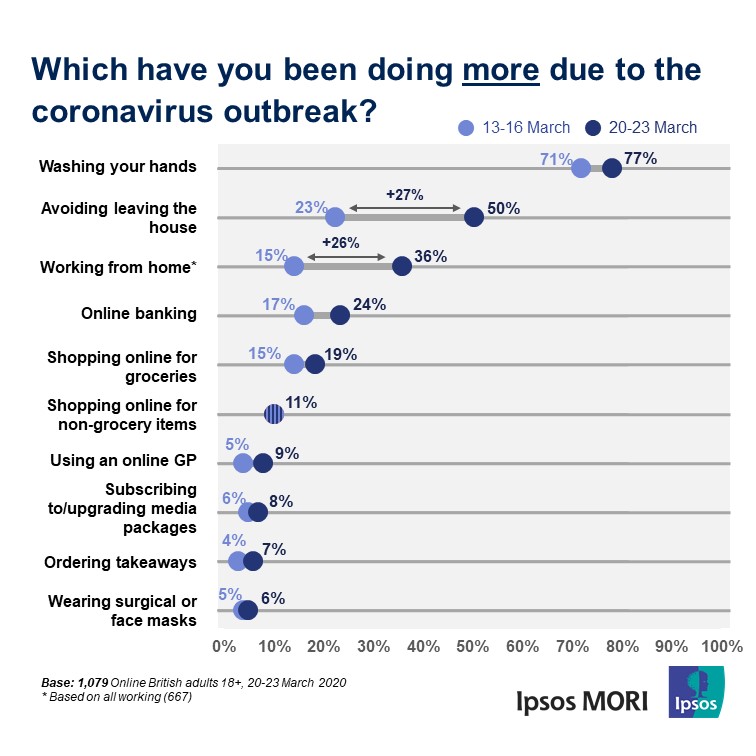 It seems the pandemic has impacted personal finances, as well as businesses. Close to 2 in 5 (37%) say it's become harder for them to afford their usual expenses because of the coronavirus. Meanwhile, 85% says it has made it harder for them to get what they want from the shops, as concerns about a potential lockdown prompted stockpiling among the general public.
It has also taken a toll on mental health, as 55% say it's become harder to stay positive day-to-day. At the same time, 62% say it's harder to feel positive about the future.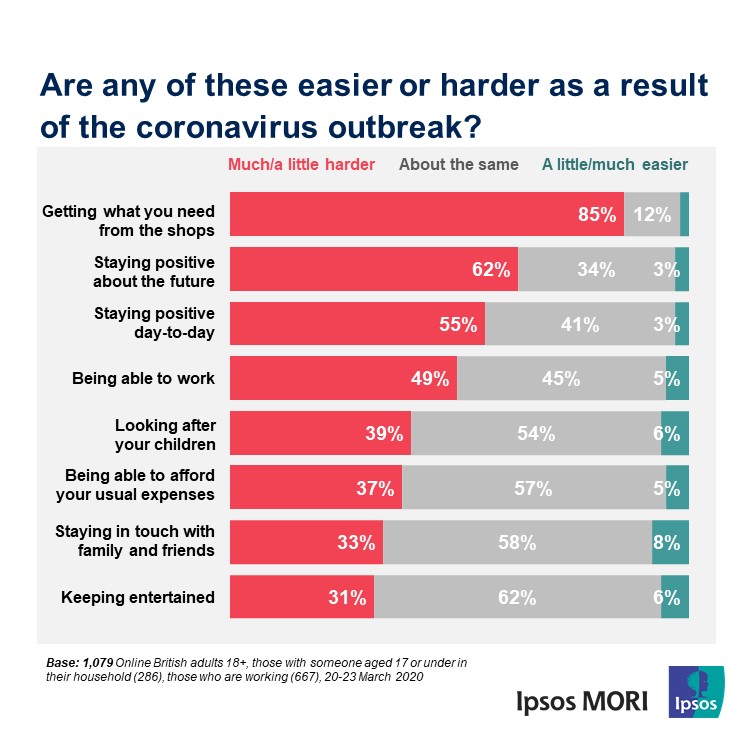 Long-term impacts
Britons are split on the long-term impact of the coronavirus outbreak on the country.
Just under half of Britons aged 18-75 (45%) think that even though the coronavirus outbreak will be tough, Britain will be stronger when it gets through it, while 40% think the country will be weaker because of it for years to come.
There is a clear partisan divide on this issue. Two in three (64%) 2019 Conservative voters believe that, although the coronavirus outbreak will be tough, Britain will be stronger when it gets through it. In comparison, only 32% of Labour supporters and 33% of Lib Dems also feel positively.
While only a quarter (27%) of Tory supporters think the country will come out weaker, over half of both Labour and Lib Dems think COVID-19 will have a long-term toll (54% and 52% respectively).
However pessimism is not at a high point in comparison to other crises. In November 2012, after several years of being affected by the economic downturn, Britons were more pessimistic about how long the country would take to recover from the impact of the financial crash.
Then, only 31% of the British public believed Britain would come out stronger, while over half (56%) believed it would be weaker.
About this survey
The question: "What level of threat do you think the coronavirus or COVID-19 poses to your job or business?" was asked as part of an Ipsos survey conducted March 19th to 21st, 2020 on the Global Advisor online platform.
Ipsos sampled 13,861 adults aged 18-74 in Canada and the United States and 16-74 in Australia, Brazil, China, France, Germany, Italy, India, Japan, Mexico, Russia, Vietnam, United Kingdom and United States. Sample sizes are consistent wave to wave.
For all other questions, Ipsos interviewed a sample of 1,079 British adults aged 18-75 via our online omnibus.
Among these interviews were 667 British adults aged 18-75 who are currently employed in work, and 286 British adults aged 18-75 who currently have a child aged 17 or under in their household. Interviews were conducted online: 20–23 March 2020.  Data are weighted to match the profile of the population. All polls are subject to a wide range of potential sources of error.
Download