Britons divided on tax and spend
On the key Conservative leadership election battleground of tax and spend, the British public is divided, according to the July 2022 Ipsos Political Pulse.
On balance, public is in favour of other policies from both sides of the political spectrum – nationalisation, meeting net zero targets, protecting the right to strike, spending less on foreign aid, strict limits on immigration and being tougher on criminals
Nearly 6 in 10 think the country is heading in the wrong direction
As the Conservative leadership candidates set out their stalls, new research from Ipsos looks at where the political centre-ground in British politics lies.  On the key battleground of tax and spend, the British public is divided, with no clear majorities preferring a political party that offers higher public spending or cuts in taxes.
When asked which aim would make them most likely to vote for a political party, 28% said they would be more likely to vote for a party that wanted to increase spending on public services (even if that meant higher taxes or borrowing), while 36% said they would prefer a party that argued that public spending was already too high and taxes and government borrowing should not be increased any more.  Compared with July 2020 in the early stages of the coronavirus pandemic, there has been a slight shift away from increasing public spending through more taxes or borrowing, down 7 points over the last two years.
The British public are also split on tax cuts.  Three in 10, 30%, prefer a party that wanted to cut taxes to reduce the costs for individuals and businesses, but 32% would rather vote for a party that did not promise tax cuts now because that would mean less money for public services or higher government borrowing.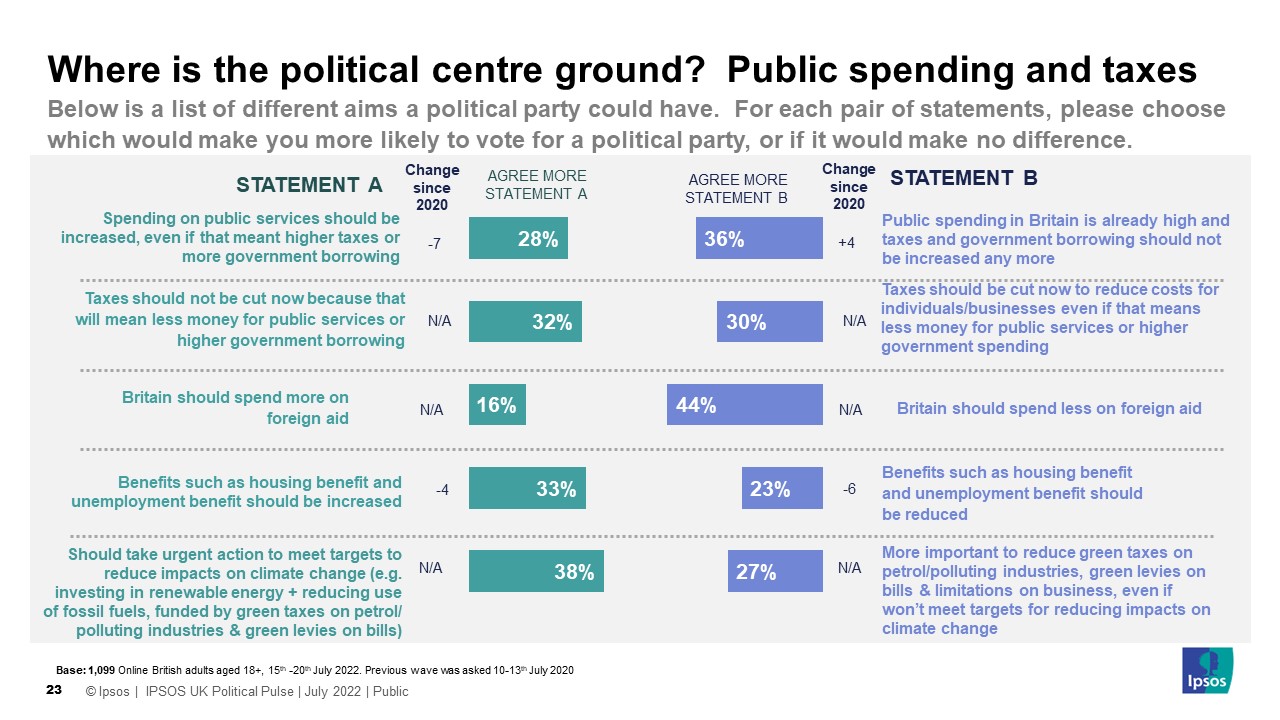 For both of these issues (as well as most of the others asked about), there are clear differences by party support.  A majority of Conservative 2019 voters think public spending is already high enough (55%), compared with just 20% of Labour 2019 supporters.  But even on tax cuts there is no clear preference for Conservative voters – while 39% do think there should be tax cuts now 25% disagree amidst concerns for public services and borrowing.  Among Labour 2019 voters, 22% would prefer a party that wants to cut taxes now, but 44% do think this is the right time.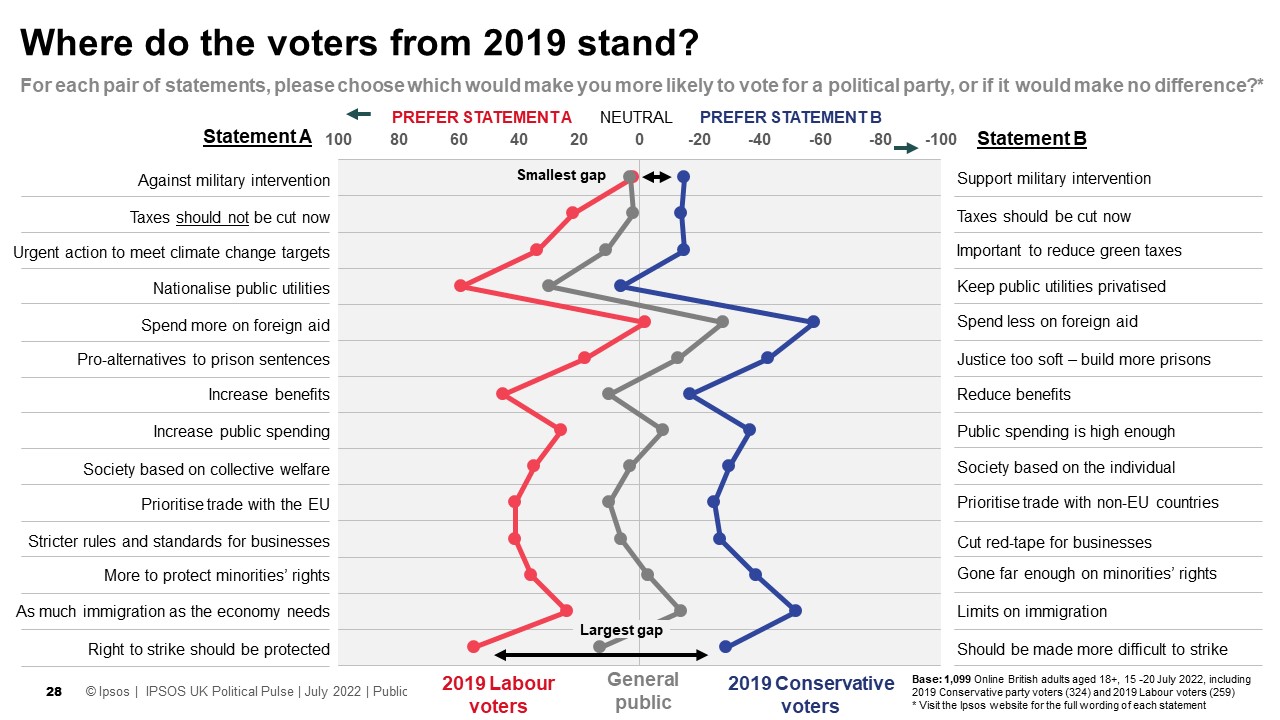 On other public spending policies, there is a balance in favour of increasing benefits such as housing and unemployment benefit (by 33% against 23% who want them reduced), and in favour of taking urgent action to meet climate change targets (such as investing in renewables and reducing fossil fuels, paid by green taxes and levies on bills) by 38% vs 27% who would rather a party that wanted to reduce green taxes and levies on bills even if that meant missing the targets.  But in neither case does a majority support one side of the argument.
On other key issues, there is a mix of views – sometimes favouring one side of the political spectrum, sometimes the other, and sometimes split down the middle:
Economy
Britons on balance favour political parties that want to nationalisation of public utilities rather than keeping them in the  private sector (by 46% to 16%) and protecting workers' right to strike rather than making it more difficult (by 39% to 26%).
They also on balance favour spending less rather than more on foreign aid (by 44% to 16%).  
There are no strong majorities for parties that think Britain should set stricter rules for businesses (33%) or that think red-tape on businesses should be cut (27%), or that say Britain should prioritise trade with the EU (32%) or with other countries (22%).
Society
Britons tend to prefer parties that prioritise setting strict limits on immigration rather than allowing as much immigration as the economy needs (by 42% to 28%), and those that say the criminal justice system is too soft and more prisons are needed rather than those that argue for more alternatives to prison sentences such as community service and fines (by 40% to 27%),
There are signs that Britons have become less isolationist when it comes to foreign intervention, now being split over whether Britain should or should not be prepared to get involved militarily in other countries (by 28% to 31%). The proportion favouring political parties who do not want to get involved in military conflicts in other countries has fallen 12 points since July 2020.
Britons are also split on social questions such as protecting the rights of minorities (30% prefer a party that says we should do more on this, 33% a party that argues this has gone far enough) and on whether they prefer a party that wants to create a society that emphasises the social and collective provision of welfare (34%) or one that stands for a society where the individual is encouraged to look after themselves (31%).
Direction of the country
Overall, 57% of Britons think the country is heading in the wrong direction, and only 16%, down 5 points since last month, say it is going in the right direction.  This net score of -51 is the lowest since Ipsos began to regularly track this in January 2020, and has been steadily declining since its peak last May.  While 8 in 10 (81%) of Labour 2019 voters think things are going in the wrong direction, so do 36% of 2019 Conservatives, outweighing the 27% who say things are going well.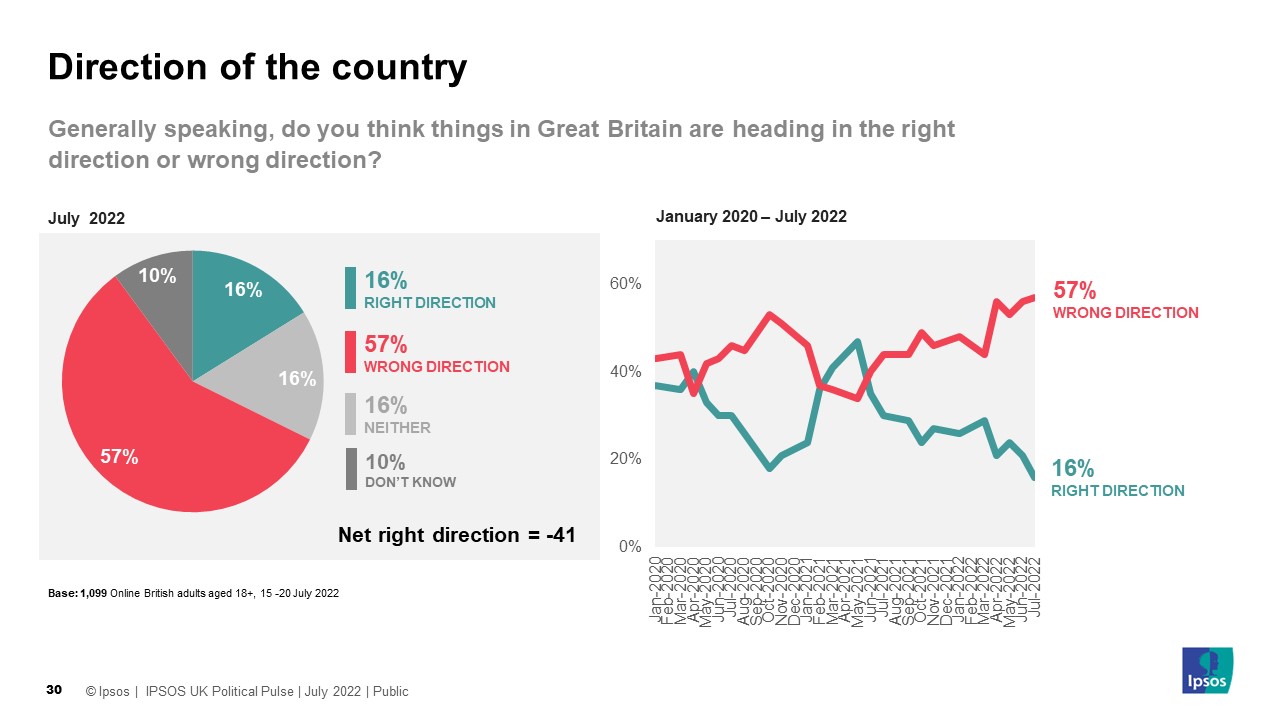 Impact of Brexit
Just under half, 47%, think the UK's decision to leave the European Union has had a negative impact on the county, 27% a positive impact, and 18% that it has made no difference.  These figures are little changed over the month.
Gideon Skinner, Head of UK Political Research at Ipsos, said:
Policies on tax cuts have become a key dividing line between Rishi Sunak and Liz Truss in the Conservative leadership campaign, and that is reflected among the public at large, with little sign that Britons have a clear preference for a party that promises increased public spending or one that stands for cutting taxes.  After the unprecedented public spending of the coronavirus pandemic and as worries about the cost of living reach their highest levels for 40 years, Britons are wary of parties that promise big increases in public spending, but they are also worried about the impact of cutting taxes on funding for public services or levels of government borrowing.  Nor do they prioritise cutting green taxes and levies on bills over meeting the country's climate change targets.

In other policy areas, the public's preference remain as hard to pigeon-hole as ever – strict on immigration, crime and foreign aid spending, but on balance in favour of nationalisation of public utilities and protecting the right to strike.  But in the context of low levels of optimism about the state of the nation, Britons will want to hear clear plans from the Prime Ministerial hopefuls about what they will do about their main worries about the challenges facing the country, particularly the cost of living.
Technical note
Ipsos interviewed a representative sample of 1,099 Britons aged 18+. Interviews were conducted online from 15th to 20th July, 2022. Data are weighted to match the profile of the population. All polls are subject to a wide range of potential sources of error.