Britons lack confidence in the thoroughness, independence and likelihood of disciplinary action from the Metropolitan Police investigation into Downing Street parties
Levels of confidence in the police investigation into alleged Downing Street parties are lower than when Britons were asked about their expectations for the civil service inquiry
New research by Ipsos in the UK shows half or more of Britons are not very confident, if at all, that the investigation currently being carried out by the Metropolitan Police into the alleged breaking of Coronavirus restrictions in Downing Street will be thorough, independent or result in disciplinary action for any found to have broken the rules. Fieldwork was carried out online 28-29 January, before Monday's update was released.  Levels of confidence are lower than when Britons were asked about their expectations for the civil service (Sue Gray) inquiry (though note that fieldwork was carried out on 18 January).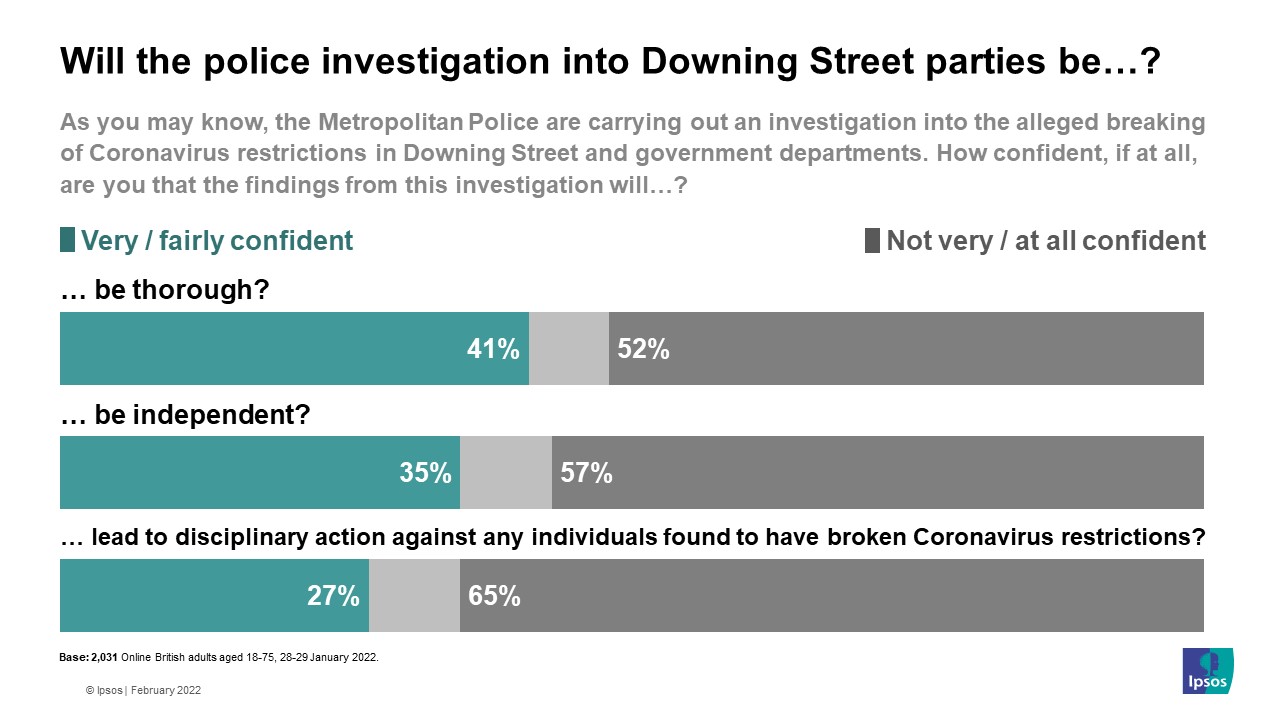 Only 4 in 10 (41%) are confident that the police investigation will be thorough while half (52%) say they are not very confident or not at all confident. In comparison, 51% were confident the civil service inquiry would be thorough, 45% were not. Almost 6 in 10 (57%) are not convinced that the police investigation will be independent, only a third (35%) are more positive. When asked about the civil service inquiry 53% doubted it would be independent, 42% were confident it would be.
Almost two-thirds of Britons (65%) are not confident that this investigation will lead to disciplinary action against any individual(s) who are found to have broken the Coronavirus restrictions in place at the time of the party. Just over a quarter (27%) have faith that appropriate disciplinary action will be given as a result of the investigation. Britons were slightly more likely (although still not very much) to expect disciplinary action from the Sue Gray inquiry, 36% were confident this would be the result while 58% were not. 
Conservative 2019 voters tend to have more confidence than Labour voters, while women have less confidence than men that the results will be thorough (by 37% to 44%) or will lead to disciplinary action (by 24% to 31%).
Gideon Skinner, Head of Political Research at Ipsos in the UK, said:
"We have seen the impact that stories about parties breaking lockdown restrictions have had on public perceptions of the Prime Minister and the Government, but with the announcement that the Met Police is to open its own investigation there is not very much public confidence that this will meet their expectations to be independent, thorough and consequential either."
Note to Editors:
Ipsos in the UK interviewed a representative sample of 2,031 British adults aged 18-75. Interviews were conducted online between 28-29 January 2022. Data are weighted to match the profile of the population. All polls are subject to a wide range of potential sources of error.