Britons prefer Biden to Trump in US race
Seven in ten would prefer to see Biden win the Presidential Election in November
Three-quarters (76%) of the British public feel unfavourable towards US President Donald Trump while 12% are favourable, according to the latest Ipsos Political Monitor. Mr Trump's low favourability scores are slightly worse compared with two years ago when 68% were unfavourable and 19% favourable, but are slightly better than his ratings in 2016. Britons however have less strong feelings towards former Vice President and Democratic challenger, Joe Biden. A third (35%) are favourable to Mr Biden and just 15% unfavourable – 33% are neutral while 18% are yet to make up their mind.  In October 2016 46% felt favourable towards Hillary Clinton and 36% unfavourable.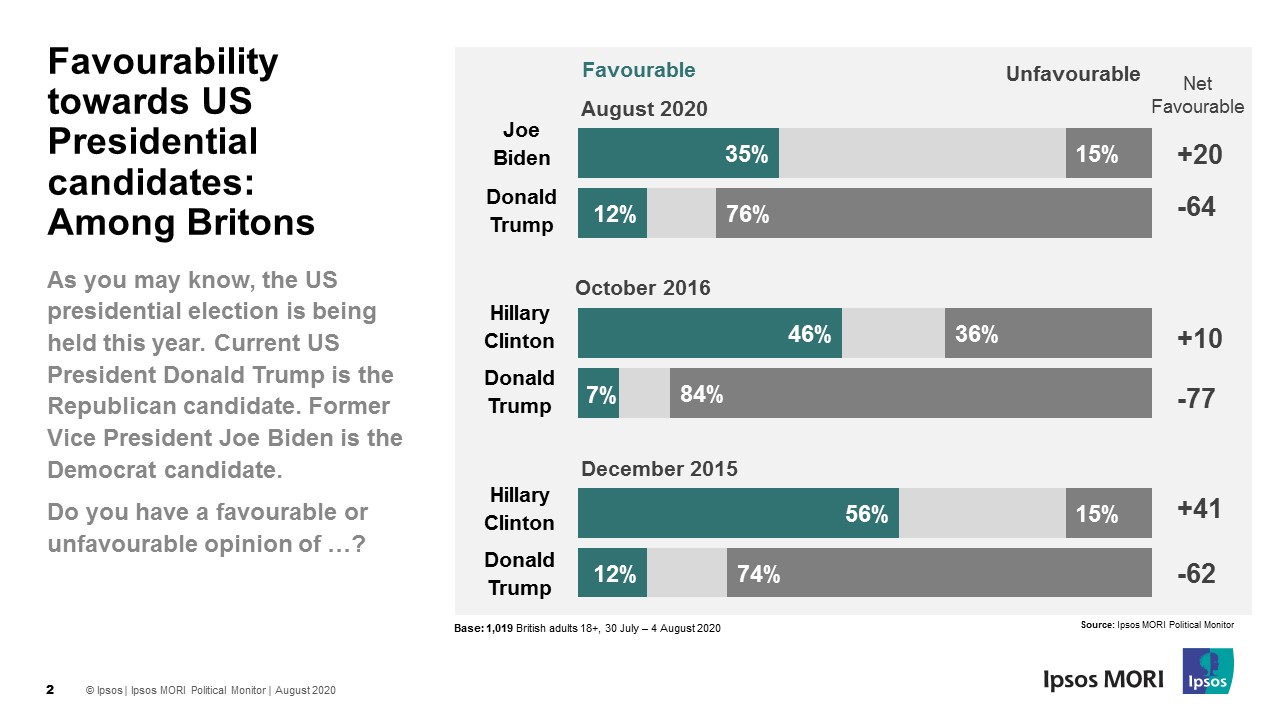 Despite the lukewarm reception for Joe Biden amongst the British public seven in ten (69%) would prefer him to win the election over Donald Trump (12%). A majority of both Conservative and Labour supporters prefer Joe Biden although Labour supporters are much more enthusiastic for the former Vice President to beat Mr Trump (89% of Labour supporters vs. 54% of Conservatives). One in five (22%) Conservatives prefer Donald Trump vs. just 4% of Labour supporters. 
Even though most prefer Joe Biden to win the presidency Britons are more divided on whether he actually will be victorious. Two in five (42%) think Joe Biden will win compared with 38% who think Trump will be re-elected. Conservatives are also split (42% think Trump will win vs. 38% saying Biden) while Labour supporters have a stronger feeling that Joe Biden will win (49% vs. 37% saying Trump). 
Commenting on the findings, Keiran Pedley, Research Director at Ipsos, said:
Our poll shows that Britons overwhelmingly prefer Joe Biden as US President to Donald Trump, though they are pretty evenly split on who they think will actually win in November. The British public took a dim view of Trump before the last election in 2016, when 84% were unfavourable towards him and little has changed since. Our most recent poll shows some 76% of Briton are unfavourable towards Trump now, with 6 in 10 saying that they are 'very unfavourable'.  Joe Biden, meanwhile, excites less opinion either way than the last Democrat candidate, Hillary Clinton.  
Technical note
Ipsos interviewed a representative sample of 1,019 adults aged 18+ across Great Britain. Interviews were conducted by telephone 30th July – 4th August.  Data are weighted to the profile of the population. All polls are subject to a wide range of potential sources of error. On the basis of the historical record of the polls at recent general elections, there is a 9 in 10 chance that the true value of a party's support lies within 4 points of the estimates provided by this poll, and a 2 in 3 chance that they lie within 2 points.