Britons remain just as concerned about the Coronavirus as they were before Christmas as confidence in the NHS holds steady
Now that Christmas and New Year are out of the way, are Britons still as concerned about the risk of COVID-19?
In the latest update of Ipsos's key COVID-19 trends, Britons appear to be just as concerned now about the risks posed by the virus to both themselves and the country as a whole, as they were before the festive season. Now, 65% say they are concerned about the risk the coronavirus poses to themselves, the same proportion as before Christmas.  This level of concern is higher than during the summer and autumn of last year, but lower than the peak earlier in the pandemic.  Just over three-quarters (77%) are concerned about the risks to the country as a whole, 80% said the same last month.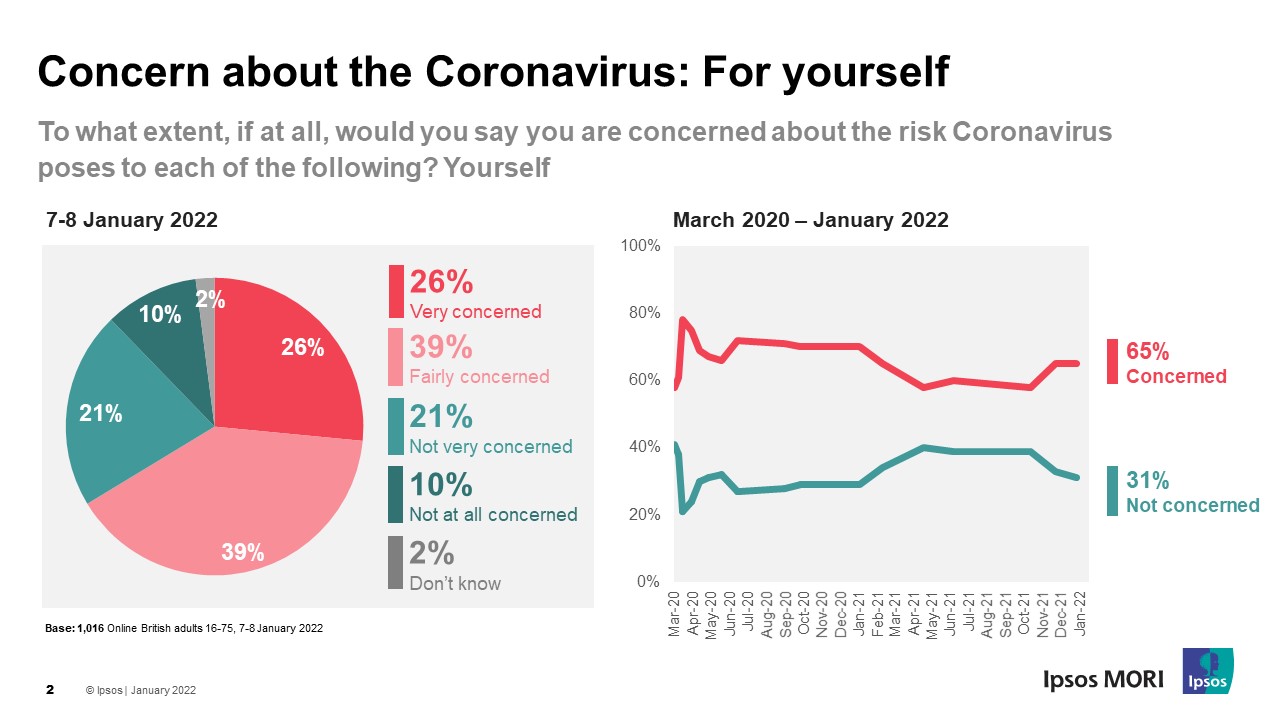 Women are significantly more likely to be concerned about the risks the virus presents to themselves, with 73% worried compared with 58% of men.  Meanwhile, overall levels of concern are similar between Conservative and Labour 2019 voters (with Conservatives slightly more likely to say they are very concerned about the personal risk, by 32% to 22%).
Seven in 10 (69%) Britons say they are confident in the NHS's ability to deal with those who are ill as a result of the Coronavirus, 72% said the same just before Christmas. A quarter (26%) are not confident (24% felt this way in December).  This level of confidence has remained steady since October, although is not quite as high as it was at its peak earlier in the pandemic.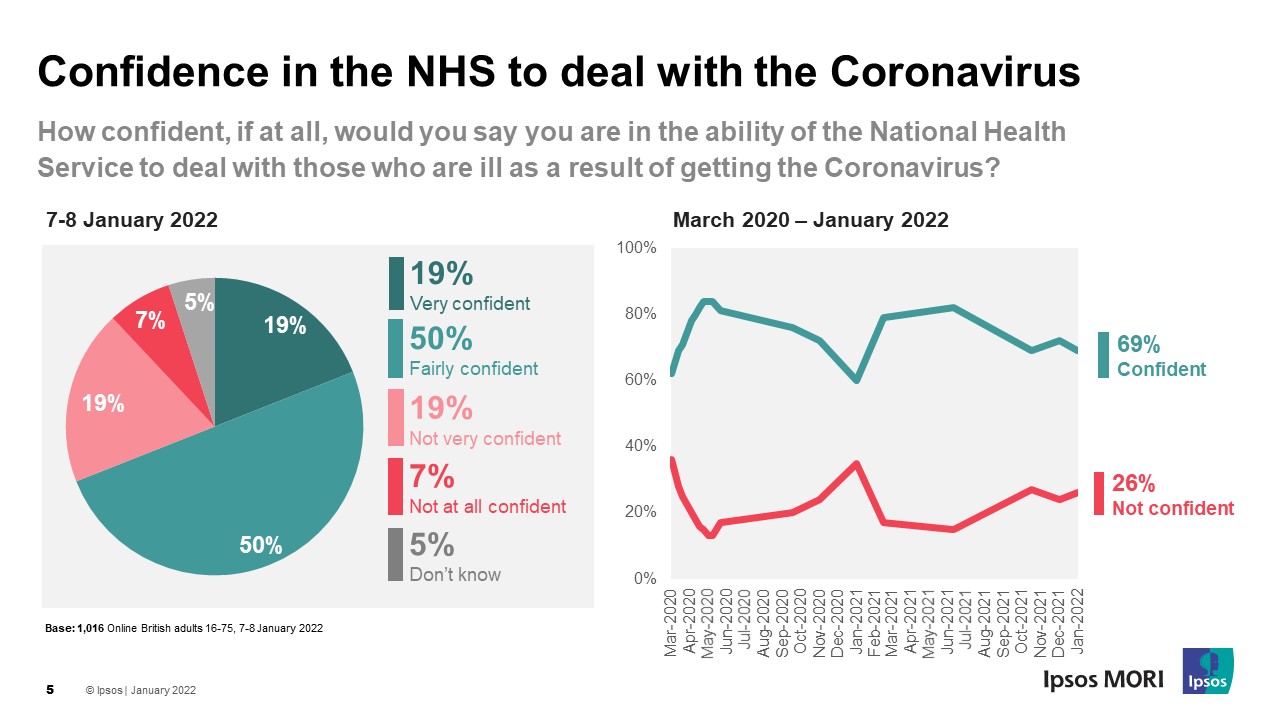 Perhaps in line with the male/female split in levels of concern, men are more likely to be confident in the NHS' capability (73%) than women (66%).  Both Conservative and Labour 2019 voters are also confident in the NHS, Conservatives slightly more so (by 75% to 66%).
Kate Duxbury, Research Director at Ipsos, said:
The British public's concern about the risk of Coronavirus to themselves seems to have stabilised, having increased as the Omicron wave started but now remaining stable in comparison with before Christmas. They also remain confident in the ability of the NHS to treat those getting ill as a result of Coronavirus, even though the number of patients in hospital with Coronavirus has risen sharply since December.
Technical note:
Ipsos interviewed a representative sample of 1,016 British adults aged 18-75. Interviews were conducted online between 7-8 January 2022. Data are weighted to match the profile of the population. All polls are subject to a wide range of potential sources of error.
 
Download