Britons think speeding tickets and fixed penalty notices for attending parties during lockdowns are both serious offences, poll finds
Majority think MPs should be allowed to call each other liars in the House of Commons
After comparisons were drawn between the Prime Minister's fixed penalty notice for attending a lockdown party and a speeding fine, Ipsos research shows Britons think both are serious offences, with little difference between the severity of the two. Eight in 10 (80%) say it is very or fairly serious for a politician to receive a speeding ticket for exceeding the speed limit on the motorway while the same proportion say the same for receiving a fixed penalty notice for attending a party during lockdowns. Almost 9 in 10 (87%) of Britons say it is very or fairly serious to receive a speeding ticket in a residential area. Half think fines for breaking Covid restrictions (50%) and exceeding the speed limit in residential areas (51%) are very serious.  Seven in 10 (71%) say it's serious when a politician receives a warning for not wearing a face mask in a shop during Covid restrictions. 
2019 Conservative voters are slightly less likely to say a politician receiving a fixed penalty notice is not very serious. Almost 3 in 10 (28%) say it is not compared with 13% of Labour supporters.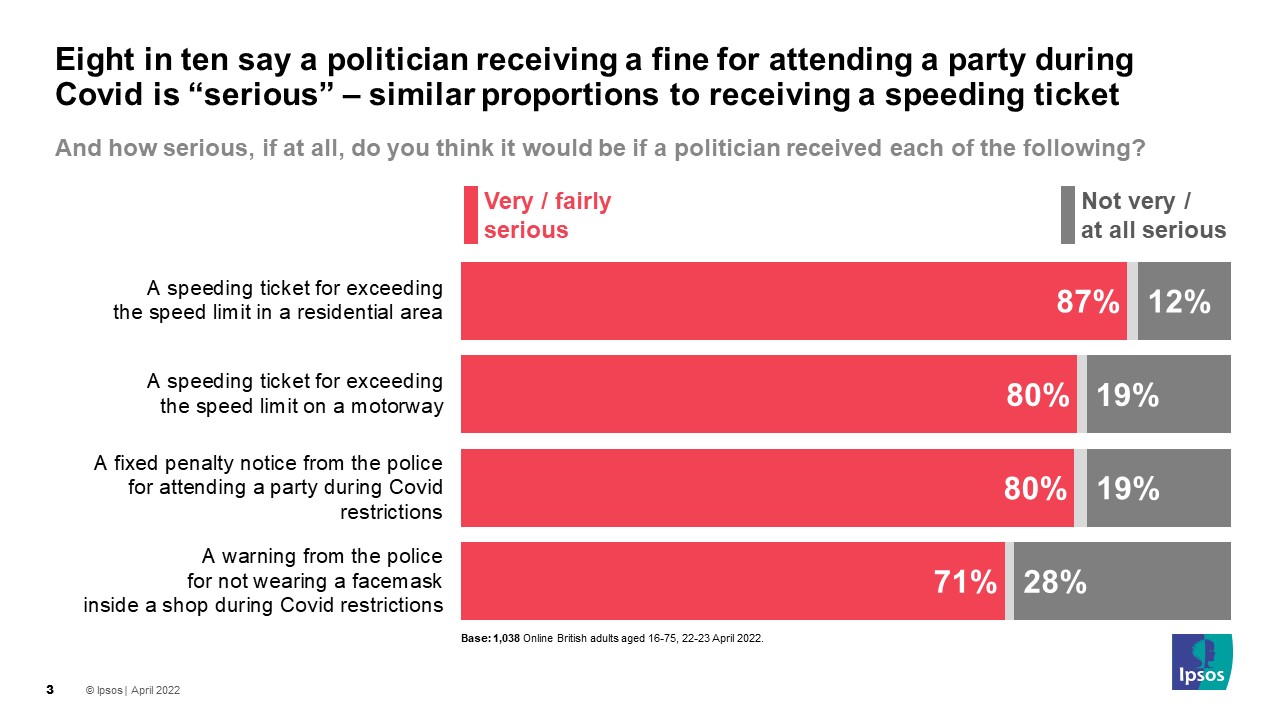 Similarly, when the public considers the severity of the offence generally, all the options are viewed as serious.  Exceeding the speed limit in a residential area (89%) is more likely to be seen as serious than attending a party during Covid-19 restrictions (81%) or exceeding a speed limit on a motorway (81%).
Considering debates within the House of Commons, almost 6 in 10 (57%) are in favour of MPs being allowed to call each other liars or accuse each other of being dishonest, which is currently not normally allowed. Support for this is higher among those who voted for the Labour Party in 2019 (62%) than those who voted for the Conservatives (49%).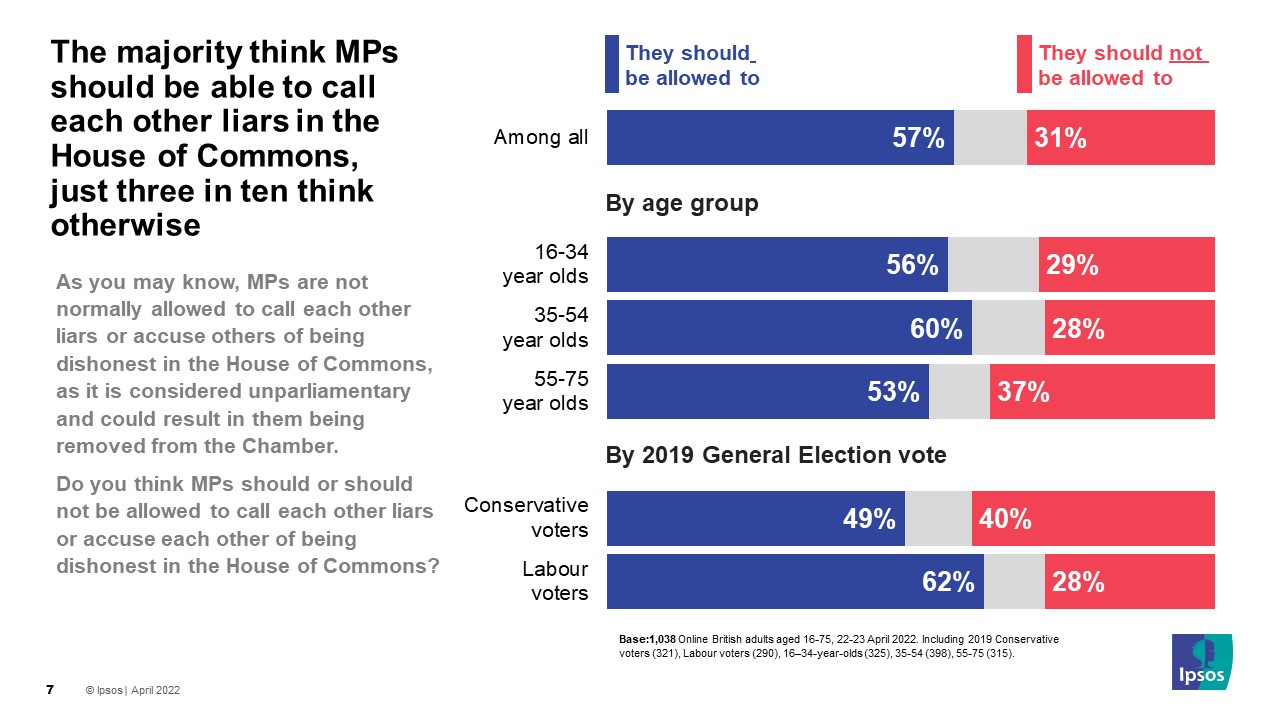 Gideon Skinner, Head of Political Research at Ipsos, says:
Of course there are worse crimes, but Britons think breaking the speed limit and breaking Covid restrictions by attending a party are both serious offences.  Which may help to explain why stories of Downing Street parties during lockdown have had such a negative reaction among the public.
Technical note: 
Ipsos UK interviewed a representative quota sample of 1,038 adults aged 16-75 in Great Britain. Interviews took place on the online Omnibus using the Ipsos.Digital platform between 22nd and 23rd April 2022. Data are weighted to match the profile of the population. All polls are subject to a wide range of potential sources of error.