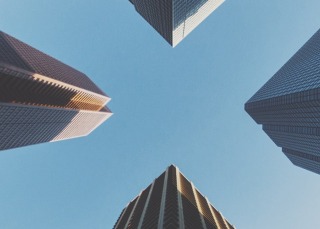 Corporate Reputation
Corporate Reputation
OUR SOLUTIONS
Ipsos is widely regarded as the most trusted source of research and guidance for business leaders when it comes to harnessing reputation in support of business and societal goals. We work with some of the world's biggest companies providing them with insights and advice on reputation management across multiple markets and cultures.
We help our clients identify the issues and actions that build corporate reputation. We design research that helps to reveal and close any perceived gaps between what is said and what is done. This is because our approach is based on evidence that trust is at the heart of a company's reputation and the most trusted companies in the world are seen to deliver on the promises they make.
Together with our clients we engage key stakeholders on a wide variety of issues including; business performance, sustainability, ESG (Environment, Social, Governance), crisis management and the potential for mutual support between corporate and consumer brands.
Our approach
Trust is the key driver of your reputation. We have extensive evidence that the existence of trust is directly linked to the degree of advocacy and support you can expect from your key stakeholders. For example, the more trusted you are the more willing customers are to buy your products and remain loyal or the more credible your voice is with the media. This principle applies across your entire stakeholder universe and is critical in achieving reputation value.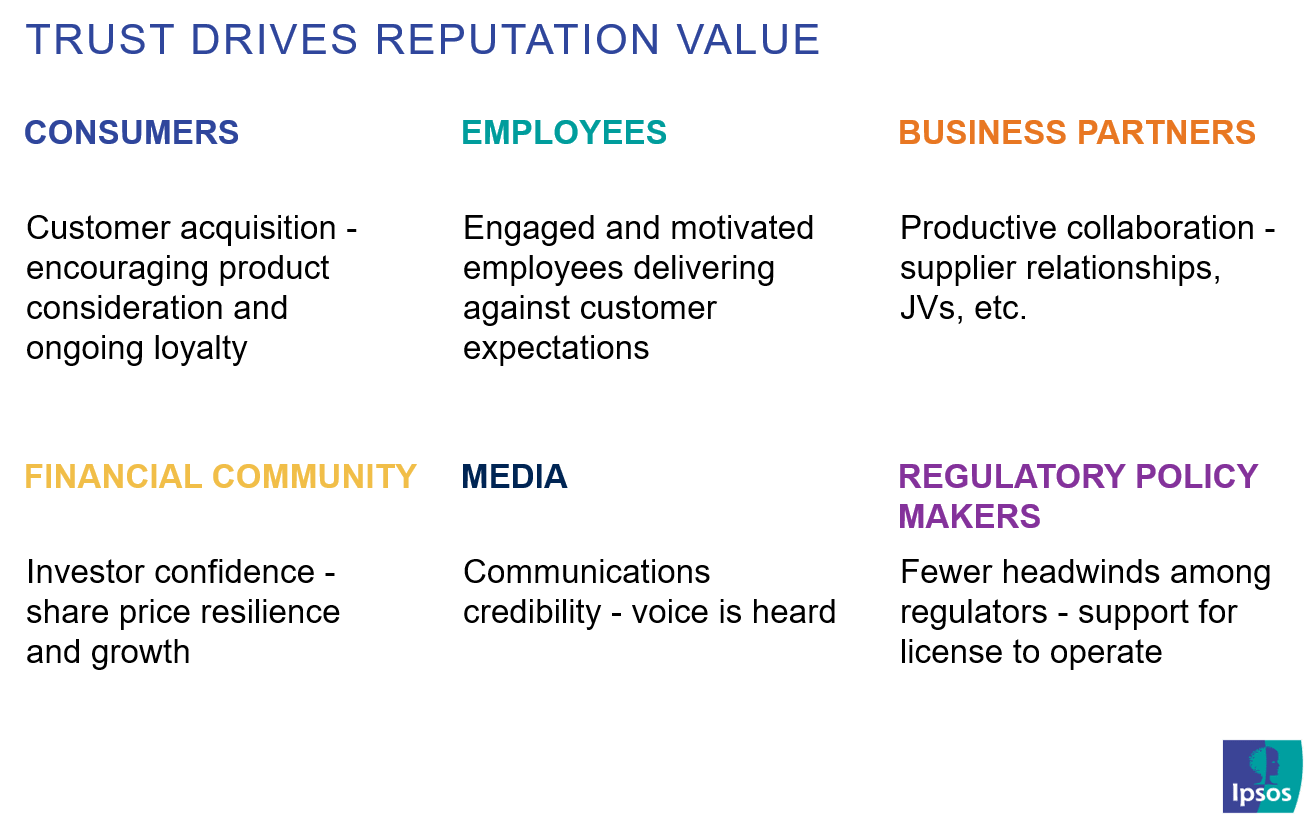 Identifying the drivers of Trust
However, understanding the degree to which stakeholders trust you is only one part of the story - we also help our clients to understand what aspects of their behaviour or activities build trust. This is critical to the strategic management of corporate reputation – it allows clients to priorities the actions and issues they need to focus on to build reputation strength. It also identifies the specific attributes that need to be tracked as KPIs in terms of enhancing reputation performance.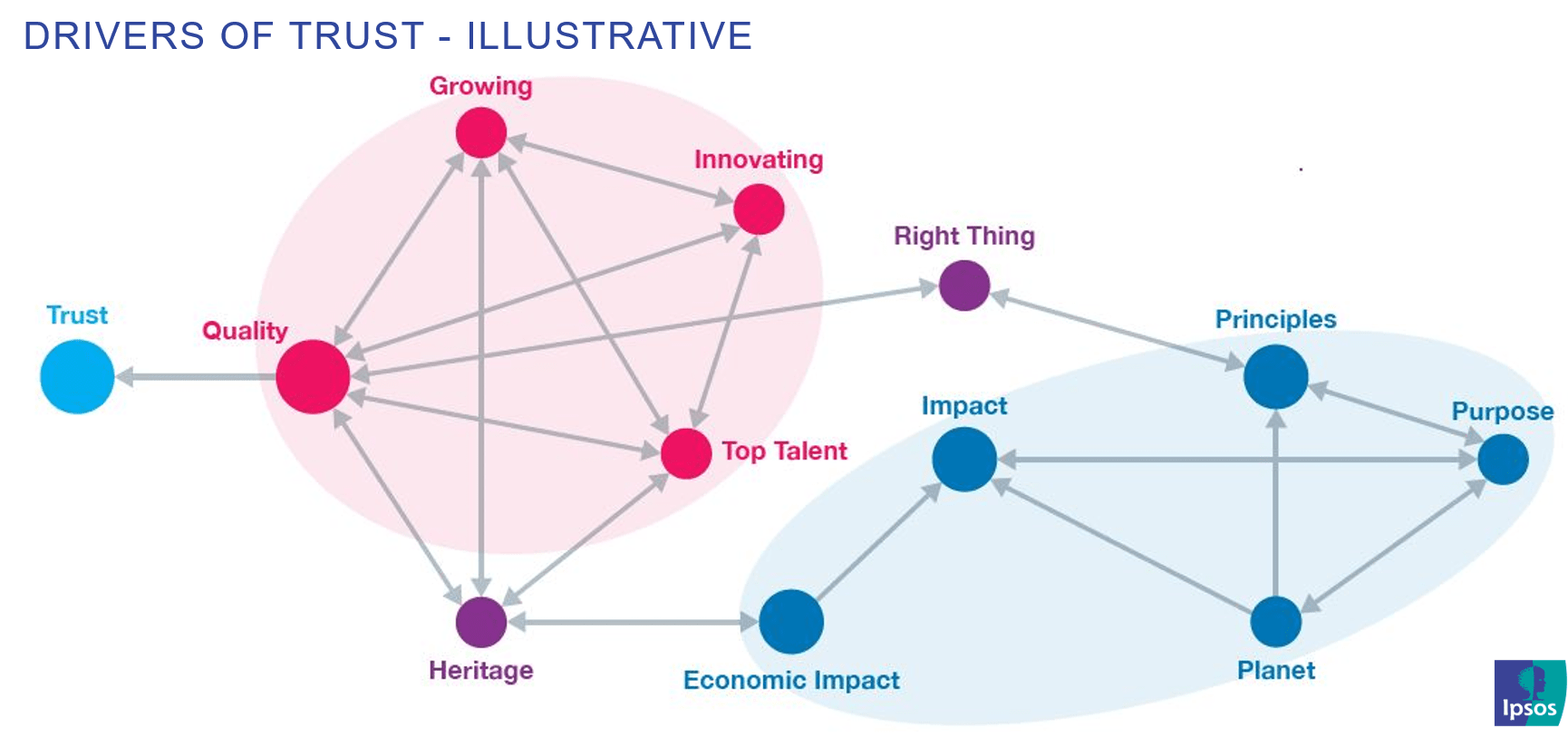 Insight to action
Research without insights and action is a job only half done. There needs to be an effective ROI from reputation research and that comes in the form of coordinated and tangible client action as a result of the priorities highlighted. We have developed a robust and impactful way of engaging employees with research insights and recommendations. Our workshops are designed to help employees to identify and close the gaps that stakeholders feel exists between brand promises and delivery.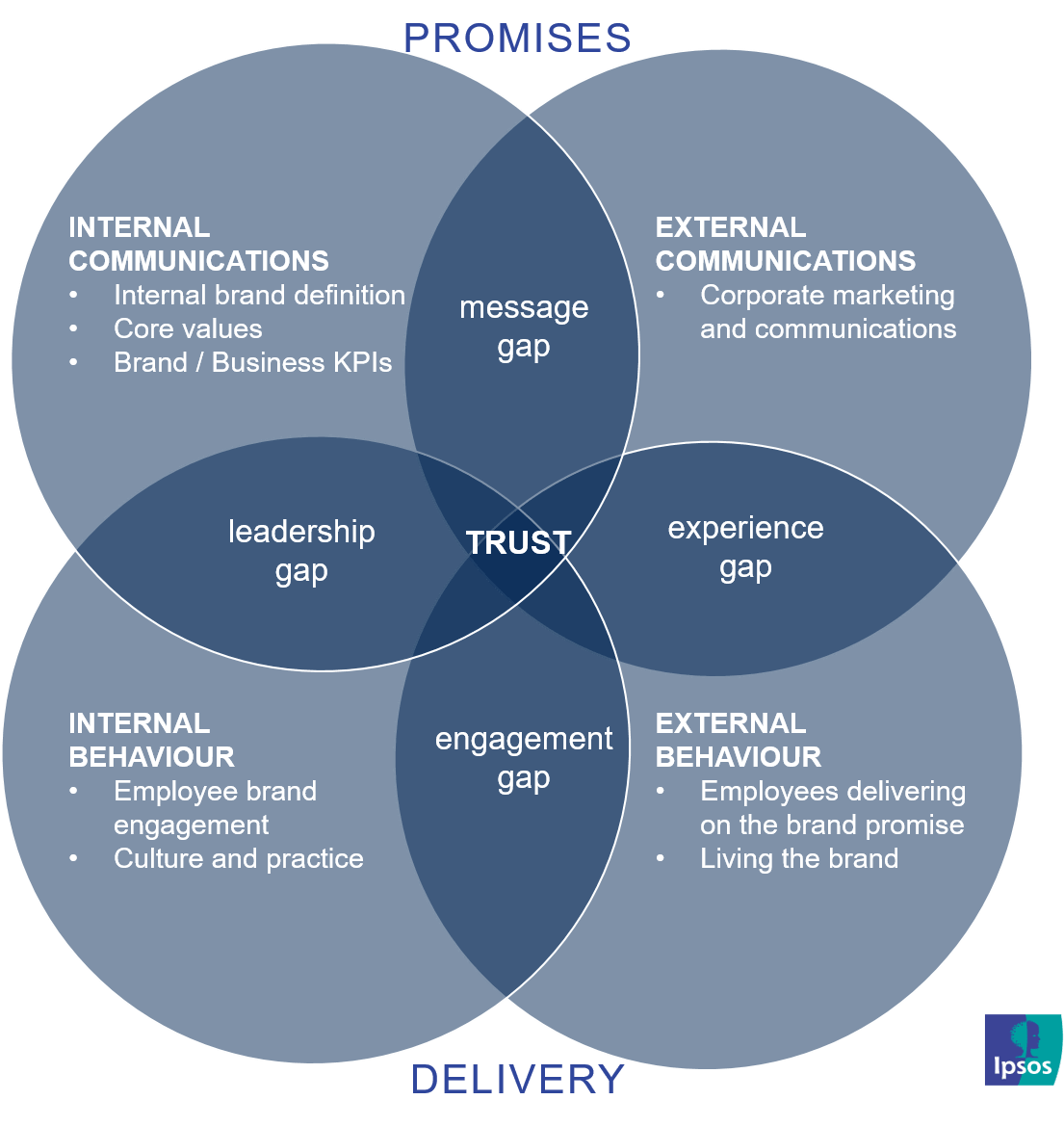 Our Solutions
Reputation Tracking
Across all our reputation tracking projects, our goal is to deliver strategic insights that tackle our clients' current and future reputation challenges. Our understanding of our client's businesses, markets and emerging issues is central to our ability to designing effective research. Our clients also benefit from the knowledge and expertise of over 150 global Senior Communicators gathered in Ipsos' prestigious Reputation Council.
Key Influencer Tracking (KIT)
Alongside our bespoke reputation research solutions, we offer a programme of Key Influencer Tracking studies among senior stakeholders that include; UK Politicians, Business and Financial Press, Business Leaders, Transport Leaders and Opinion formers on Corporate Responsibility. Our clients use these cost-effective studies to:
Understand the reputational landscape in which their company or organisation operates
Investigate opinions on key, current issues affecting the sector
Measure and track their reputation compared to similar organisations or competitors
Identify the factors that drive favourability and advocacy amongst these important groups
Identify activities and communication messages which develop and maintain an organisation's reputation
More details on these studies.
RISE (Reputation Intelligence for Strategic Evaluation)
Ipsos RISE is our system for combining research survey with non-survey-based data, including AI curated social listening data, traditional media information, and other non-survey sources. In competing tools data is not organized by importance and can cause an artificial sense of crisis – too much to filter through to determine what is important. RISE uses survey data to organize and sort social media conversations into the most important themes, providing a clear sense of impact.
RISE provides the ability to filter results by stakeholder audiences. Unlike most tools that examine results only in the aggregate, RISE provides the ability to filter results by opinion leaders, politicians, media, and other audiences (as well as the ability to filter out BOTS).
 
Anholt-Ipsos Nation Brands Index
The Anholt-Ipsos Nation Brands Index (NBI) is the world's most comprehensive global nation brand survey. The NBI helps governments, organizations and businesses, understand, measure and ultimately build a strong national image and reputation. It measures the power and quality of each country's 'brand image' through an assessment of the following six dimensions:
Exports - The public's image of products and services from each country and the extent to which consumers proactively seek or avoid products from each country-of-origin.
Governance - Public opinion about national government competency and fairness, as well as its perceived com­mitment to global issues such as peace and security, justice, poverty and the environment.
Culture and Heritage - Global perceptions of each nation's heritage and appreciation for its contemporary culture, including film, music, art, sport and literature.
People - The population's reputation for competence, openness and friendliness and other qualities such as tolerance.
Tourism - The level of interest in visiting a country and the draw of natural and man-made tourist attractions.
Investment and Immigration - The power to attract people to live, work or study in each country and how people perceive a country's quality of life and business environment.
The NBI is conducted in 20 countries annually and measures the perceptions of 50 nations, providing an unparalleled global assessment of nation brands, and informing the tourism and investment decisions of governments around the world.
For further information about our approach or services – please get in touch. We'd love to hear from you. Contact: Jason McGrath
Case studies: 
Global internet company
Business issue: The eighth year of this global study gauging opinions of the corporate brand within the context of reputational threats and opportunities.
Our solution: The research covered key reputation metrics in addition to qualitative questions around brand positioning, strengths and weaknesses, industry and societal issues. This is the eighth year of measurement among these key opinion formers for the company.
Impact: The research is seen as a critical plank in the strategic planning process. It informs the company's policy and message development strategy as well as guiding its key influencer engagement activities.
Global oil and gas company
Business issue: Research across eight markets that provides a focus for the client's global reputation management.
Our solution: Includes Key Driver Analysis to identify priority issues and the definition and monitoring of Key Performance Indicators (KPIs). One of these KPIs is a composite "Trust Index" based on responses to selected attribute statements. Local communications teams have a high degree of autonomy – our role is instrumental in convincing them of the value of this research.
Impact: Research is helping to drive change throughout the organisation by empowering local management teams with robust, relevant, strategically focused insights.
Global consumer products company
Business issue: We are working with a global consumer products company providing international reputation research and consultancy to support a strategic review of its brand architecture. This program represents a fundamental change for the company as it begins to endorse its product brands.
Our solution: We are a strategic partner in the transformation process and collaborate with communications and business leaders across the organisation.
Impact: Corporate brand featured in advertising for the first time. This generated external awareness and internal support for the realignment of the corporate brand.